7 Best iPhone Moving Apps
Moving to a new house or apartment can be pretty stressful, but here are seven iPhone apps that can help you with the move and take some weight off your shoulders.
Moving isn't only stressful, but it's hard work if you do it all yourself. You most likely pack everything yourself, rent a moving truck, and load up everything yourself with the help of some close family members and friends. Unless you have the money to pay for a team of movers to come and move all your stuff for you, you'll most likely do it yourself, as most people probably do.
While these iPhone apps won't necessarily take the load off your shoulders as far as carrying all those boxes are concerned, they should at least make the whole moving experience easier and less stressful overall.
Here are seven of the best iPhone moving apps that you should consider using to make moving day a day that isn't filled with stressful events.
Craigslist
One thing that many people should consider doing before they move is to go through their stuff and get rid of the clutter, and Craigslist is a great service to use to do just that.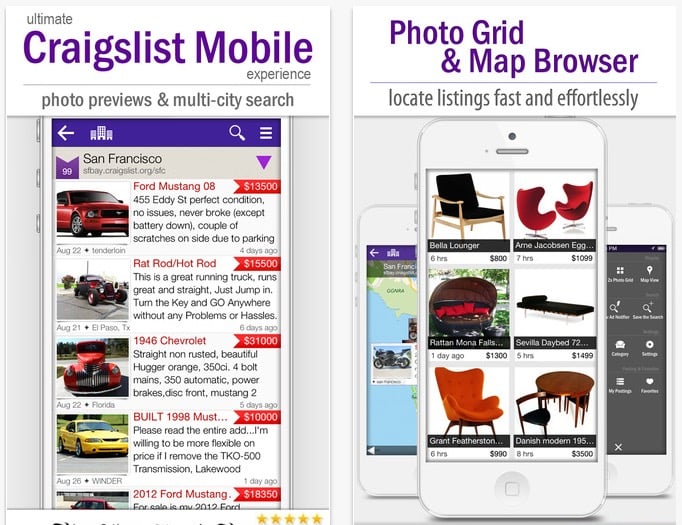 Not only will Craiglist allow you to easily get rid of stuff you don't need, you can make a few dollars from it in the end. The most popular Craigslist app for iPhone is cPro, which allows you to post your stuff for sale right from the app, making it easy to sell your old stuff.
Of course, you're on your own after the initial posting, but as long you as meet with buyers in a public place, you should be fine.
Dark Sky
One of the worst things that I can happen on moving day is rain. It completely puts a damper on something that's already a stressful situation. This is why you should use Dark Sky.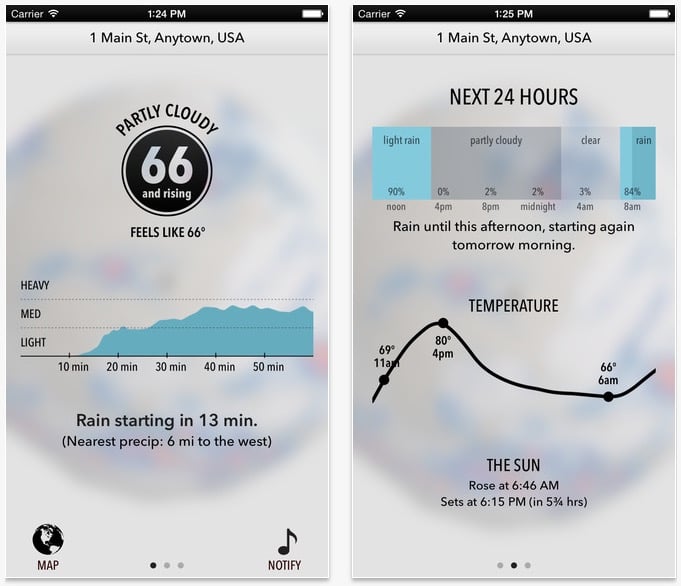 Dark Sky is one of our favorite weather apps, mainly because it's simple and easy to digest the weather information given. The app will simply tell you when it's supposed to rain and for how long.
In Dark Sky, you can set up push notifications on your iPhone that will provide you with alerts whenever it's about to rain in your area, and you can customize them so that it only notifies you when there's going to be heavy rain or even just light rain.
So if you're about to move all of your stuff on a specific day, keep an eye on the weather with Dark Sky.
Evernote
Are you making way too many lists and keep losing track of them in the process? A better way to stay organized with lists and notes while you're moving is by using Evernote.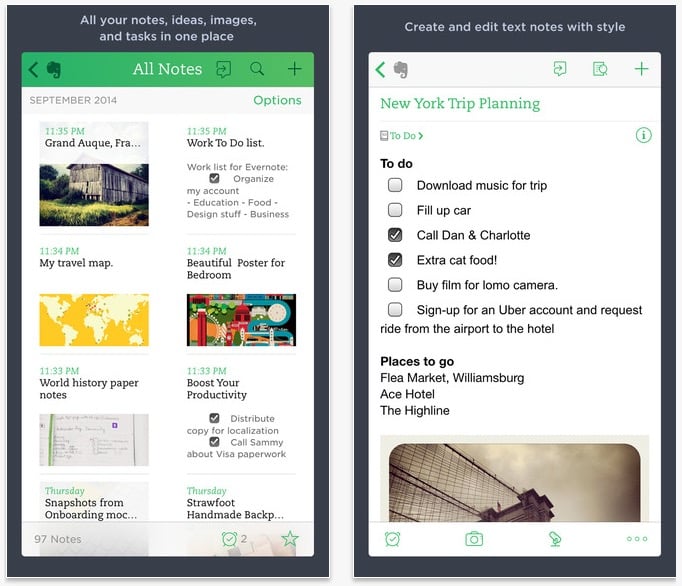 Evernote allows you to make lists, jot down quick notes, and save web articles for later. You can even organize them all into different notebooks and share them with other users.
Evernote is one of the most feature-filled note-taking apps we've ever seen, and it's definitely worth a look at if you've never used it before.
Moving Van
The only actual moving app on this list, Moving Van for iPhone is also one of the very few moving apps that's actually worth a damn.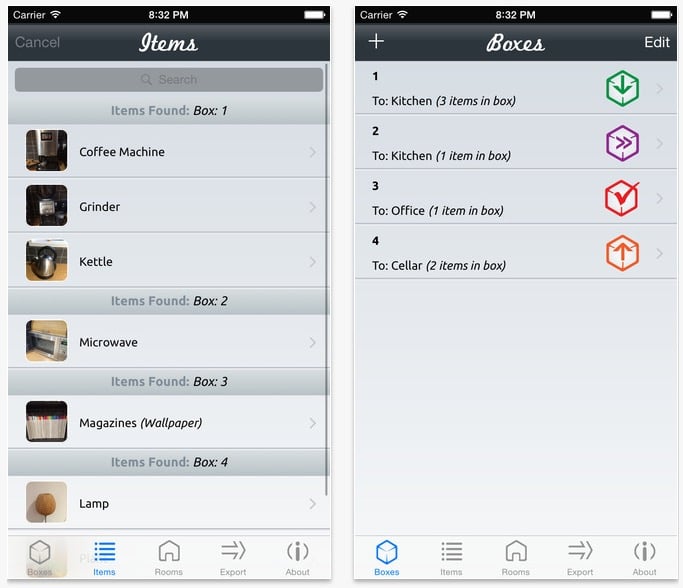 The app helps you when you're packing your boxes and essentially does a bit of inventory. In a nutshell, Moving Van allows you to easily identify the contents of every box you pack.
As you pack, you can use the app to take photos of the contents of the box and jot down any details. Plus, you can assign each box a unique name, a unique number, or the room that the box needs to be moved in.
It might take a bit longer to pack if you end up using Moving Van, but you'll most likely be glad that you took your time since you'll know what's in each box.
Google Maps
If just moving across town, you most likely don't need directions to your new place, but if you're moving to a completely new state, having GPS navigation is vital during your move.
For this, we recommend Google Maps, as it not only provides turn-by-turn directions, but also satellite views and even Google's renowned Street View that lets you virtually check out the neighborhood that you'll be living in.
Of course, you don't have to use Google Maps, as Apple Maps can also get you to where you're going, but we ultimately like Google Maps' larger feature base on iPhone.
MagicPlan
Need an idea of how you want your furniture laid out in your new place? MagicPlan is an iPhone app that can "magically" create a virtual floor plan that you can use to see if your furniture will fit in a particular place in your house.
The app uses your iPhone's camera and uses pictures of your house to automatically put in dimensions. You can then add virtual objects, annotations, and attributes to create an indoor map. You can then share your floor plan with others.
The is free to download, but you'll want to go with some in-app purchases to get PDF and JPG abilities.
Pizza Hut
Everyone knows that the best moving food is pizza, and with the Pizza Hut app you can order pizza and get it delivered to your new place, all from your iPhone.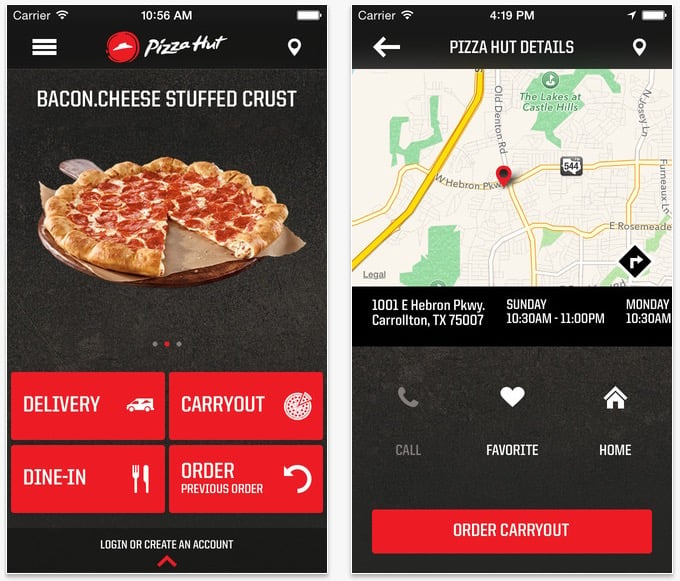 No need to call or go to a Pizza Hut location to order and get your pizza. The app is really easy to use, and while it might take you longer than just calling to order, the app allows you to ponder your options without someone on the other end waiting for you to order.
This is one of the most essential moving apps, as folks that will be helping you move are expecting some pizza in return, so it's a good idea to deliver on that promise with the Pizza Hut app.