Best Kindle Fire HD Cases
The Kindle Fire HD is relatively new, but a number of excellent Kindle Fire HD cases are available to protect the Kindle Fire HD and the 8.9-inch model.
The Kindle Fire HD is a resilient tablet, but in the hands of children or users who take the tablet to work or outdoors, a Kindle Fire HD case can mean the difference between a broken tablet and one that survives to fall again.
There is no OtterBox Kindle Fire HD case or LifeProof case to deliver rugged protection while leaving the Fire HD open to use, but we can share one case that will protect the tablet under extreme conditions, it's even waterproof.
For owners who plan to use the Kindle Fire HD to watch videos from Instant Video, there are several cases with built-in kickstands that prop the tablet up in landscape mode. These are also helpful for users who plan to chat with the front facing camera.
Read: Kindle FIre vs. Kindle Fire HD
Due to the larger size, the Kindle Fire HD does not fit in Kindle Fire cases, so it's important to pick a case designed to fit the new Kindle Fire.
The Fire HD is available in a 7-inch and a 8.9-inch size. Most of these Kindle Fire HD cases fit with the smaller device, but some are sized for both.
The Kindle Fire HD is available for $199, 40% cheaper than the iPad mini and with Bluetooth connectivity there are even Kindle Fire HD keyboards available to add to the productivity of the tablet without going over the iPad mini's $329 price.
The HDMI connectivity on the Fire HD is an added feature over the Nexus 7, which is also available for $199 and the iPad mini which needs a $50 adapter to connect to an HDTV.
Stay tuned to this list of the best Kindle Fire HD Cases as this post will be continually updated.
Speck FitFolio Kindle Fire HD Case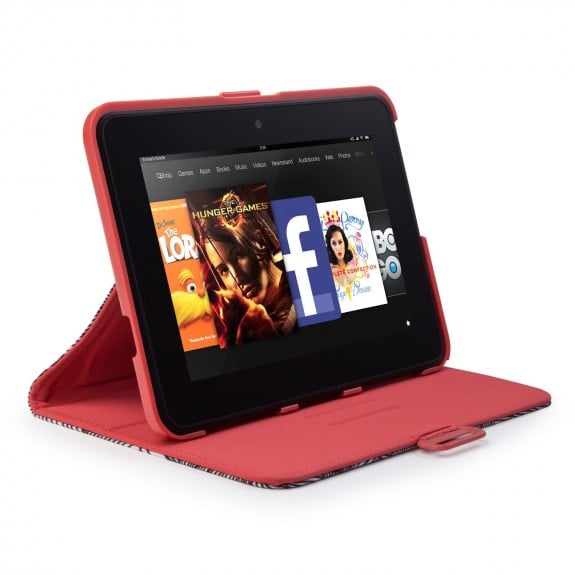 The Speck FitFolio is a slim Kindle Fire HD case is a slim case that protects the tablet without adding much bulk, and it also includes a kickstand function.
The Speck FitFolio can be adjusted to four different angles which makes it perfect for reading or watching a movie on a lap, on a table or on a tray table while flying.
The snap clasp on the FitFolio also holds the front of the case secure so that it won't come undone during travel.
The case comes in six different color and pattern configurations so choosing one the user likes is no problem.
$34.95 at Speck

As an Amazon Associate I earn from qualifying purchases.