Best Mac Backup Service: CrashPlan vs BackBlaze
When it comes to computer maintenance, nothing is quite more important than backing up all of your data. It's one of the most crucial things you need to do when it comes to maintaining your devices. We're also guessing that your computer is where most of your photos, videos, music and pretty much all of your other files are located, so if something were to happen to your computer (like a failed hard drive) you would lose absolutely everything, unless you had all those files backed up.
You might think that backing up all your files is a tedious process, but modern software technology has made it quite easy and convenient. Most, if not all, computers come with their own on-board backup utility that lets you back up your entire computer to an external hard drive, with Time Machine being OS X's main application for this, but what if you want to back up your computer to the cloud so that your backed up files are stored in an off-site location?
There are plenty of cloud backup options available, but two of the most popular options are CrashPlan and BackBlaze, but choosing just one can be a tough decision. We'll give you details on each service, and tell you what the best and worst features are of both CrashPlan and BackBlaze.
Both CrashPlan and BackBlaze allow you to install software on your Mac and then use it to point to a source directory on your Mac that you want backed up. From there, the data is sent to an off-site data center for safekeeping. However, both services offer unique and different features that set them apart from one another.
CrashPlan
CrashPlan is perhaps a bit more well-known than BackBlaze, but it's easy to see why. The service allows you to do all sorts of neat stuff.
The service allows you to back up to an external hard drive for free, as well as back up to another computer, whether it's on the same network or not, just as long as it has CrashPlan installed and is registered under your email address.
You'll pay as little as $4 per month for the privilege of backing up your Mac to an off-site location through the cloud. Perhaps the best part is that the service offers unlimited storage, so even if you have several terabytes of data that need backed up, CrashPlan will store it all.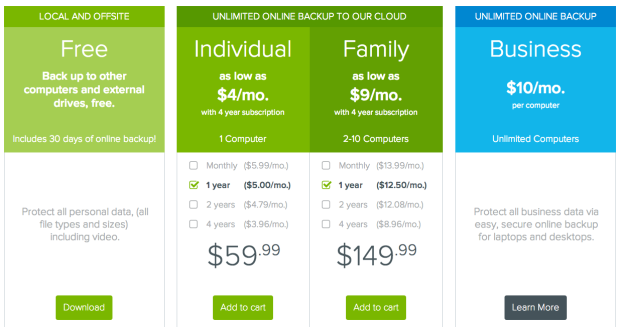 Obviously, though, that can take days to upload depending on your internet connection, so CrashPlan can actually send you a hard drive to back up to, and then you can send it back to them to be safely stored. The same goes for restoring  backups: CrashPlan can send you the hard drive of your backup so that you can restore it to your Mac, and then you just send the now-empty hard drive back to them.
And if you're worried about hacking and someone stealing your data, those who pay for a CrashPlan online plan get 448-bit encryption with their online backups, which is quite impressive.
CrashPlan also has mobile apps that you can use to access your backed up files, and this makes it work a lot more like a cloud storage service like Dropbox and Google Drive.
One feature that may be a red flag to some users is that CrashPlan keeps any files you delete from your backup, but this is a feature that you can turn off when you go to back up your Mac. We're glad there's an opt-out feature, but it's something to be aware of if you decide to choose CrashPlan.
BackBlaze
BackBlaze is similar to CrashPlan, in that it backs up your files online and saves them on an encrypted server and it has many of the features that CrashPlan has, including truly unlimited storage and the ability to back up external hard drives as well. BackBlaze will even ship you an external drive to back up to and send it back to them if you have a ton of files, although they charge small fee for that privilege.
BackBlaze can also be had for as low as $4 per month, making it another inexpensive option that's worth looking at. One unique feature of BackBlaze is that it automatically will back up every single file you have, making it a good option for those who just want to install BackBlaze and get going with their backups.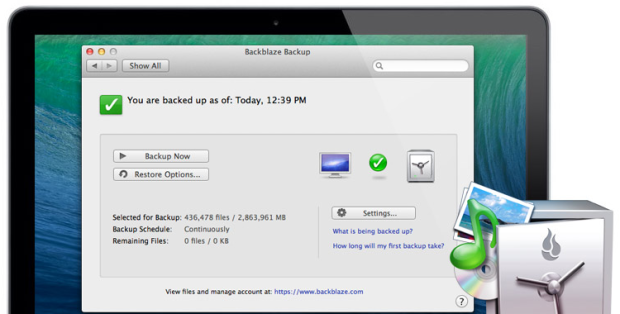 BackBlaze also comes with the ability to locate a lost or stolen computer. It's similar to Apple's Find My Mac service, but it simply grabs the computer's location whenever it backs up files, so the next time that BackBlaze automatically backs up on your lost or stolen computer, it'll let you know where it is so that you can get the authorities involved.
The service also has an iOS app which you can use to access your backed up files from your iPhone or iPad. However, the company currently doesn't offer an Android version, but we can probably expect it to arrive at any point.
When it comes to deleted files, BackBlaze only keeps them for 30 days, compared to CrashPlan, which keeps them forever. This could be a problem for users who constantly delete things that they eventually regret deleting, so if you're one of those types of users, BackBlaze may not be the best option.
Which One Should You Use?
When it comes to deciding on which online backup service to use on your Mac, there's definitely no cut-and-dry answer. Both services are great deals for their monthly prices, and both offer a unique set of features.
Read: 5 Best Mac Backup Options
With that said, CrashPlan is great for those who want to access their backups on mobile devices, and it's also the right service for those types of users who are constantly deleting files that they later regret deleting, since CrashPlan keeps deleted files forever.
However, BackBlaze is a great option for those that need added security to their computer. If you're ever paranoid about your laptop getting stolen, BackBlaze includes a feature that lets you locate it. Of course, Mac's already come with Find My Mac, but this can act as a second source for locating a lost or stolen machine.
Read: How to Completely Back Up Your Mac Using Time Machine
BackBlaze is also a good option for those who want to get up and running as quickly as possible. The service automatically backs up every single file you have, so there's no need to configure the software before you finally get going.
Do you have a backup service that you prefer besides CrashPlan and BackBlaze? Let us know in the comments!