Whether you have an iMac and need a keyboard or a MacBook and want a better keyboard to type on while you're at home, here are the best Mac keyboards that you should check out.
Apple released a new keyboard this year as an update to their wireless keyboard that hasn't been updated in a while. The new keyboard includes a new design, an internal battery (instead of needing AA batteries), and a slightly higher price tag this time around.
The new keyboard still has the same overall look and feel as the previous-generation keyboard, though, so it still has that Apple feel to it, but it's not the only keyboard available for Mac users. In fact, there are a lot of options to choose from if you're looking for something different.
While the Magic Keyboard might be the most ideal keyboard to get for your Mac, some buyers may not want to pay the $99 that's required to purchase it, which is why you might be looking elsewhere for a decent keyboard for your Mac.
Read: Early Magic Keyboard Review & Comparison
Luckily, the Magic Keyboard isn't the only option available when it comes to buying a Mac keyboard, so without further ado, here are the best Mac keyboards that you should consider checking out if you're looking for a new one.
Apple Wireless Keyboard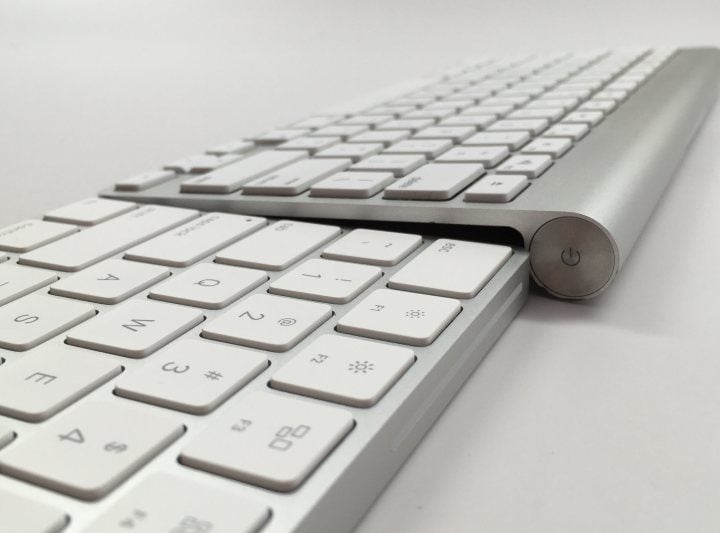 I'm not referring to the new Magic Keyboard, but rather the previous-generation model that existed before the Magic Keyboard.
Unfortunately, Apple no longer sells the older model in its online store (you can still buy the larger keyboard with the numeric keyboard, though).
However, you can easily find used models and some brand new units selling on eBay, and you can usually find them for pretty cheap as well. I was recently able to buy a used Apple Wireless Keyboard for around $30, which is way better than paying $99 for the new Magic Keyboard.