Best MacBook Air Cases and Covers
The MacBook Air is a very portable computer and no matter if you choose the 11-inch or 13-inch model you'll want to invest in a MacBook Air case or cover to keep the aluminum body safe from scratches and dents. If you love the slim design of the MacBook Air, you can still find a great case or cover that only adds a thin protective layer to protect your new notebook. Whether you plan to keep it until it falls apart or if you plan to sell it a MacBook Air case is a good investment.
Apple just dropped the price of the MacBook Air to $899 and refurbished models are as low as $599, and even though this price is cheaper it is still worth protecting from small drops and dings. Shoppers can use some of this saved cash to splurge on a good MacBook Air case or cover.
The MacBook Air design remains the same for the last several years so all of these cases and covers will fit the 2010 through 2014 models. Even though there are two sizes, most of these MacBook Air cases are available for the 11-inch and 13-inch models.
Apple's MacBook Air design is made of a resilient aluminum, but this nice looking material is easy to scratch if anything sharp gets in the bag with your new notebook. If you are always on the go, the bottom of the MacBook Air can also take a beating from metal tables and other surfaces at cafe's and other places you work at.
We've rounded up the best MacBook Air cases and covers available from under $20 to cases for $99 that offer more protection. If you absolutely love the thin design of the MacBook Air a skin is the perfect cover to pick as it protects the top of the MacBook Air from any scratches and adds a cool new look to the MacBook Air. We also include a few MacBook Air cases that are nearly a bag, but still slim enough to be perfect companion for this slim notebook.
Speck SeeThru MacBook Air Case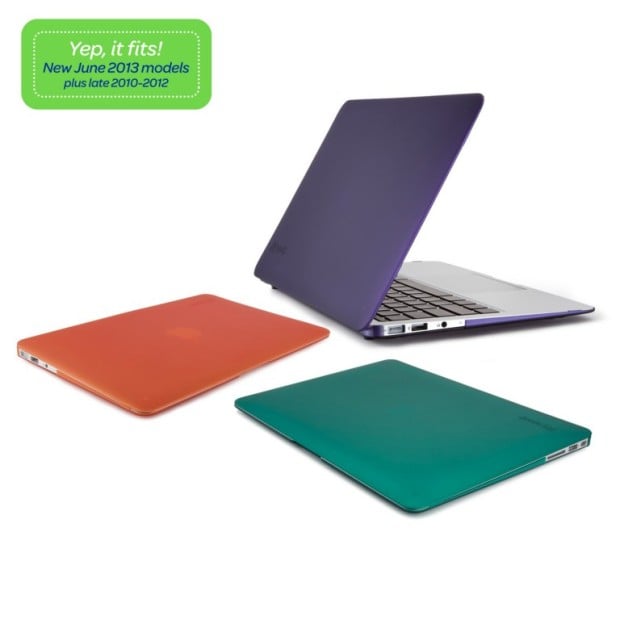 The Speck SeeThru Satin MacBook Air cases are a slim and colorful way to protect the MacBook Air while carrying it to school, work or a coffee shop. A slim case like this works in pretty much any other bag or backpack, but also offers enough protection to carry the MacBook Air around on it's own.
The case snaps on to the MacBook Air and measures just 1.2mm thick, but is durable and the supersize rubber feet keep the MacBook Air on a table better than the standard ones on the bottom of your MacBook Air.
Speck sells a variety of SeeThru case options starting at $49.95, but there are also many colors and versions available on Amazon for $25 and up. Apple logo lights up through this case for a nice look.