Best Madden 16 Black Friday Deals
If you still need to upgrade to the new Madden 16 game then you should check out these tough to pass up Madden 16 Black Friday deals that cut the price of the game in half or Black Friday 2015.
These are the best prices we've seen for Madden 16 since the release back in August. There is a new Madden game every year, so prices do drop off faster than for other titles, but it's still impressive to see 50% off the new Madden game this fast.
Shoppers who need to buy Madden 16 for the first time, or shoppers who are upgrading from a PS3 or Xbox 360 to the PS4 and Xbox One can take advantage of these deals to get the game on a new platform for cheap.
We round up the best Madden 16 Black Friday deals to help you save this year. If you like FIFA 16 or other EA sports games you will find many similar deals.
Best Madden 16 Black Friday Deals
You can most of the Madden 16 Black Friday deals online, which is great considering how fast some items can sell out. While you can save $30 on these Madden 16 deals, you may not want to stand in line or brave the crowds.
Best Buy Madden 16 Black Friday Deal
The Best Buy Madden 16 deal offers the game for $29.99 to anyone, which is $30 off.
Gamers Club Unlocked members can take an additional 20% off, dropping the price to $23.99. Expect to see this online and in stores.
Target Madden 16 Black Friday Deal
Target plans to sell Madden 16 for $35 on Black Friday in stores and possibly online. This isn't the best deal, but it is an important one to keep in mind if you have other shopping to do on Black Friday at Target.
Walmart Madden 16 Black Friday Deal
The Walmart Madden 16 Black Friday 2015 deals include the game for $27 on PS4 or Xbox One. This is the absolute best price we could find without the need for any special membership like Gamer's Club Unlocked. This deal will arrive in stores on Thanksgiving Day, and may also go on sale online.
Amazon Madden 16 Black Friday Deal
Starting at 3 AM Eastern Amazon's Madden 16 Black Friday deal will go live. We don't know the price yet, but expect to see it near the $30 mark.
This deal will include a Steelbook collectible cover in place of the standard plastic Madden 16 cover.
Xbox One Madden 16 Black Friday Bundle Deal
If you plan to upgrade to the Xbox One, check out the Madden 16 Xbox One Bundle that is $50 off at most stores for Black Friday. This may be tough to find in stock at most retailers.
Check out the latest Black Friday 2015 deals and ads to find additional savings and pay attention to Amazon where flash sales may appear.
Best Black Friday 2015 Deals & Ads
Walmart Black Friday 2015 Ad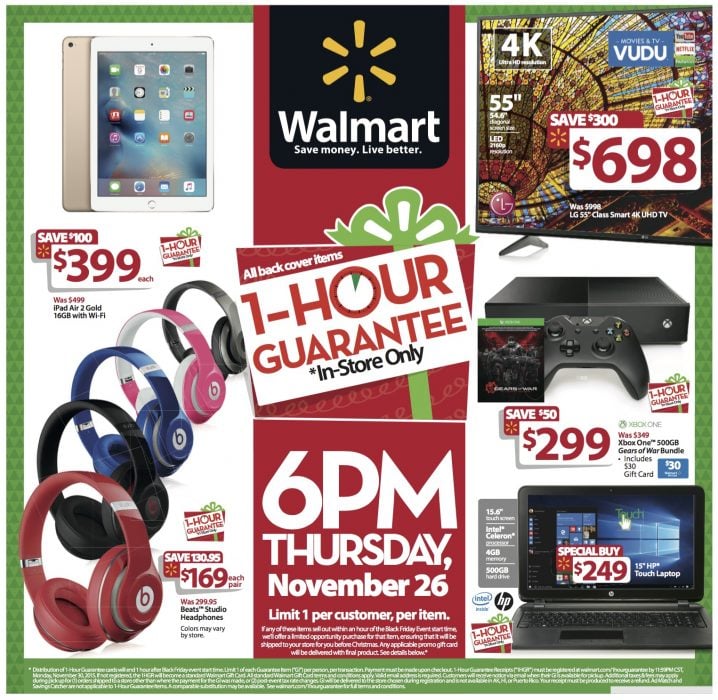 The Walmart Black Friday 2015 hours start online at 12:01 AM Pacific on Thanksgiving Day and in store at 6 PM local time on Thanksgiving. Make sure you check out the online Walmart Black Friday 2015 deals.
Today we are able to see the Walmart Black Friday 2015 ad, and it is available on the iPhone or Android before the general web. The ad includes over 300 Black Friday 2015 deals across a variety of categories.
Read: Are 1 Hour Guarantee Black Friday 2015 Deals Worth Buying?
Walmart confirmed the return of the 1 Hour Guarantee that promises availability of five big deals in the Walmart Black Friday 2015 ad. If Walmart runs out, shoppers who are in line at the right time will get an option to buy these items for delivery by Christmas. These deals include;

iPad Air 2 Gold 16GB Wi-Fi for $399 ($100 savings)
Beats Studio Headphones for $169 ($130.95 savings)
LG 55" Class Smart 4K UHD TV for $698 ($300 savings)
Xbox One 500GB Gears of War Bundle with a $30 Walmart Gift Card for $299 ($50 savings)
15" HP Touch Laptop for $249 (special buy)

Check out more about the Walmart Black Friday 2015 ad to see the deals.

As an Amazon Associate I earn from qualifying purchases.