Best Madden 17 Deals: Save $30 Now
The best Madden 17 deals allow you to save $30 or more on the new Madden 17 game. You can save big without waiting for Black Friday.
The Madden 17 release date arrived on August 23rd for Xbox One, PS4, PS3 and Xbox 360. The game starts at $59.99 with special editions that are $99.99, but you can pay as little as $27 for Madden 17 and still get everything that players who pay full price do.
There's no need to go into the store for the best Madden 17 Black Friday deals on Thanksgiving Day or Black Friday.
There are three versions of Madden 17 that you can buy, but only two that you can purchase on disk. Some users will prefer this option since it allows them to resell the game later, even for a small amount.
Here is a rundown of the best Madden 17 deals that you can score today, plus what you can get on Thanksgiving and Black Friday.
Madden 17 Black Friday Deals
The best Madden 17 deal today is at Amazon for $29.99 on the Xbox One and $46 for the PS4. This is a limited time deal and it will likely end soon. The PS4 version was $29.99 earlier today, but it is now higher.
On Thanksgiving Day and Black Friday we will see many other Madden 17 deals that you may want to take advantage of. You can buy them in store and online.
You cannot stack Best Buy Gamers Club Unlocked on top of the Best Buy deals. We expect to see some digital deals and other deals appear soon.
EA Access Madden 17 Deal
If you are an EA Access member you can save 10% off the digital Madden 17 game on Xbox One. EA Access is $30 a year or $5 a month and includes access to the early Madden 17 release that will allow you to play five days before the general public.
This is good on the standard edition, Deluxe edition and Super Deluxe Edition. You can save up to $10 if you buy the highest end version that is digital only.
Madden 17: 11 Things Gamers Need to Know
Madden 17 Release Date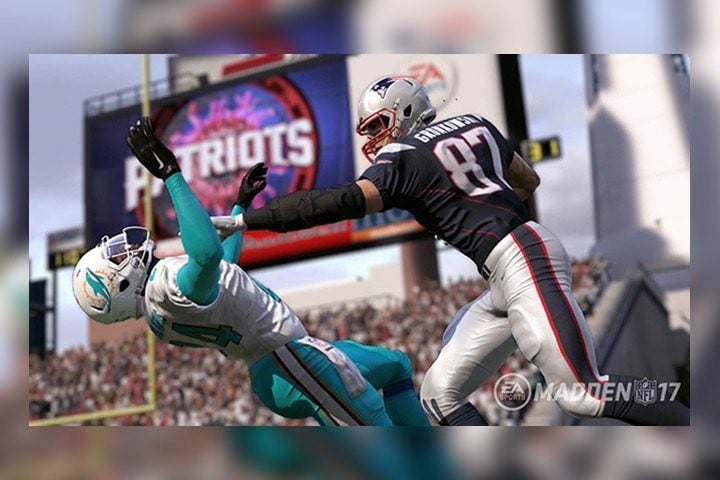 The Madden 17 release date arrived on August 23rd on a disk and digitally. There is no exclusive on the actual Madden 17 release date or on updates that will sway which console you purchase it on, which is good news for many gamers.
The Madden 17 release time arrived at 12:01 AM Eastern / 9:01 PM Pacific (Monday) digitally and there were midnight Madden 17 release date events.
The Madden 17 download is about 25GB and will take some time to complete.

As an Amazon Associate I earn from qualifying purchases.