Best New iPhone Apps & Games [April 2015]
If you're looking to put something new on your iPhone, here are the best new iPhone apps and games.
New iPhone apps and games are constantly releasing, and that can make it a bit difficult to keep up with the latest and greatest offerings on iPhone. Heck, even keeping up with what's popular on iPhone in general can be difficult and time-consuming, especially if you don't have the time to see what's out there in the first place.
You can easily view popular apps and games by checking out the Top Charts in the iTunes App Store, but that doesn't really do a good job at telling you what new and exciting apps just came out.
However, here you'll find a list of some of the best iPhone apps and games for this month that you should check out, that way you don't miss the popularity train and look like an idiot when you mention the app a month after the hype dies down (been there, done that).
Some of these apps or games may have already been out on the market for a while, but received a big update enough to make it slightly new again, like a complete redesign or a whole new feature set, so be aware of that when going through the list. You can check out last month's best new iPhone apps and games if you missed it.
Without further ado, here are the best new iPhone apps and games for April 2015.
Periscope
Periscope is a new app from Twitter that lets anyone live stream what they see through their iPhone's camera and broadcast it to the world. It arrived just a couple of weeks after Meerkat — another live-streaming app — was released.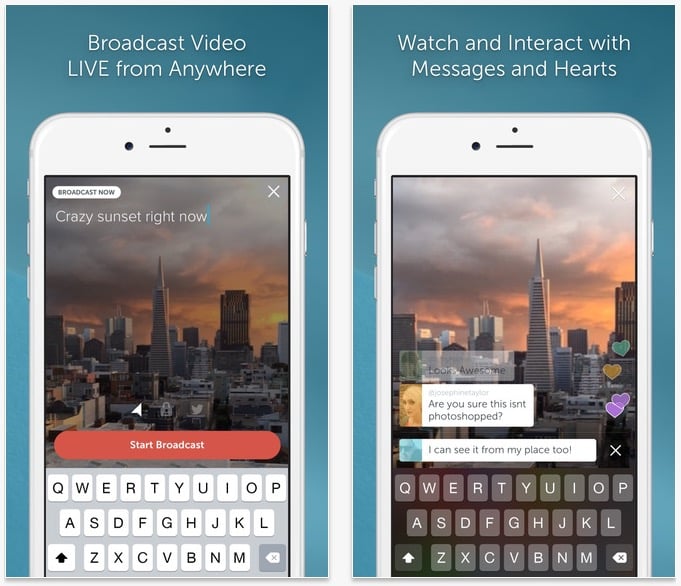 Periscope and Meerkat are similar in a way that allows users to instantly live stream anything from their phones, but Periscope integrates seamlessly with Twitter, making it one of the better options for Twitter users.
While the main feature of Periscope is to be able to instantly live stream from the point of view of your iPhone's camera, it's also a fun app to use as a viewer, as the front page of the app constantly has new live content being refreshed with random users live streaming whatever they feel like. It's fun to see what crazy things people are up to, and it's certainly fun to sit there and waste a bit of time just viewing live streams, but be careful if you have a limited data plan.
Google Calendar
Google Calendar officially joins Google's line of iOS apps already available for iPhone, including Gmail, Google Maps, Hangouts, etc., but the release of a Google Calendar iPhone app finally makes it feel like the Google iOS collection is complete in a way.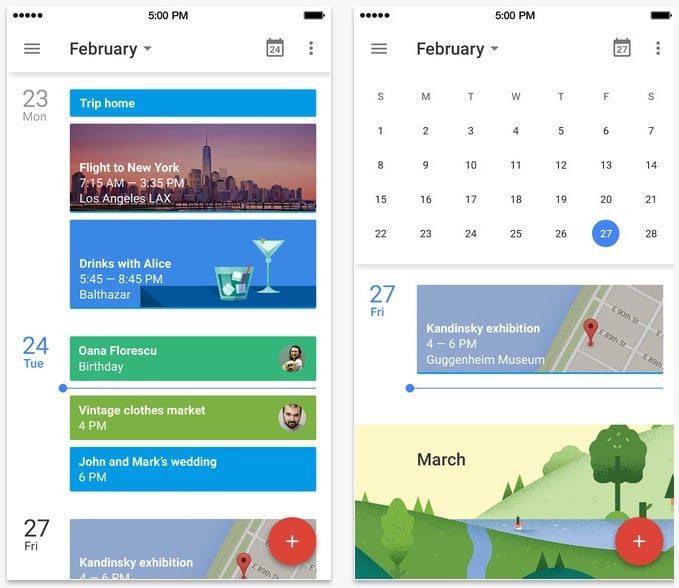 The new calendar app joins a huge list of iPhone calendar apps already available, like Fantastical, Sunrise, and more, but it has some unique features that Google users might love, but one big feature is integration with Gmail. Any emails that include events such as a flight, hotel reservation, concert, restaurant reservations, and more can be added to your Google Calendar automatically.
The app also features Schedule View, which allows you to view your calendar events at a glance, complete with photos and illustrations. You can scroll down to view events in the coming days or weeks, or scroll up to view past events.
Hooks
A new app called Hooks was recently released, and to describe it, it's simply a notification app. Its one and only feature is to give you notifications on anything you specify, like sports scores, weather, stocks, and even Amber alerts.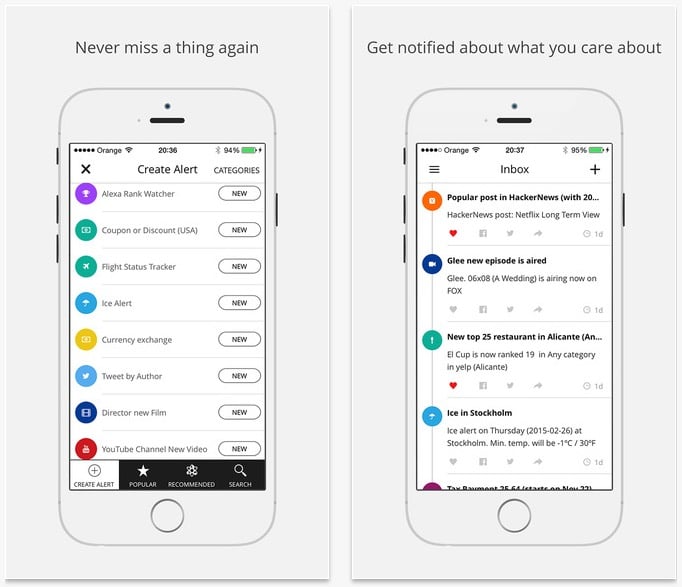 Hooks is quite a unique app, and it has personally allowed me to delete some other apps that I've been using only to receive certain notifications about specific things. I can now delete those apps to free up space, while still receiving the notifications that I need.
Hooks lets you receive notifications for almost anything, like when your favorite TV show has aired a new episode, sports scores for your favorite team (although MLB is sadly left out), and get alerts for when it's going to rain.
CARROT Weather
There's no shortage of weather apps available on the iPhone, but a new weather app that takes a unique approach is CARROT Weather. The developer of the app describes it as "an eerily accurate weather app that delivers hilariously twisted forecasts. There are secret locations to unlock. And also evil penguins."
The app provides you with actual weather details and gives you all the information that you'd want, but delivers it a friendly and humorous manner. It costs a few dollars to download, but if you're looking for a new twist in a weather app, this is the app to get.
Launcher
If you like Launch Center Pro, then you might like a new app, called Launcher, even more.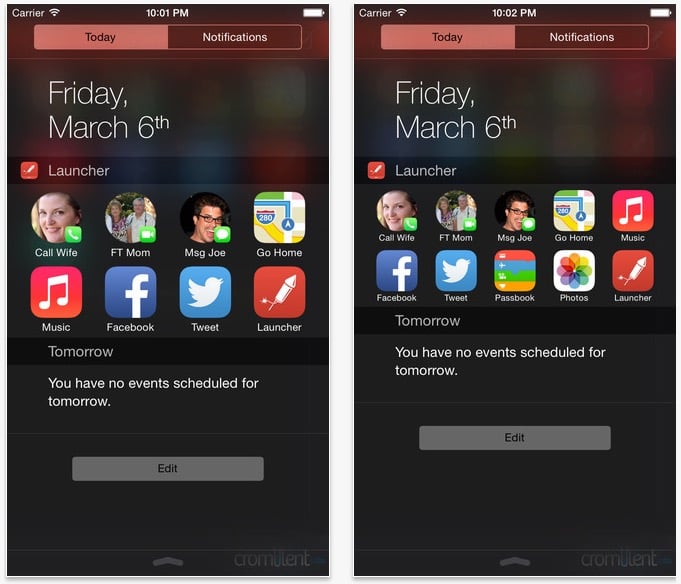 With Launcher, you can add shortcuts to your iPhone's Notification Center, like calling a specific contact, opening apps, putting in shortcuts to social media and a lot more.
Plus, unlike Launch Center Pro, Launcher is completely free to download and install, making it the best option for users on a budget.
Mr. Jump
A new iPhone game that you might enjoy playing is called Mr. Jump, which you might have guessed tasks gamers with jumping their character through different levels.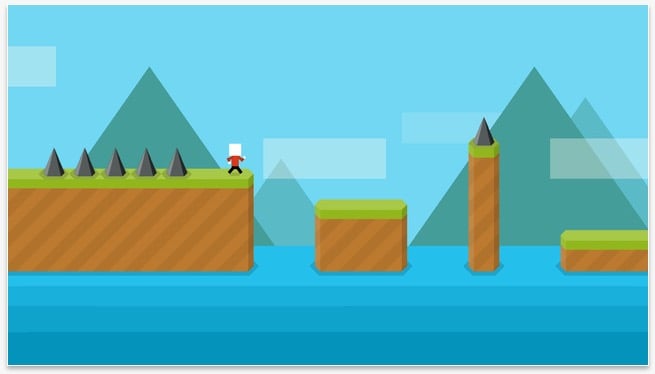 It's almost like Super Mario Bros. where you have to jump over gaps and such, but it's on a much larger scale and is way more difficult. You'll most likely get frustrated with the game, but we have a few tips and tricks that you can try out.

This article may contain affiliate links. Click here for more details.