Best New iPhone Apps & Games [August 2015]
Here are the best iPhone apps and games that have released over the past month.
There are over a million iPhone apps and games available in the iTunes App Store, and that number continues to grow. Because of that, it can be increasingly difficult to keep up with the newest apps and games, especially if there's a lot of junk to sift through to get to the good stuff.
There are a lot of useful iPhone apps that are worth knowing about, but unfortunately, they can easily get trapped under a pile of other apps and games that get released, which is why we enjoy highlighting some of the best new iPhone apps and games that have come out recently.
Last month, we featured a handful of cool apps including Fallout Shelter, which is an all-new game from the makers of the Fallout series on consoles. The game tasks you with building an underground bunker and maintain it to keep your occupants happy.
This month we have a whole new crop of apps and games that have released, but only a few that are worth your time.
With that said, here are the best new iPhone apps and games for August 2015.
Star Wars
With the next Star Wars in production and releasing later this year, Disney has released an iPhone app that lets you stay up to date on all things Star Wars.
You can receive notifications on big announcements, as well as trailer releases and other general news and updates about the upcoming movie. You can also access the various Star Wars social media accounts through Facebook, Twitter, Instagram, etc. and read official news from the Star Wars blog.
There are even some fun and goofy features within the app, like the ability to take a selfie and dress yourself up in all sorts of Star Wars costumes, and even get Star Wars-themed weather forecasts.
Showtime
Just like HBO Now, Showtime also has its own standalone streaming service that it recently launched, and you can access it through the iPhone app, which is also available on the iPad and Apple TV.
If you're a fan of Homeland, Masters of Sex, or Dexter, you'll probably want to take advantage of the new service, which provides a free 30-day trial and then will cost $10.99 per month, which is a few dollars cheaper than HBO Now.
This new streaming service allows you to watch Showtime content without needing a cable subscription, and since many users are cutting their cable in favor of streaming options, Showtime might just be a viable option for you to add to your repertoire.
Beme
There are already a ton of different social apps available on iPhone — the kinds that you take a photo or video and share it to Facebook, Twitter, etc. However, Beme does things a bit differently.
Beme is really simple to use, yet it allows you to capture moments without it interrupting your own experience. Simply just hold your iPhone to your chest with the rear camera facing out. This will automatically record a moment and then upload to the social platform of your choice.
It's still a very new app that is invite-only for the time being, and the user interface could use some work, but with any new app, it's a work in progress that has a ton of potential.
Angry Birds 2
Angry Birds is back yet again, only this time it's a whole new game. While Angry Birds 2 keeps the overall playing style of previous titles, it implements a ton of new features.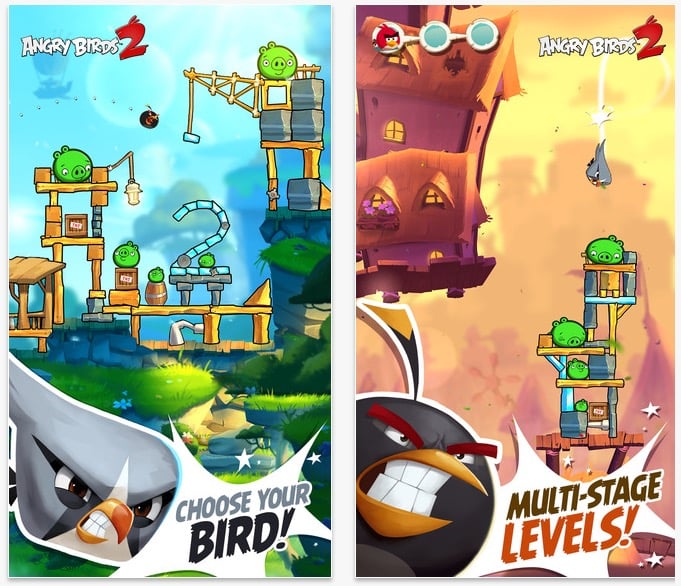 This time around, you can choose which bird you fling instead of having to deal the ones you're given. You can also cast different spells to help you out along the way.
There are also new boss pigs, like Foreman Pig, Chef Pig and King Pig, that are more difficult to kill than normal pigs, so you'll have to make sure to put your best foot forward when you take on these guys.
You can also play with friends and other players from around the world, which can you feathers that you then use to level up your flock and become the ultimate bird flinger of sorts.

This article may contain affiliate links. Click here for more details.