The GottaBeMobile team presents our top picks from CES 2013. There are hundreds of quality devices and accessories here in Las Vegas, but there are only a handful that stand above the rest and earned one of our Best of CES awards.
Our editors examined hundreds of products and services at CES 2013 before compiling the list. We recommend these products without hesitation. The list includes products that will be hot sellers and fill a specific niche. We gave one award to a technology that will be integral to phones of the future.
We didn't see an onslaught of smartphones like at CES like in previous years. We also didn't see a plethora of tablets and traditional notebooks this time around.  The conversation's evolved past convincing people they need a smartphone and into a conversation about how consumers can do more with them and get more out of them. The GottaBeMobile team recognizes the Best of CES 2013 recipients
Congratulations to all the people behind the products below for building things that will help improve technology users' mobility and digital lives.
ThinkPad Helix – Best of Show
The ThinkPad Helix is equal parts ultraportable notebook and tablet. It doesn't feel neither like a tablet with a keyboard slapped on it, nor a laptop that happens to have a removable screen.
Lenovo built the ThinkPad Helix for the enterprise user, it's durable enough to meet the demands of a business traveler, and with 10 hours of battery life it will keep going for most of the day. With 4G LTE and 3G the ThinkPad Helix will keep business travelers connected wherever they go.
Windows 8 on the ThinkPad Helix also provides businesses with the security they need from any device and access to any and all legacy apps they might require. And because it's a ThinkPad the Helix has the same great keyboard that road warriors love so much.
For its great potential for enterprise users and its great blend of the tablet and ultraportable form-factors the Lenovo ThinkPad Helix win Best of Show for CES 2013.
Read More About the ThinkPad Helix.
Sony Xperia Z – Best Phone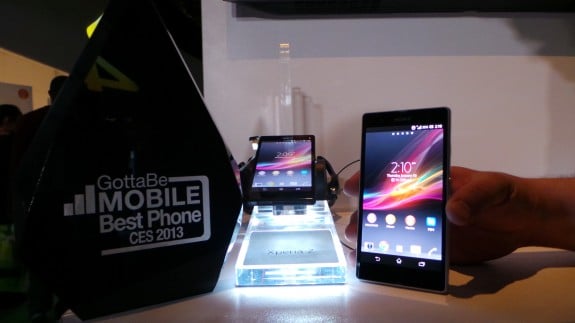 While this year's CES was thin on the smartphone announcements, there was one smartphone revealed at the show that stood out as a serious competitor in 2013. T
The Sony Xperia Z is Sony's latest flagship Xperia smartphone and it packs some power which includes a 5-inch 1080p display, quad-core processor, water and dust resistant design and Android Jelly Bean.
The combination of great hardware and almost-Vanilla Android software make the Xperia Z an easy choice for our Best Phone of CES 2013.
Read More about the Sony Xperia Z.
Project Shield – Best Gadget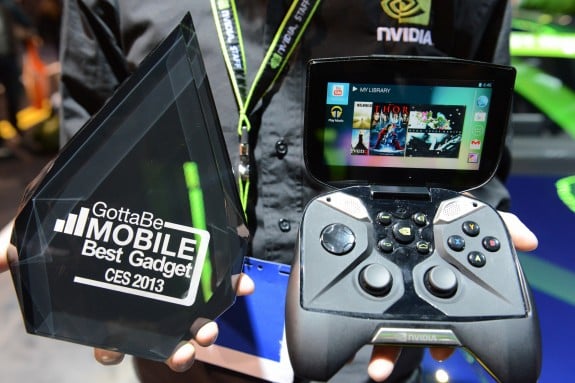 While many startups are trying their hands at a home console running Android the NVIDIA Project Shield is the first one that works as a portable gaming system and a way to play full-fledged PC games.
The NVIDIA Project Shield is the culmination of five years of work from NVIDIA. Using the company's new Tegra 4 processor Project Shield can run any Android game on the market, and it can also stream PC games from any gaming rig with a compatible graphics card on a local Wi-Fi network, displaying better-than-console graphics on the 5-inch 720p display or on a HDTV.
As an Android handheld console that can also play almost any PC game, the NVIDIA Project Shield easily wins the award for Best Gadget of CES 2013.
Read more about NVIDIA Project Shield.
ZAGG Origin – Best Accessory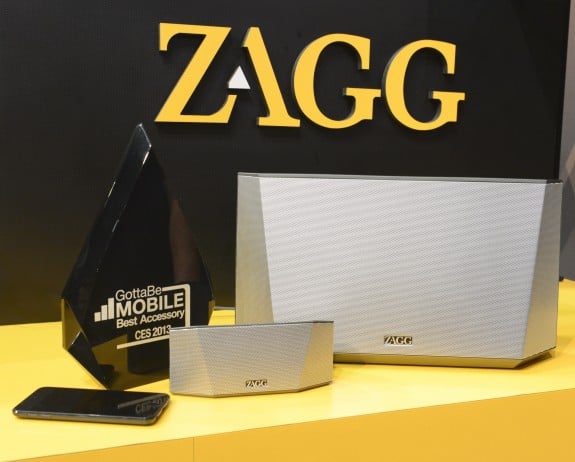 CES is a show that is jam-packed with accessories and this year, the accessory that stood out amongst the crowd was the ZAGG Origin two-in-one speaker that is part in-home speaker system, part Bluetooth speaker.
ZAGG, also known for its iPad cases, has delivered a fantastic speaker system that is perfect for a party at home or a day at the beach. The Origin features a speaker base that produces fantastic sound but it also possesses a Bluetooth speaker that can be detached and used for up to 10 hours.
Its unique package provides fantastic sound with portability and that's why the ZAGG Origin speaker wins the award for the Best Accessory at CES 2013.
Read more about the ZAGG Origin.
Best Camera – Canon Powershot N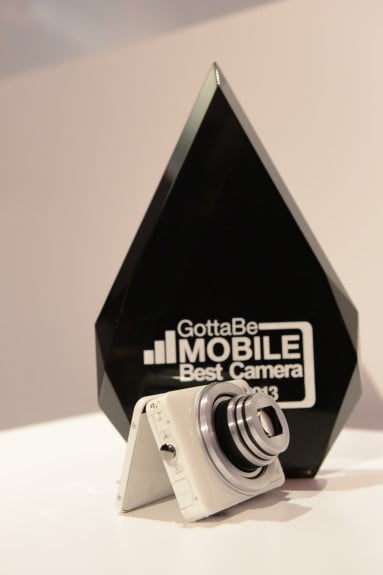 The PowerShot N is one of the smallest point-and-shoot cameras we've seen, with many of the same features as point-and-shoots almost double its size.
Canon's diminutive point-and-shoot has a 2.8-inch touchscreen that can flip 90 degrees, making it perfect for taking photos of children or pets. The size also makes it easy to fit in a pocket alongside a smartphone.
The Canon PowerShot N wins GottaBeMobile's Best Camera of CES 2013 award for its ability to take 12.1MP photos and 1080p video in such a small package.
 Read more about the Canon PowerShot N.
ThinkCentre Horizon – Most Versatile Device
The IdeaCentre Horizon, Lenovo's brand new 27-inch 'Table PC' is an extremely versatile device, combining a massive display with an intuitive software interface that invites sharing, gaming, and more.
Its 27-inch HD display is perfect for sharing photo and video with family and friends, its unique accessories which include a joystick and pair of dice make it perfectly equipped for gaming, and its Windows 8 OS gives it the feel of a typical tablet. And that's the tip of the iceberg.
The Horizon, for all of its use cases, wins our award for Most Versatile Device at CES 2013.
Read more about the ThinkCentre Horizon.
Razer EDGE – Best Gaming Device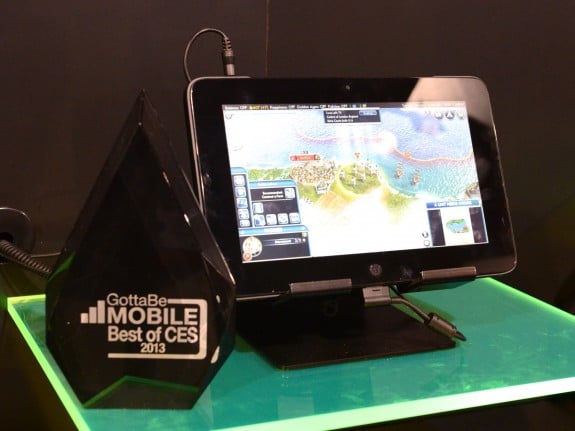 The Razer EDGE is the final version of Razer's Project Fiona tablet which it showed off at CES last year, it's a gaming laptop with mid-range gaming laptop specs.
Unlike other Windows 8 tablets the Razer EDGE can play most modern PC games thanks to its dedicated NVIDIA GeForce 540M LE graphics card. Gamers can play games on the touchscreen, with the detachable controllers, as a home consoles with wired controllers or as a laptop with the optional keyboard.
As one of the only tablets that can run full PC games the Razer EDGE wins the award for Best Gaming Device of CES 2013.
Read more about the Razer Edge.
Sharp IGZO Screen Tech – Best Innovation
While Samsung's flexible display technology may have stole the show, it's still a long way off from being put into consumers hands. IGZO display technology, on the other hand, is a reality and it will be hitting more phones in the coming year.
Sharp's IGZO displays promise to offer better battery life, improved touch and higher pixel counts for displays. They should also start arriving in 2013, potentially even in the new iPhone 6.
Given all of those improvements and the fact that it's on devices this moment, it was easy to award the Sharp IGZO Screen Technology our award for Best Innovation at CES 2013.
Lowes Iris – Best Home Automation Innovation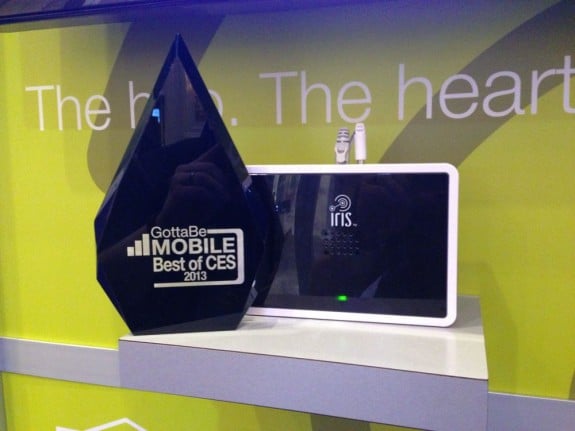 Home automation is nothing new at CES 2013, but what's new this year is the Lowes Iris home automation system, an affordable do-it-yourself approach to controlling the comfort and security of your home from iPhone and Android.
The Lowes Iris system is controlled by a hub, which retails for $179 and includes security or comfort features. Users can add-on door locks, monitors, video cameras, outlets and more, to bring home automation to other areas of the house without wires or expensive contractors. The Iris accessories connect wirelessly over Zigbee and Z-wave and shoppers don't need to worry about compatibility because all Iris branded products at Lowes work with the system.
Lowest also offers premium services with rules for home automation and an elder care service that can alert family members to changes in elderly user's activity or in emergencies.
Home automation is typically an expensive, hard to configure headache with compatibility questions. Because Lowes Iris solves these problems, we gave it the Best Home Automation Innovation at CES 2013.
Nectar – Best Mobile Power Solution
At CES 2013, we saw plenty of power solutions for mobile devices. One that stood out amongst the rest though was the Nectar Mobile Power solution, a cartridge based charger that turns Butane into power capable of keeping your iPhone or Android tablet going for up to two weeks without a wall outlet.
The Nectar is extremely easy to use, is portable enough to use around town, and maybe best of all, it's likely TSA approved which means that you can bring it safely on a plane to recharge a phone or a tablet during a long flight.
Battery life is extremely important to smartphone and tablet owners and the Nectar does a fantastic job of that and that's why we gave it our award for Best Mobile Power Solution at CES 2013.
Lego Mindstorms – Best Tech for Kids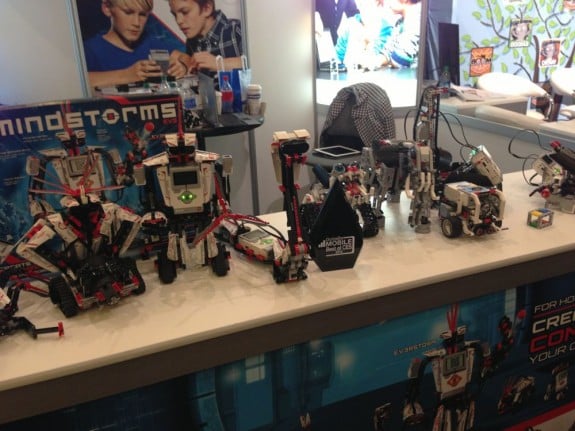 The Lego Mindstorms EV3 and the Lego Mindstorms platform were a surprise find at CES 2013, showing off interactive and controllable Lego educational toys for consumers and the classroom.
Kids can turn the 550+ Lego Technic pieces into five robot characters that they can control with an iPhone or Android app. Kids can set program their creations to the move and interact with their environments
The Lego Mindstorms EV3 is shipping in the second half of 2013 for $349 in the U.S., so kids can play with the LEGO Mindstorms robots at home.
In addition to the Mindstorms EV3 retail portion, Lego also delivers the Mindstorms platform to educational markets, with configurations that allow kids to explore science, technology and engineering at a young age.
We gave Lego Mindstorms and the Lego Mindstorms EV3 the Best Tech Toy for Kids because it brings a fun, educational experience to schools and homes.
Read more about Lego Mindstorms.
Incipio Atlas Waterproof iPhone 5 Case – Best iPhone Case
Waterproof iPhone cases aren't new, but Incipio's stylish waterproof iPhone 5 case includes something we've never seen with an iPhone case, a warranty that covers not just the case, but the iPhone, including water damage.
The Incipio Atlas Waterproof iPhone 5 case delivers protection in up to 3 meters of water and keeps dust and dirt out of the iPhone's ports and off the screen. The Atlas case covers the screen with a glass screen protector and includes large buttons so users can find them on the go or underwater. The case includes opening to all of your ports and users can make calls and listen to music with the case on.
We've seen cases that offer similar features, but what seals the deal is the 1 year device and case warranty that includes coverage for water damage. 1 Year is included with the $80 purchase price and consumers can extend the warranty.
For delivering waterproof protection and a device warranty in one sleek package we gave the Incipio Atlas Waterproof iPhone 5 case the Best iPhone Case of CES 2013 award.
Adonit New Jot Touch Bluetooth Stylus – Best iPad Accessory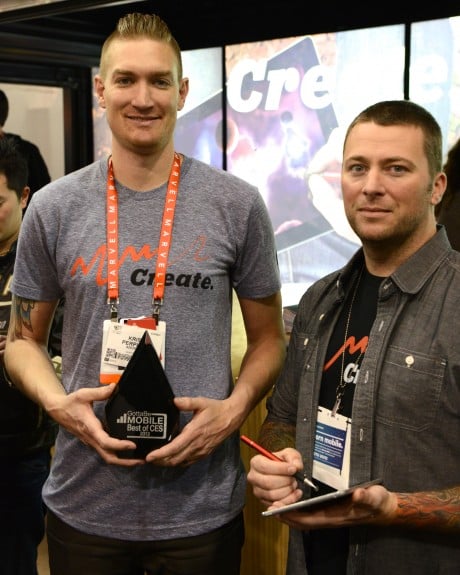 The Adonit Jot Touch with Bluetooth 4.0 is a pressure sensitive stylus that connects to the iPad to deliver a better note taking experience than the hundreds of other capacitive iPad styli.
The Jot Touch with Bluetooth 4.0 pairs with special apps so users can take notes without accidentally writing with their finger, and delivers real palm rejection for taking notes on the iPad. Users can choose from 30+ iPad apps that work with the Jot Touch including Photoshop Touch, ArtRage, Note Taker HD and more.
We gave the Best iPad Accessory of CES 2013 to the Jot Touch with Bluetooth 4.0 because it delivers a notably better note taking and drawing experience on the iPad and iPad mini.