Best of CES 2014: The Best New Tech of the Year
The Gotta Be Mobile team presents our top picks from CES 2014. There are hundreds of quality devices and accessories here in Las Vegas, but there are only a handful that stand above the rest. Those are the devices that have received one of our Best of CES awards.
Over the course of a week, our editors examined hundreds of products and services at CES 2014 before putting together our Best Of list. These are products that we recommend without hesitation. The list includes products that we feel will not only be hot sellers but will also fill a specific niche on the market.
While CES 2014 did produce its fair share of smartphones and tablets, they weren't the focus. Neither were Ultrabooks which, along with smartphones and tablets, dominated the landscape for the past few years.
Instead, we saw an interesting mix of technology that saw companies pushing the boundaries with wearables, screen resolution and more. So, it's fitting that our Best of Show award goes not to a smartphone or tablet but to a wearable piece of technology.
This is CES which means that we also saw some great tablets and smartphones. Our Best Smartphone and Best Tablet awards were given to two devices that we feel represent top of the line devices, continue to push technology in the right direction and that will make an impact with consumers in the new year.
The Gotta Be Mobile team recognizes the Best of CES 2014 recipients. Congratulations to the teams behind these products for delivering things that will significantly impact technology users' lives.
Lumo Lift – Best in Show
The Lumo Lift is the Best Wearable Technology product at CES 2014. At just $69, the magnetic device can tell if you're standing straight. Slouch your upper back and the Lumo Lift vibrates to remind you to lift your head and put your shoulders back. Like dozens of other wearable devices at the show, the Lumo Lift also tracks steps and activity level.
Alleviating back pain is something that's much more important to many office workers than counting steps though. The Lumo Lift can help alleviate a serious health problem and is discreet enough to wear everywhere from the boardroom to a night out.
Sony Xperia Z1s – Best Smartphone
Sony was the only big name smartphone manufacturer to announce a flagship at last year's CES. This year, HTC and Samsung once again skipped CES and Sony, once again, took advantage.
While the Xperia Z1s has been out on shelves outside the United States, CES saw the company finally confirm it for a carrier inside the U.S. Sony's flagship will be heading to T-Mobile later on this month and in our opinion, it's a device that T-Mobile customers should take notice of.
In particular, we fell in love with the device's unique camera ecosystem that allows developers to create features for the app. It also helps that it features an impressive Burst Mode.
Throw in the fact that it also comes with a gorgeous display, waterproof design, and a speedy processor and the Xperia Z1s all of a sudden becomes one of the dark horses of 2014. It's deserving of our Best Smartphone of CES 2014 award.
Samsung Galaxy Note 12.2 – Best Tablet
The Galaxy Note Pro 12.2 represents Samsung's strongest threat to PC-era laptops. A vibrant, high resolution 12.2-inch display, even more powerful simultaneous multitasking capabilities, and Samsung's S-Pen add value to the Android ecosystem while allowing users to be even more productive while mobile.
The Note Pro 12.2 also breaks new ground by debuting with a screen larger than the standard 10.1-inch, but the increased display real estate makes the Galaxy Note 12.2 a productivity powerhouse. Pair the tablet with a Bluetooth mouse and keyboard and prop the Note Pro on a stand and you can have an all-in-one Android workstation at your desk.
The Galaxy Note Pro 12.2 keeps with the Galaxy Note 3 design, including Samsung's premium feeling faux leather back, while a new Magazine UX keeps the interface fresh and clean for the new year.
With plenty of innovation on hand at CES 2014, choosing best few was a challenge. In the end the new NVIDIA K1 192-core mobile processor wins the award simply because of everything it promises.
NVIDIA K1 – Best Innovation
NVIDIA's new quad-core chip based on the desktop and super computer grade Kepler architecture will power smartphones and tablets later this year. Offering the best performance on any mobile device to date, especially in the graphics department, where NVIDIA promises it will finally bridge the gap between console and desktop gaming with mobile.
Developers will finally be able to develop for one main target, and it will scale across all devices we use today. As a result, the NVIDIA K1 wins the Best Innovation of CES 2014
Braven BRV-X Rugged Speaker – Best Accessory
CES is packed full of accessories galore as you roam the halls, so finding one that everyone can enjoy or benefit from took some time. After trying out the Braven Rugged Outdoor speaker, we knew we found the right one.
Known for durable Bluetooth speakers, the new Braven BRV-X is built to handle the outdoors, drops, falls, and of course is water resistant. It can be paired to others for surround sound while streaming from a mobile device, and has a new outdoor more to improve open-environment audio output.
Its unique, rugged package, and great sound makes it our best accessory of CES 2014.
Parrot Jumping Sumo Drone – Best Gadget
Robots and drones were another item we saw all over the showroom floor, however, Parrot has been here year after year and finally improved a drone to be friendly for all users.
The MiniDrone was awesome and will surely be a big gift item throughout the year for the many features and ease of use, but the company's Jumping Sumo drone that's more of an RC car takes the prize. Controlled by a mobile device it can turn on a dime, jump nearly 3 feet, and sports a 720p front camera for photos and video capture while you control this mini drone.
Being something nearly everyone can use and enjoy, not to mention taking a different approach to the smartphone-controlled drone, the Parrot Jumping Sumo easily wins the award for Best Gadget of 2014.
Mophie Space Pack iPhone Case – Best iPhone Accessory
iPhone users looking for both protection, extra storage space and additional battery life are going to fall in love with Mophie's brand new iPhone case dubbed Space Pack.
Mophie's new Space Pack case packs a ton of features into a small package. Not only will the company's new case help to protect your iPhone, it will add 16GB or 32GB of additional storage space. That's huge for those that are constantly running out of space on their phone. The case's companion app allows users to seamlessly move files back and forth. Users can even move their entire iTunes library if they wish.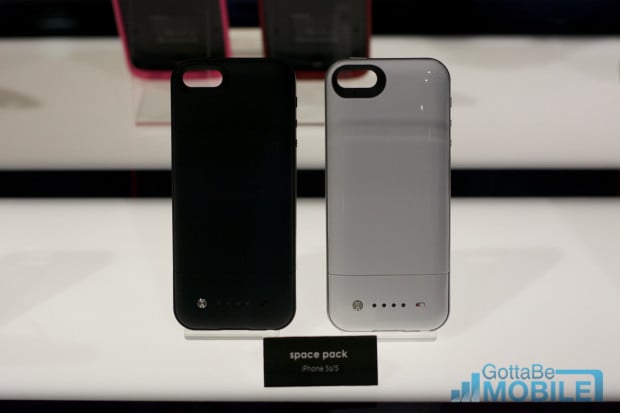 This is a Mophie case which means that is also enhances battery life. The case features a 1700mAh battery designed to work with the iPhone 5s and iPhone 5., adding a solid extra charge to these new iPhones.
The case will be out in March, for $150 or $180 and it's a case that iPhone owners should definitely keep an eye on for it's well deserving of our Best iPhone Accessory of CES 2014.
Withings Aura – Best Health Companion

Getting a good night's sleep is harder than it looks for a lot of people, and many companies try and make products to help folks get to sleep faster and wake up better. However, the Withings Aura is the first product we've seen that's all-encompassing.
The Aura is a two-part system, including a pad that goes under your pillow or mattress that detects various things like heart rate, breathing and movement throughout the night. Then there's a nightstand alarm clock/night light that plays soothing sounds and emits a red glow that helps develop melatonin to get you to down to sleep quicker. Then, in the morning, the Aura simulates the sunrise with a blue glow that gradually gets brighter and brighter.
The Withings Aura will be priced at $299 when it releases to the public later this spring.
Garmin Vivofit – Best Fitness Wearable

There were so many wearables that were announced at CES this year, so it was a bit difficult to choose a solid winner, but the Garmin Vivofit stood out to us because of its battery life; Garmin claims that the wristband can go a year on a full charge.
What's perhaps most unique about the Vivofit is that it gives you a warning if you've been sitting down too long, and it won't go away unless you start getting up and walking around.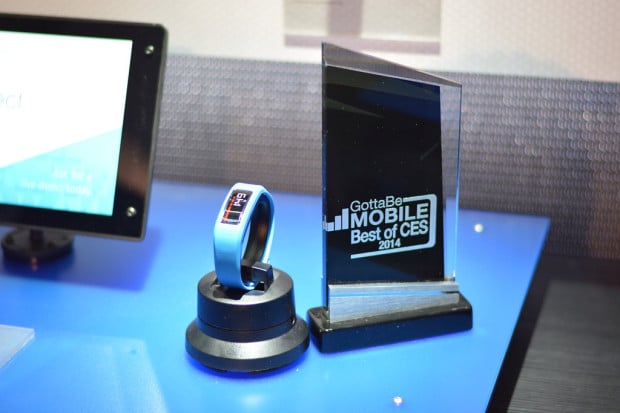 The wearable also assigns you achievable daily goals based on your current fitness level, and when you accomplish a goal, the Vivofit will automatically assign you another goal so that you never get bored.
The Garmin Vivofit will cost $129, or $169 with an included heart-rate monitor, when it releases within the next couple of months.
PS Now – Best Gaming Product

It may have been Xbox Live that introduced the world to centralized online gaming, but Sony is finally fighting back with a unique service of its own.
This past week Sony took to the stage at the Consumer Electronics Show to introduce PS Now, a streaming service that allows users to use Sony's service to play their favorite PS3 games on their PS4, Sony Bravia television, smartphone and more.
Sony hasn't detailed pricing for PS Now. The service itself will enter beta by the end of January. Sony hopes to roll it out to its users in the United States by the end of the year.
ThinkPad 8 – Best Small Tablet

Microsoft's hardware partners were behind the curve on 8-inch tablets, allowing Google's Nexus 7 and the Apple iPad mini to get an early lead in that space. Thankfully, Microsoft adjusted the hardware requirements and made changes to Windows that finally make decent 8-inch Windows tablets a possibility. The best of this new breed of PC is Lenovo's ThinkPad 8.
Oriented vertically so that users get a more e-book reader or phone-like feel. Users shouldn't under estimate it though. The ThinkPad 8 features an Intel Bay Trail processor and options for LTE and a 128GB SSD. User who prefer larger screens are well take care of too. The tablet allows users to connect up-to-two displays for when it's time to get work done in an office environment.
There's also front a front-facing for taking online meetings and self-portraits. It's backed up by an 8 megapixel rear-facing camera and the QuickShot case that automatically launches Windows 8's camera app. Best of all, the ThinkPad 8 costs just $399.
Pebble Steel – Best Smartwatch

The Pebble Steel fixes two of the biggest complaints about the original pebble and smart watches in general, offering a stylish smart watch with metal and leather bands that also includes a Gorilla Glass screen to prevent scratches.
During our Pebble Steel Hands On, we came to appreciate the nice look and feel of the stainless steel and black matte finish. The black matte Pebble Steel looks incredibly sharp and the ability to swap in a leather band is a nice touch
In addition to the nicer look and scratch resistant Gorilla Glass screen the Pebble Steel will arrive with access to the Pebble App store, making it easier for the average consumer to add apps and watch faces.
Intel Edison – Best Enabling Technology

No matter where you go or what you do, so the claim goes, wearables are the future. If bite-sized systems that enable users to seamlessly interact with their environment are the future, than the Intel Edison stands a pretty good chance at being what powers them. The Intel Edison isn't just some miniature processor, it's an entire computer that comes complete with Bluetooth connectivity and wireless internet access.
Unfortunately, users and hobbyists won't get the opportunity to purchase the Intel Edison until mid-2014, however users don't have to wait that long for the future. Products from Memo, one of Intel's partners, include baby clothing that broadcasts and the child's temperature and more. That entire line should be available online in February.
Intel will also allow users to bolster the Edison's feature set by downloading apps from an upcoming online store.
Sony 4K Camcorder – Best Camera

The Sony Handycam AX100 democratizes 4K video recording with a price tag that makes the device more like a consumer camcorder than a pricier pro-grade machine. In addition to being less expensive, the AX100 is also 70 percent smaller than Sony's professional 4K video camera and allows consumers to create content for all the new 4K TVs that are hitting the market this year.
Using a similar 1-inch sensor size as Sony's acclaimed RX100, the AX100 can also capture stills at 14.2 megapixels. A BSI CMOS sensor along with an f/2.8-4.5 lens should give your captures a pleasant depth of field and bring out details in low light. You also get 12X optical zoom to get closer to your subject.
The AX100 also features a range of recording modes and resolutions, including different HD modes and captures in either 30p or 24p.
TrackingPoint AR Rifle – Product of the Future

Shooting targets several hundred yards away can take a lifetime of training and there's still a lot of trial and error involved. The TrackingPoint AR Smart Rifle's electronic scope and refined technology allows just about anyone to shoot targets up to 500 yards away after tagging and tracking them through the scope.
The rifle accounts for environmental conditions and other factors that impact trajectory. The scope even offers a live view feature that streams whatever the scope sees to a smartphone. The rifle system starts at $9,950, which is about a third of the cost of TrackingPoint's original bolt-action smart rifle.
That's relatively affordable for government agencies and gun enthusiasts.
Chevrolet Corvette Performance Data Recorder – Best Auto Tech

The Chevrolet Corvette Performance Data Recorder (PDR) merges the fun of recording track day videos with the benefit on racecar quality vehicle information. The PDR allows drivers to record their laps and easily create a sharable video with speed, track overlay, gear information, G-forces, and more.
Additionally, Cosworth (who supplies telemetry data for Corvette's racing team) provides a version of their software so drivers can analyze their data on a computer and compare results. All of the data is stored on a SD card in the vehicle, making it easy to export the information.
We see this being a popular option on the 2015 Corvettes when they go on sale later this year.