Best Reddit App for iPhone
You're bored at work or maybe just waiting in line someplace and want to get on Reddit on your iPhone. Here is the best Reddit app on iPhone.
Reddit's web interface is confusing as it is, but access it on your iPhone, and it's even worse. Because of the small text on Reddit's website, it's hard to read on an iPhone, which is why it's best to use a dedicated Reddit iPhone app.
The good news is that many Reddit apps exist, including AMRC, Alien Blue, Rhombus, iAliens, Narwhal, and BaconReader, and each of them have their own pros and cons, but only one app is really worth your time.
While we'd recommend checking out a handful of Reddit apps yourself to see which one you personally like better, if you just want one recommendation, Narwhal is probably the best overall Reddit app available for the iPhone.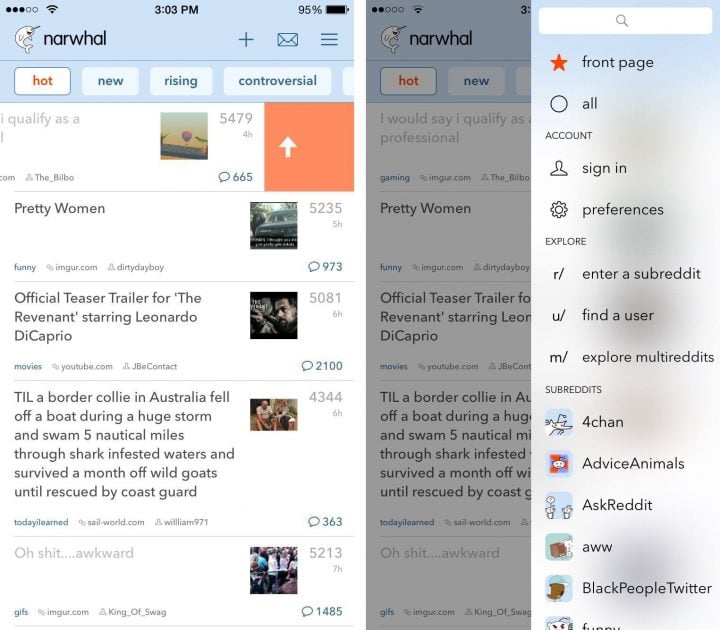 Alien Blue is perhaps the most popular option, especially since it was bought by Reddit itself, and while the app works fairly well and comes with a good-looking user interface, it still doesn't quite have what it takes compared to Narwhal.
Narwhal has a user interface that's very similar to the overall look and feel of Reddit's website, which keeps the familiarity that users yearn for when switching platforms to access a website (like going from their computer to browsing on their iPhone). Plus, Narwhal is simpler to use than other Reddit apps.
What makes Alien Blue not the best option is that it has a significant learning curve, and its navigation is really fluid or easy to use. Narwhal, on the other hand, relies on swipe gestures to get around. It also takes advantage of swipe gestures to upvote or downvote, as well as do other things to interact with a post. For example, swiping right slightly will allow you to upvote, while swiping right even more with downvote. It's a bit weird at first, but once you get used to it, you'll never wonder if there's anything better.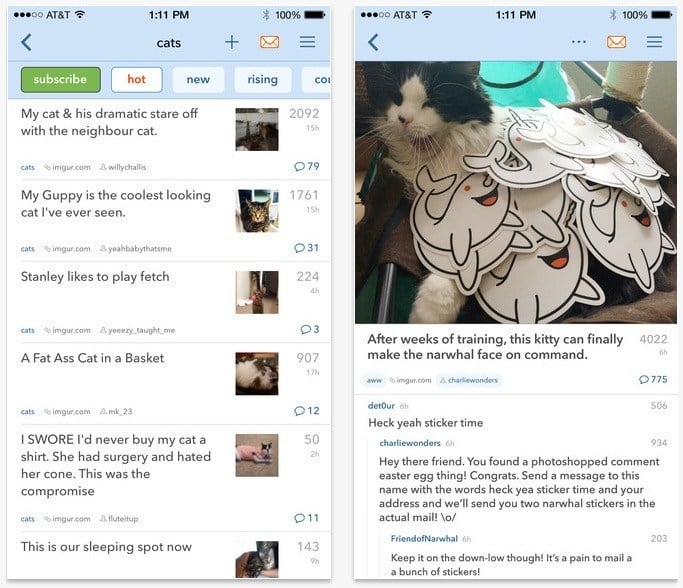 Furthermore, when you click on a thread, Narwhal will load the link, as well as show the comments on the lower-half of the screen, and you can always expand either section to take up the whole screen.
Of course, it's not perfect, as there are a couple of things that could use improvement. For instance, when you tap on a comment from your inbox, it doesn't take you to that comment, but rather just the thread itself. From there, you have to find the comment in order to reply to it. That's a little wonky, but hopefully it gets fixed in an upcoming update.
If Narwhal isn't your cup of tea and would even prefer something more simpler, than AMRC is about the simplest it gets. The app also relies heavily on swipe gestures, but its user interface and overall design is pretty ugly. Yes, it's a clean interface for the most part, but if design is something that you look at, AMRC might not be the best option.
Rhombus is another option that includes a pretty simple user interface, and the best part about Rhombus is that's really fast. The only thing that some users may not like about Rhombus and other Reddit apps is that navigation isn't quite as fluid as Narwhal or AMRC.
If you enjoy customization, BaconReader is probably the go-to app for you, as there a handful of settings that you can change around to cater the app toward your needs and preferences. However, some may find that the design and layout of BaconReader is a bit too crowded for a small device like the iPhone. Reddit itself is crowded as it is, so having all of that compacted into a small screen is a tough job.
Overall, though, Narwhal has impressed me the most, and I find it easier to navigate around Reddit using Narwhal compared to these other Reddit apps.
One thing's for sure, though: Alien Blue might be the most well-known app since it's owned by Reddit itself, but there are a ton of other third-party Reddit apps that are seriously worth checking out, many of which are way better than Alien Blue anyway.

As an Amazon Associate I earn from qualifying purchases.