Best Samsung Galaxy S4 Cases
The Galaxy S4 arrives with a slimmer stronger design and an overwhelming collection of Samsung Galaxy S4 cases to add features, protection and style to the Galaxy S4.
We've tracked down the best Samsung Galaxy S4 cases available to help new Galaxy S4 owners find the perfect fit for their new smartphone.
From a Rugged OtterBox Galaxy S4 case to the stylish Spigen Slim Wallet and plenty of other options, we have your Galaxy S4 case needs covered.
Building on the success of the Samsung Galaxy S3 and Galaxy Note 2, manufacturers are offering many more Galaxy S4 cases than we see for a typical Android smartphone.
Update: added additional cases and review links.
We've rounded up the best Samsung Galaxy S4 cases based on the half-dozen we already have in our hands and from manufacturers we love. These cases range in price, style and color and should appeal to any Galaxy S4 owner looking for a case.
Read: Samsung Galaxy S4 Review
We include the official Samsung Galaxy S-View Flip cover that lets users see what's going on without opening the case as well as other cases that can snap on to the back to deliver an orange or pink Samsung Galaxy S4 without waiting for Samsung to deliver new color options.
We've already seen that the Samsung Galaxy S4 display can withstand the attacks of knives, coins and keys, but there are several options that will cover up the screen for added protection. These flip behind Samsung Galaxy S4 cases include covers that can help users protect the Galaxy S4 from a broken screen if it's dropped.
Here are the best Samsung Galaxy S4 cases available. We'll be updating this list as we find more Samsung Galaxy S4 cases and start to review Galaxy S4 cases.
Samsung Galaxy S4 Case - S View Flip Cover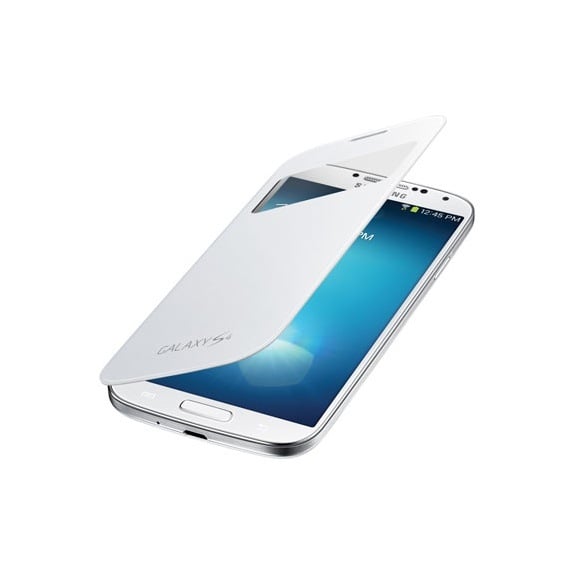 The Samsung Galaxy S View Flip Cover is an official Samsung Galaxy S4 case that snaps onto the back of the smartphone in place of the stock back.
The Galaxy S View Flip Cover expands on the Galaxy S3 Flip Cover, adding a small opening that lets users see the time, weather and notifications.
The S View Cover turns on when the case is closed, showing white notifications on a black background. When the case is closed, users can tap on the power button to turn the notifications back on.
If a call comes in, users can answer or reject the call from the window and start talking without opening the flip cover.
The cover flips around, which could be annoying for taking photos, so that's something to keep in mind. The case comes in White Frost and Black Mist.
$60 at Samsung

As an Amazon Associate I earn from qualifying purchases.