Best-Selling Disney Games Free for Windows Phone Users
Disney's efforts in mobile gaming aren't as well received as its cartoons, television channels and merchandising, however that could change in the near future. Disney is giving a way nearly all its entire portfolio of games to users of Microsoft's Windows Phone as part of a new promotion.
Though Microsoft announced the giveaway on its Windows Phone Blog early this afternoon, users have been able to download the collection of games as part of Disney's Season of Giving campaign since early this morning. Effectively, the deal offers Windows Phone users the opportunity to pick up many of the games that users on other mobile platforms have had in some form or another for some time.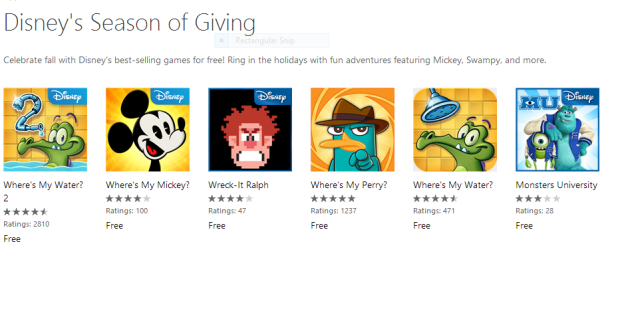 Games being giving away for free as part of the offer include Where's My Water 2, Where's My Water, Where's My Mickey, Wreck-it Ralph, Where's My Perry and Monster's University.
Really, each title allows users to play very simple object games that take on the characters and storylines from many of Disney's television and other entertainment properties. To be clear, iPhone and iPad users can download many of these games on their Apple device of choice for free already. The catch is that many of the games in the lineup include in-app purchases that allow users to advance quickly in the game. Of the titles, Where's My Water2, Where's My Water, Where's My Perry and Monsters University are available free to iPhone and iPad users. Wreck-it Ralph costs users $.99.
These games are also available to users with smartphones and tablets running Android through the Google Play Store.
Unfortunately, Microsoft didn't share  any details on when the giveaway might disappear from the Windows Phone Store. As such, it's probably a good idea to download the titles the next time you're near a wireless internet connection. They could make for a valuable distraction for kids during  long car rides this holiday weekend.
Though they are on Windows Phone, none of these games allow users to earn Xbox LIVE Achievements. That honor is reserved for games published by Microsoft Studios and its close partners.

As an Amazon Associate I earn from qualifying purchases.