Best Selling iPhone Game 'Plants vs. Zombies' Free for a Limited Time
Today the price of PopCap's popular tower defense game Plants vs. Zombies dropped to free on the iPhone and iPad for the first time.
Both Plants vs. Zombies for iPhone and Plants vs. Zombies HD for the iPad are now free, thought likely only for the week. Apple chose the game as the App of the Week for both the iPhone and iPad. Apple's App of the Week drops the price of a popular app to free for a week.
Last week the App of the Week was Infinity Blade by Epic Games. As of this writing the game was still featured in the App Store and available for free. That may change soon, however, as soon as Apple updates the App Store.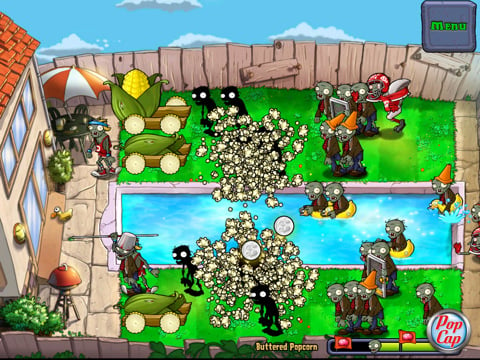 Plants vs. Zombies is a tower defense game where players use plants as the "towers" to defend against the evil zombie horde. There are several types of plants ranging from simple Peashooters to Sunflowers and Wall-Nuts that all have unique features that help the player fend off the zombies.
There are also several types of zombies include the run of the mill walkers to zombies with newspapers, pole vaulting zombies and the incredibly rare Yeti zombie.
The goal of the game is to stop the zombies from entering the house and eating the humans that reside there. Once the plants defeat all the zombies in a level the play can advance to the next level. There are three stages with several levels each. Players will combat zombies in the front yard, back yard with a pool and the roof.
Plants vs. Zombies is one of the best games available on any mobile platform, and users who haven't played it yet owe it to themselves to download it while it's free. Just beware that it doesn't yet support the full screen of the iPhone 5.

As an Amazon Associate I earn from qualifying purchases.