The best tech of 2014 includes updates to our favorite products and services, adding better looking displays, longer battery life and features that we use every day to the gadgets we simply cannot put down. Our favorite tech of 2014 includes affordable phone accessories and gadgets that anyone can afford and top of the line notebooks that Windows and Mac users will appreciate.
Apple and Samsung dominate the best tech of 2014 list, but they are not the only companies to make great products in 2014. LG and Motorola built on successes from last year to deliver incredible products for 2014 and Lenovo built an entertainment tablet that isn't just impressive, it's also affordable.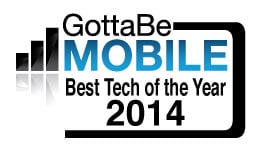 We continue to see a trend of the best tech of 2014 becoming more affordable and offering more options for users. There is no longer just one best smartphone of the year, but a selection of five of the best smartphones of 2014 that offer a variety of user experiences and features that give users choice and a great overall experience.
Here is the best tech of 2014.
Best Smartphones of 2014
iPhone 6
The iPhone 6 is the best iPhone for most users thanks to a larger, but still-manageable-with-one-hand screen size. Apple delivered the first screen upgrade in two years, upgrading the iPhone 6 to a 4.7-inch screen with a higher 1,334 x 750 resolution. After using a 4-inch iPhone 5s or iPhone 5 for the past two years, this is a welcome upgrade.
Read: iPhone 6 Review
We love the size of the new iPhone 6, battery life, upgraded speakers, more reliable Touch ID and the ability to make mobile payments with Apple Pay. Two big drawbacks are the slippery design (that almost requires the use of an iPhone 6 case) and the durability, as it is easy to scratch or ding. In our iPhone 6 review editor Adam Mills wrote, "The iPhone 6 is one of the best phones on the market and the iPhone that most people will want to buy."
iPhone 6 Plus
The iPhone 6 Plus is a big phone, bigger than the Galaxy Note 4, but it finally delivers a what iPhone users have been asking for — a huge screen that is great for playing games and watching movies or sports. The 5.5-inch display finally delivers a full 1,920 x 1,080 resolution like most HDTVs, and it looks wonderful. The speaker is much better and the iPhone 6 Plus battery life is outstanding.
Read: iPhone 6 Plus Review
The iPhone 6 Plus and iPhone 6 both deliver a great camera, and the iPhone 6 Plus includes optical image stabilization, which helps with low light performance.
The design is slippery, like the iPhone 6, and this is a device that is best used with two hands. It is not the best iPhone for every user, but it is easily one of the best smartphones of 2014.
Samsung Galaxy Note 4
The Samsung Galaxy Note 4 fixes almost every complaint we had about the Note 3, delivering an incredible package that users cannot ignore. The Galaxy Note 4 packs in a 5.7-inch display with a 2,560 x 1,440 resolution that blasts the iPhone 6 Plus out of the water, and this display looks beautiful. Even with a huge screen the phone isn't any bigger than the iPhone 6 Plus and it still delivers great battery life.
Read: Galaxy Note 4 Review
Samsung finally packs a metal frame into the phone and also improves the S Pen with an incremental boost to handwriting. On the software side, Samsung trims down to apps and features that people will actually use instead of focusing on niche items.
LG G3
After years playing second fiddle, the LG G3 arrived this summer to stake a claim as one of the best smartphones of 2014 with smart software, a big beautiful 2k display and an unbelievably slim design. LG packs a 5.5-inch 2,560 x 1,440 resolution display into a deceptively small body with a curved back that helps this phone slide right into your hand when you pick it up.
Read: LG G3 Review
Gotta Be Mobile publisher Xavier Lanier sums up why the G3 is one of the best smartphones of 2014: "The LG G3's ease of use, outstanding camera and  outstanding display earned this device a Gotta Be Mobile Editors' Choice Award. It is the best flagship Android phone for iPhone switchers who still want simplicity and don't want to be drowned in feature bloat."
Moto X (2014)
Motorola delivers a solid and much needed improvement to the original Moto X and earns a spot on the best smartphones of 2014 thanks to a great design, improved display and smart, intuitive software that continues to deliver the best mobile notifications on any phone while adding in smart, touch free voice control options.
Read: Moto X 2014 Review
With a 5.2-inch 1080P display and a curved back the Moto X 2014 is still usable with one-hand and the metal frame provides a premium design. Motorola still needs to find a way to deliver an amazing and consistent camera in the Moto X. It takes good photos, but they are not as sharp as the iPhone 6.
The Moto X shows notifications on the screen, instead of using an LED, so you can see at a glance if it is important enough to act on. You can also set a custom wake up command and use voice control without touching the device.
Best Tablets 2014
iPad Air 2
Apple barely refreshed its iPad mini lineup in 2014 and focused on the full-size iPad. The iPad Air 2 is the best overall tablet money can buy and where Apple clearly put its attention in 2014. Apple managed to slim down its flagship tablet by almost an ounce, putting a full-sized iPad under the one-pound mark for the first time.  That might not sound like too big of a deal, but combine that with a 20% thinner profile and the new iPad Air 2 is a lot easier to handle with one hand than the original iPad Air.
What makes the iPad Air 2 the best overall tablet isn't necessarily its updated specs however. The iPad Air 2 holds a strong lead against the competition when it comes to ecosystem. There are countless accessories and cases designed specifically for the iPad Air 2. App developers continue to make iPad apps before Android tablet apps. And while the iPad mini 3 is a great compact tablet, the introduction of the iPhone 6 and iPhone 6 Plus made tiny iPads less relevant.
Samsung Galaxy Tab S 8.4
The Samsung Galaxy Tab S 8.4 is a thin and light tablet with the best tablet screen we saw in 2014. The Super AMOLED display packs an 8.4-inch 1,560 x 1,600 resolution display into a very portable tablet design. The display is simply stunning to look at, especially considering how easy this tablet is to hold and take wherever you go.
Read: Samsung Galaxy Tab S 8.4 Review
The back of the tablet shares the same band-aid-like look and plastic material as the Galaxy S5, but with a 6.6mm thickness and the light weight construction, the screen overcomes this drawback. Samsung still packs a lot of bloatware on this device, so prepare to remove and disable that.
Lenovo Yoga 2 Pro Tablet
The Yoga Tablet 2 Pro launched just in time for the 2014 holiday shopping season and is the best entertainment tablet you can buy. Thankfully, you don't have to spend a whole lot of money to score this killer tablet. With an MSRP of just $499, it is perhaps the best bargain in the tablet universe today. The 13.3 inch display is the same size as many laptops, dwarfing the iPad Air 2's display. When that isn't big enough to enjoy your favorite movies you can simply point the tablet at the nearest wall, dim the lights and flip on the built-in projector. Lenovo states that the projector can produce an image up to 50″, measured diagonally, but we've been able to watch movies with the Yoga 2 Pro Tablet with a projection of up to 110″.
The Yoga 2 Pro Tablet looks, feels and sounds like it should cost a lot more than $499. Everything from the built-in metal kickstand to the stereo speakers and subwoofer scream premium. If you're looking for the ultimate entertainment tablet, the Yoga Tablet 2 Pro is it.
Best Laptops of 2014
ThinkPad Carbon X1
The ThinkPad Carbon X1 is a thin and light Windows notebook that is great for the workplace or for power users at home who want a dazzling display, adaptive keyboard and a touch screen to interact with Windows 8. The design is top-notch with Carbon Fiber and MILSPEC ratings to handle dust, altitude, vibration and shock. It weighs in at just 2.83 pounds and is 0.7-inch thick.
Read: ThinkPad Carbon X1 2014 Review
Here's what we had to say about the Carbon X1 display during our review: "This display looks wonderful, almost as if it is a printed page or a poster instead of a screen. While this is not a matte display it is as close as I've seen on a touch screen notebook. While using this in my office I don't see the reflections from overhead lights like on a glossy display. This display looks best indoors, but will work outside with the brightness cranked up."
MacBook Pro Retina
Apple's MacBook Pro with Retina Display is not drastically new for 2014, but it remains the go-to laptop for Mac users who want power, portability and a Retina display. The MacBook Air is a great notebook with incredible battery life, but the MacBook Pro Retina's display is clearly a step up for users who stare at their screen all day.
Read: MacBook Pro Retina Review
Although the battery life isn't as long-lasting as a MacBook Air, the MacBook Pro with Retina Display battery lasts a full work day with a little bit of smart usage and the Macbook Pro Retina is better at processing video, editing photos and other processor heavy tasks.
Best Accessories & Gadgets of 2014
Leather iPhone 6 & 6 Plus Case
The leather iPhone 6 and iPhone 6 Plus case from Apple is the best case you can find for the new iPhones. The case fits the iPhone 6 and iPhone 6 Plus perfectly, adding enough grip to easily hang on to the iPhone without adding any noticeable bulk. The case is available in a variety of colors and it holds up after months of use showing minimal wear that adds to the character of the case. iPhone 6 Plus Leather case review.
OlloClip for iPhone 6 & Galaxy S5
The Olloclip is a small attachment that clips on to your iPhone 6, iPhone 6 Plus or, if you choose the right version, the Galaxy S5. This adds a 4-in-1 lens that mounts to your iPhone. With this new lens you gain fisheye lens, wide-angle lens and two Macro options including 10x and 15x. The iPhone 6 & iPhone 6 Plus Olloclip slides on over the camera and the Galaxy S5 Olloclip snaps on to the phone. Users can easily switch between lenses and carry the lens in a pocket or bag while not in use. Olloclip iPhone 6 review.
Plantronics BackBeat Pro
The Plantronics BackBeat Pro headphones sound great, connect over Bluetooth and are noise canceling so you can tune out annoying sounds. The battery life on these headphones is insane, lasting up to two weeks with an hour or two of daily use and they charge over MicroUSB when you need to top them off. Sensors pause music when you remove the headphones and further conserve battery life. The BackBeat Pro headphones are comfortable to wear and the larger ear cups include controls for music, volume and phone calls. The sound quality is great, but it does struggle with deep, continuous bass in songs like Kanye West's Love Lockdown. Plantronics BackBear Pro review.
Zagg InvisibleShield Glass
The Zagg InvisibleShield Glass screen protector sits perfectly on top of your smartphone to deliver a layer of protection from drops and when you inevitably smack the screen with the edge of a table or your keys. Installation is incredibly easy, without any air bubbles left behind and there is no change to the quality of your screen after installing it.
In the past two months the Zagg InvisibleShield Glass saved our iPhone 6 and another iPhone 6 Plus from breaking due to drops. Zagg will replacea  broken or worn screen protector if it does break. Read Zagg InvisibleShield Glass review.
Bose Mini Soundlink
After spending a good part of the year searching for the best Bluetooth speaker, we discovered the Bose Mini Soundlink. This is a small and portable Bluetooth speaker with great sound, even at high volumes while outside. The battery life is stellar and for the price you will not find a better portable Bluetooth speaker.
Amazon Fire Stick
The Amazon Fire Stick upgrades your HDTV to a smart TV for $39 and it includes a remote control that competitors like the ChromeCast don't. This small device connects to a HDMI port on the back of your HDTV, so you don't need space for a $99 box on your entertainment stand. If you are an Amazon Prime member you can watch a lot of free content through Amazon Prime Instant video and the device also supports other apps like Netflix if you don't use Amazon Prime. Amazon Fire TV Stick review.
Belkin Thunderbolt 2 Express Dock HD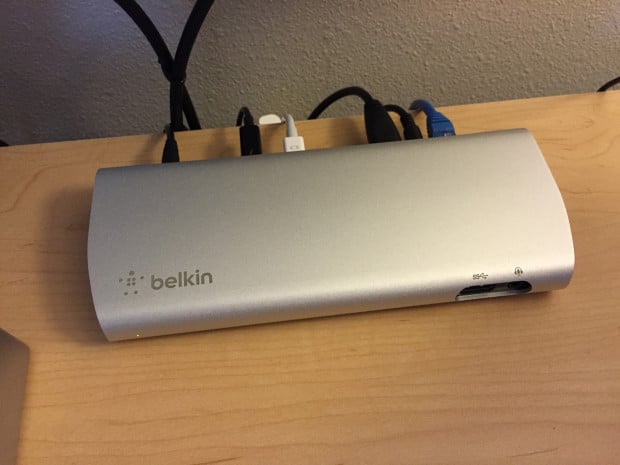 If you use a MacBook Air or MacBook Pro with a monitor and other accessories in your home or office and still take the Macbook everywhere you go, the Belkin ThunderBolt 2 Express HD is the accessory you've been waiting for. Connect your MacBook Air or MacBook Pro to this with a Thunderbolt cable and then connect your monitors, hard drives, speakers and other accessories to the Belkin Thunderbolt 2 Express HD. Now you can use all your accessories and still go mobile with just one cable to deal with. Belkin ThunderBolt 2 Express HD review.
ZAGG Slim Book Keyboard
The ZAGG Slim Book iPad & iPad mini keyboard is the most versatile iPad keyboard that we've seen. The iPad sits in a small case that offers protection even when you don't need the keyboard, and it clips to the keyboard for a total of four modes. The keyboard is backlit with a two-year battery life claim from ZAGG. You can use the iPad in typing mode, in a video mode with the keyboard behind the screen and book mode in addition to the standard case mode.
Office for iPhone & iPad
Microsoft finally delivered Office for iPhone and iPad this year, allowing users to edit and create Word, Excel and PowerPoint on the iPhone or iPad for increased mobile productivity. This is not the first time that users could edit Office documents on the iPhone or iPad, but it is the first time office users can access the documents in the same format and tool that they use in their office.
Asana
We've been through dozens of task management tools and were never fully satisfied until we discovered Asana. The tool is as simple as you need it to be and it can grow with you. We love the team task management and project management features that keep users accountable and everyone in the loop. There is also a free option that lets a single user manage their tasks or for a small group inside a bigger organization to use this tool to stay organized even if the whole company doesn't join up.
Moto 360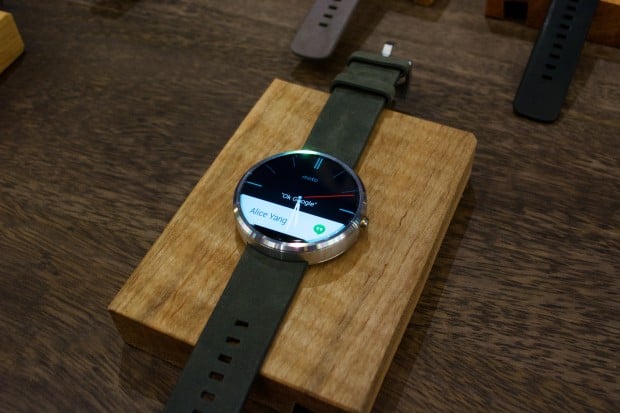 The Moto 360 is the best smartwatch of 2014. With a premium steel and leather design and smart notifications it remains a watch that we wear with our variety of Android devices. The circular display and plethora of watch faces means it can work with any outfit or occasion and the battery life is more than enough to last a full day of heavy use. The Moto 360 is a constant source of attention when others notice the crisp watch and striking design. Moto 360 review.
Samsung Curved 4K Ultra HD TV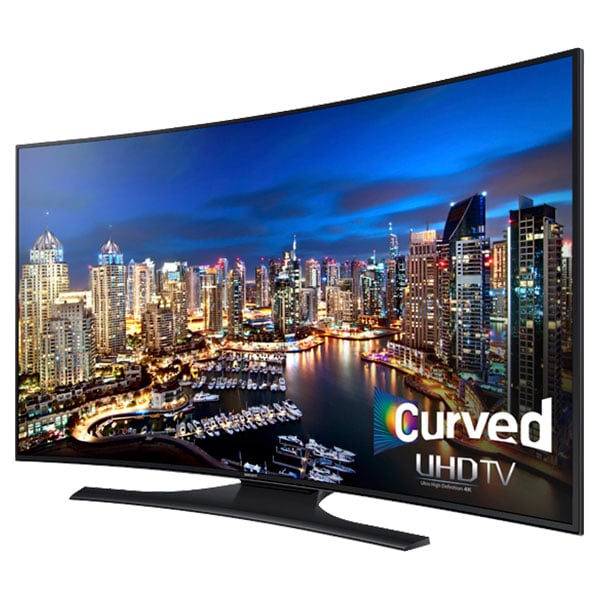 The Samsung UN55HU7250 is a 4K smart TV with a gorgeous display, voice control that works every time and smart TV apps that are good enough to replace your Apple TV or Fire TV. We are still waiting for a plethora of 4K content, but with M Go, Netflix and now Amazon Prime Instant there are options to watch, rent and buy 4K content on the 55-inch Curved Samsung Ultra HD TV. The curve does make the viewing experience more immersive if you are close enough to the TV and the picture quality is the best I've seen, even when upconverting. We use the smart apps to watch Netflix, Hulu Plus faster and more reliably than on the Apple TV. There are apps to add features and even the option to pair Bluetooth headphones to the TV. The remote control is also a pointer and you can mirror your phone or tablet screen to the TV.
Distil Union Wally Wallet Case
The Distil Union Wally Wallet case for the iPhone 6 is a slim case that adds room for three cards on a small leather holder on the back of the iPhone 6. This model snaps on to the side of the iPhone 6 to protect the phone from small drops and includes a small wallet on the back that includes a pull tab to access your cards. Unlike plastic iPhone 6 wallet cases, this one looks awesome, works great and is only $50. There is also a stick on version that is thinner for the iPhone 6 and iPhone 6 Plus. Distil Union Wally iPhone 6 wallet case review.
Harman Kardon Aura
Harman Kardon introduced the almost-invisible Aura omnidirectional speaker in 2014. Since most of the speaker is transparent, you can place the Harman Kardon Aura in plain view on top of a countertop without it creating an eyesore like most speaker systems do. At first glance, the speaker doesn't look like it has much to it, but it can fill large rooms with clean, clear sound. The speaker's bass is much more powerful than you'd think.  Yes, you really can do away with those complex audio systems and tangle of speaker wire without missing them. While there are a lot of nice Bluetooth and WiFi speakers on the market, none blend into a variety of settings as well as the Harman Kardon Aura.
Best Cameras of 2014
GoPro Hero 4 Black 
Just when you think GoPro footage looks as good as it's going to get, GoPro goes and doubles performance and remains atop the action camera market. While you can save some cash by buying a more affordable GoPro camera, the results we've seen out of the HERO4 Black are worth every penny of the $499 asking price.  Thanks to improved editing tools and mobile apps, it's easier than ever to produce professional-looking photos and videos with an action camera. The GoPro HERO4 Black captures 4K video at 30fps and 12MP stills at 30 frames per second. The fact that GoPro can manage to sell this kind of technology for $499 is almost as stunning as the footage in the above highlight reel.
Sony RX100 MIII
Sony made the best camera you can fit in your pocket even better. The RX 100 M3 is pricey at $799, but it's well worth the money.  Its 20.1 megapixel sensor measures 1″, allowing for fantastic image quality, even in low light.  It rivals much bulkier camera systems, including those with interchangeable lenses.  New in 2014 for the Sony RX100 line in 2014 is a pop-up electronic viewfinder and a tilting 3″ LCD that can rotate 180-degrees so you can take selfies that have so much detail you'll want to blur them before exposing your Facebook friends to what's inside your pores.
Yes, professionals and serious amateurs can take better pictures with more expensive and complex cameras than the RX100 MIII, but this is the best camera the average person can handle easily without having to take photography lessons.

This article may contain affiliate links. Click here for more details.