Best Time to Buy an iPad, iPhone & iPod Touch
Apple normally keeps the price of the iPad and iPhone steady, but dealhunters can find a better deal on the iPad and iPhone is they are willing to wait.
Dealnews monitors deals with a statistical addiction to pricing which allows them to figure out when to expect the first price cut on the iPad and iPhone and when to expect the best deal.
By tracking iPad and iPhone price trends, Dealnews has determined that that the best time to buy Apple gadgets, including the Macbook Pro and MacBook Air.
Shoppers who want to save the most money on a new iPad, iPhone or iPod touch will need to wait, and in most cases need to put up with old technology.
Best Time to By an iPad
The best time to buy an iPad is 12 months after release, when savings hit $139. The price is dropping so dramatically by this point because a new iPad has been released, but that means good deals for users that don't need the latest model.
Patient shoppers can score $40 off the iPad by waiting 2 months after release. These iPad deals typically pop up at online retailers such as MacMall or small chains like MicroCenter.
Best Time to Buy an iPhone
The iPhone rarely goes on sale, so it's not surprising that the best deals arrive just two months after release and top off at $31 in savings. Waiting $11 days after release nets savvy shoppers $11 in savings.
When it comes to iPhone deals, there really are no good deals to wait for. In my experience, any discounts on the latest model are short-lived and in short supply. Over the course of a two-year contract, $11 to $1 doesn't matter.
Focus on finding app deals, accessories on sale and a better cell phone plan instead.
Best Time to Buy an iPod Touch
The iPod Touch is an incredibly popular gadget for users who want a smartphone, but don't want a data plan. The  best deal on the iPod Touch comes 14 months after release, when shoppers will see deals with up to $83 off, likely as part of a gift card or Black Friday bundle. 8-days after release shoppers can save $6 by purchasing the new model on Amazon and other third-party retailers.
Check out the Best time to Buy an iPhone, iPad and iPod Touch Infographic from Dealnews for more details.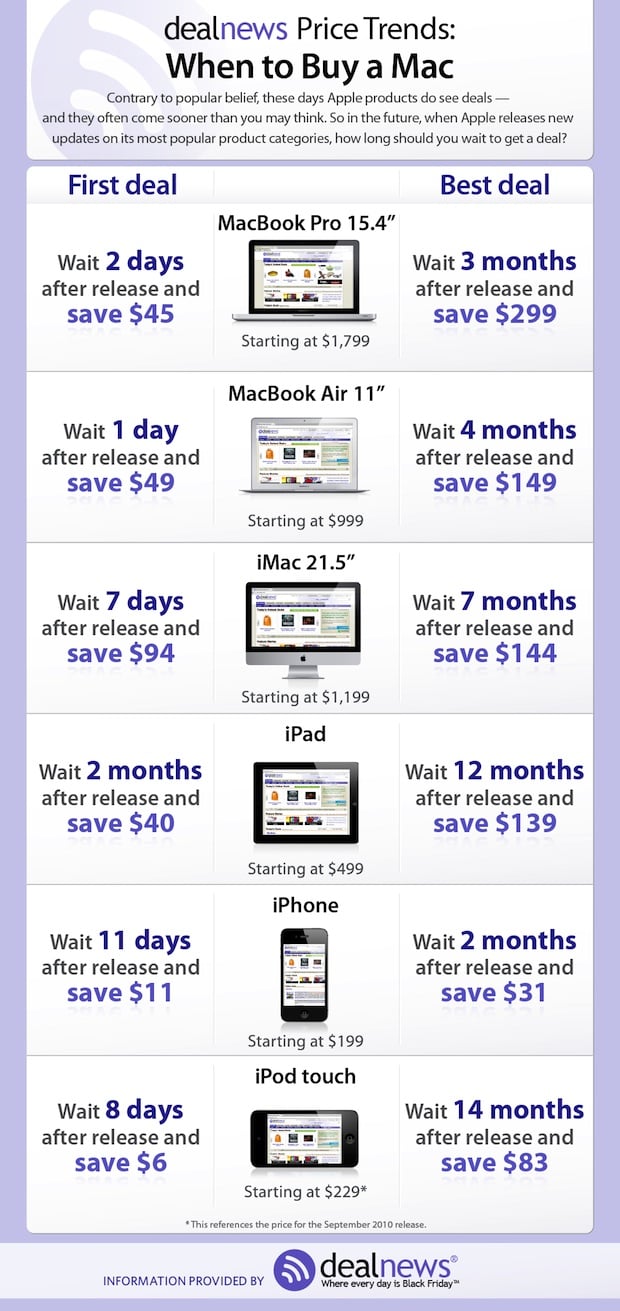 How long are you willing to wait for a good deal?