Best Video Player for iPhone
When it comes to watching movies on your iPhone, you probably just use the default Videos iOS app, but there are better options out there.
The stock Videos app is good and it works well. Its simple interface makes it easy to use, but it's limited as far as what video files it will play, and it's rather limited as far as any advanced features are concerned.
For the everyday user, the built-in Videos app is fine, but if you find yourself watching more and more movies on your iPhone while on the go and wish that you had some extra features to play around with, this is where a third-party video player can come in real handy.
Unsurprisingly, there are a handful of video players to choose from, but only a few really stick out from the crowd. Furthermore, it can be hard to find a video player that has the advanced features you might be looking for while still keeping the user interface clean and easy to use, as no one likes a bogged-down app with way too many features for its own good.
With that said, here is the best video player for iPhone that you should be using right now.
Best Video Player for iPhone
Without a doubt (and perhaps unsurprisingly), the best video player for iPhone is VLC. It has a simple user interface that's easy to use for even novice users, while still including some advanced features that other users enjoy having.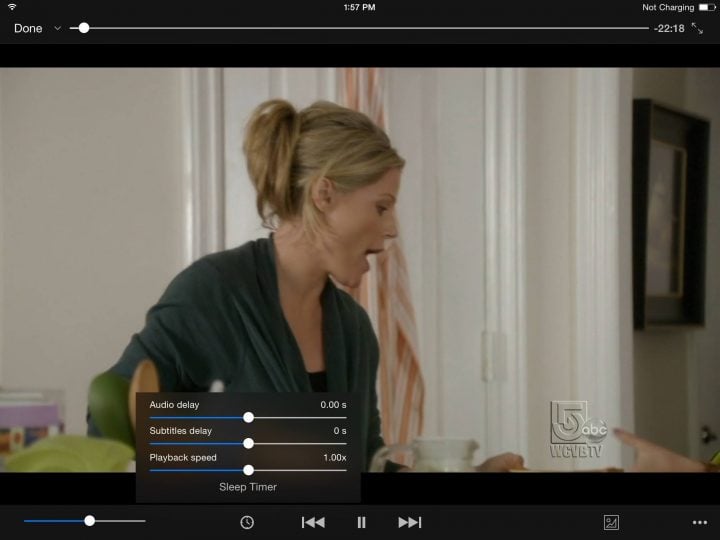 If you have a movie that's in a format that the stock Videos app won't play, VLC is usually there to come to the rescue. It can play pretty much anything you throw at it, including MP4, MOV, AVI, WMV, MKV, FLV, and more. It can even play audio files, including FLAC, which is a lossless file format that many audiophiles use for their music.
You can stream videos from Dropbox, Google Drive, Box, and OneDrive, and even access local network drives if you have a NAS. You can also download video to the VLC app by entering in the URL of a video.
AirPlay is supported, which means you can play a movie with VLC and then beam it to an Apple TV if you want to watch it on a bigger screen.
While watching a movie, there are quick controls to syncing up audio delays and subtitle delays, as well as adjusting the playback speed of the video, either fast-fowarding it or rewinding it at different speeds.
You can even adjust the brightness and contrast of a movie while it's playing, as well as change the hue and saturation. There's also a full equalizer to change around the audio to fit your liking. Again, though, these features are really meant for advanced users, but some of them can be used by almost any user.
For example, if a movie is particular dark in general, you can simply adjust the brightness to give it a more light and make it easier to see, and if the audio is a bit too bass-y for your ears, just bring up the pop-up equalizer to adjust the low-end to turn down the bass a bit.
A Runner-Up Option
If VLC just isn't your thing, or maybe you're looking for something with even more features and option, perhaps PlayerXtreme HD is the video player for you.
It's a free video player that you can download, but many of the advanced features that you may find useful are a part of the Pro package, which costs $2.99 and is an in-app purchase.
With PlayerXtreme HD, there's a useful file explorer interface that shows off your movies and other video files much like a traditional file system on a Windows or Mac computer, providing users with a familiar interface right off the bat.
There's also network support, cloud service support, and the ability to use Airplay, both of which are Pro features that you'll need to pay for. However, the free version will do the basics that you need. The player itself has easy-to-use controls, and you can even boost the volume up to 12x from the original volume if the movie is too quiet and you're using your iPhone's crappy built-in speakers.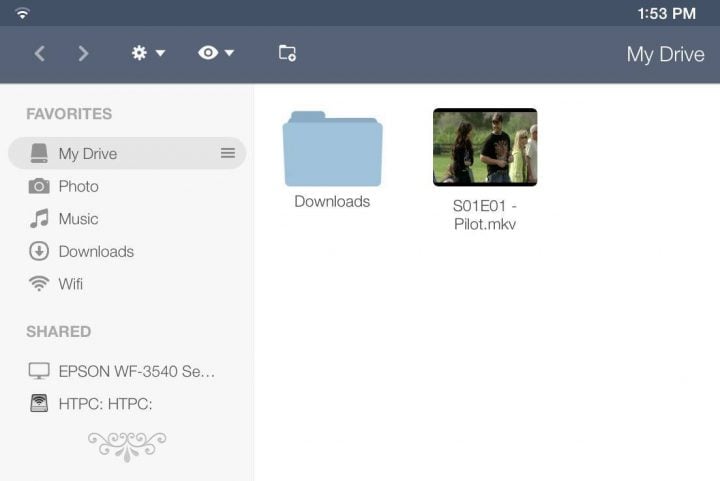 And like VLC, you can set a passcode so that other users can't use the app, and you can even hide files to keep them away from prying eyes from guests.
PlayerXtreme HD is a runner-up option mostly because you can get many of the paid features for free on VLC. Otherwise, it'd honestly be a tough choice between the two, but VLC has a slight advantage because of its simpler interface that's easier to use.

As an Amazon Associate I earn from qualifying purchases.