Best Walmart Black Friday 2013 Deals
The Walmart Black Friday 2013 ad includes a collection of amazing deals, some of which are made even better thanks to a one hour in stock guarantee. If you are looking for the best Walmart Black Friday deals on Apple gear, video games, and other electronics, we've waded through the 41 page Black Friday ad to find the best of the best.
There are plenty of average deals and even some Walmart Black Friday deals you should avoid, so make sure you do your research before Black Friday arrives.
Read: Walmart Black Friday Details
The Walmart Black Friday 2013 store hours start at 6 PM on Thanksgiving day, which means you will need to get in line earlier than that. The in stock guarantee is limited to select items and is only valid form 6PM to 7PM local time, with a limit of one of each item per customer. Shoppers can buy multiple items that are part of this special, but only one of each offer. If the items sell out Walmart will sell a guarantee card that the shopper can use online to get the item at Black Friday pricing with delivery buy Christmas.
The Walmart Black Friday 2013 early sales started on Friday, with many deals online and in store. Shoppers can check out those deals online or in the Walmart app.
Expect a lot of people at the Walmart Black Friday 2013 events, so you will need to be in line for a wristband to get the doorbusters you want, which may also mean you will need to bring a friend or family member to get multiple items. Walmart will offer Black Friday 2013 store maps online on November 25th to show where specific lines and items will be in the store.
The first Walmart Black Friday event starts at 6 PM, and the second is at 8PM, so make sure you double-check the time your must have deals start.
Here are the best Walmart Black Friday 2013 deals we found for Apple gear, HDTVs and electronics. You may find similar deals from other retailers, but if you are committed to shopping at Walmart you need to check these out.
iPad mini Black Friday Deal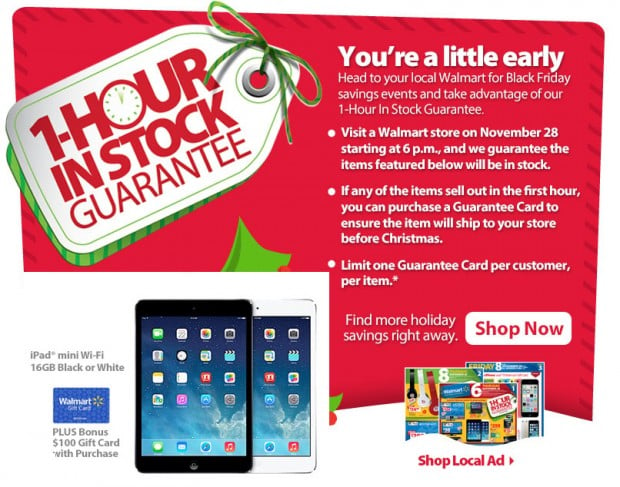 The Walmart Black Friday 2013 iPad mini deal is the best we've seen at any retailer, and it is even better thanks to the in stock promise. If you get to the line and get a wristband in the first hour you can get an iPad mini for $299 up front plus a $100 gift card.
The iPad mini is $299 any day of the week, but the gift card effectively cuts the price down to $199, which is major. You cannot use the gift card to buy the iPad mini so bring enough cash with you.
We don't know what the official Apple Black Friday 2013 deals will bring, but odds are very good they will not be close to this deal.

As an Amazon Associate I earn from qualifying purchases.