Best Windows Notebook Black Friday 2014 Deals So Far
Black Friday is an American tradition at this point. Every year, millions of shoppers around the world gather on the evening of Thanksgiving and come up with a way to get the best deals on tons everything and anything they can possibly think of. Sometimes those deals involve clothes or shoes. Sometimes its video games. Only for Black Friday 2014 has the idea of purchasing a cheap Windows Notebook actually not been laughable.
In Black Fridays past, there was a Windows ecosystem that's mostly different from the one we have today. In year past cheap Windows notebooks fell into one of two categories. Most were cheap and didn't offer a decent experience for anyone, much less those that wanted to stay productive and get in some light entertainment. The other set were well-running Windows notebooks that only had a modest discount.
Black Friday 2014 feels like the year of the cheaper personal computer. The Windows notebooks being offered this year are light years beyond what has been previously offered. All are compatible with Windows apps – something that cheap Chromebooks can't do. Many also include a subscription to Office 365 Personal, the productivity service that gives users access to Microsoft Word, PowerPoint, OneNote and Excel at a low monthly fee after their free subscription has expired.
Here are the two best Windows notebook Black Friday 2014 deals we've seen so far.
Best Buy – Dell Inspiron 15.6 $299
The mid-range notebook with a Black Friday deal attached has always been a mythical thing. Typically, the notebooks that really had low prices weren't that good. Their processors were pretty basic and sometimes they offered older operating systems and had missing features that everyone wanted. Best Buy shocked a lot of people this week when it announced that the Dell Inspiron 15.6-inch Windows notebook would be on sale as part of its Black Friday 2014 deals.
Let me be clear, the Dell Inspiron 15.6 easy an excellent Windows notebook. Inside is an Intel Core i3 processor and 5GB of Ram. The Dell Inspiron 15.6 is slim and there's a spacious 15.6-inch touchscreen for interacting with Microsoft's Window 8 operating system. There's also a 500GB hard drive for storing music, pictures, videos and other files. Best Buy Stores will open at 5PM on Thanksgiving Day and start handing out tickets for many items 2 hours early. You'll want to get their early enough to snag this Windows notebook.
[ Look at Best Buy's Black Friday 2014 Deals ]
Wal-mart – HP Intel Celeron Touch Laptop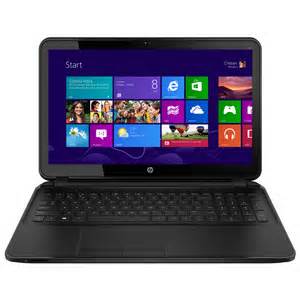 I've mentioned that budget laptops with low-end processors have dominated Black Friday deals in the past. They're not completely bad and sometimes they are useful. Take the HP Intel Celeron Touch Laptop that Wal-Mart will offer shoppers for one hour beginning Thanksgiving Day at 6PM, for example.
Its Intel processor is definitely not going to let buyers edit pictures in Adobe Photoshop or quickly edit video. Instead, it's meant as an entry level PC for those who need a basic Windows notebook without all of the power. Opening multiple Internet Explorer tabs, checking email and some Angry Birds Space can happen reliably on this notebook. The 15.6-inch display is touchscreen and there's 4GB of RAM for loading apps and games. There's also 500GB of built-in storage and a DVD disc drive built-in. That last one is important, not many Windows notebooks offer disc drives anymore.
[ Look at Wal-Mart's Black Friday 2014 Deals ]
Naturally, keeping an eye out for more Black Friday 2014 deals on Windows notebooks is the smart thing to do. A lot of retailers haven't yet shared what they'll be discounting this holiday season. Take Microsoft's own retail chain for example. It's teased its Black Friday 2014 deals, but has also said that it'll offer other deals that aren't yet publically known. The Microsoft Store offers a huge selection of Windows notebooks, tablets, convertibles, laptops and desktops.
Carefully consider each Windows notebook included in any Black Friday 2014 deals. Think crticially about what you're going to be using that Windows notebook for too. If you're only going to be watching movies and streaming television shows than you can go with a less powerful and less pricy Windows PC. If it's for a college student or working professional then you should look into more mid-range computers with beefier processors and more to offer. It all comes down to context.
Above all else, you need to carefully consider how much of a bargain you're actually getting. If the Windows notebook you have your eyes on is only $50 cheaper than it normally is, maybe heading out on Thanksgiving evening in the cold isn't a good idea. Finally, keep each store's details in mind. Some stores are opening late on Thanksgiving and won't have many Windows notebooks on hand. Other stores, won't open until Black Friday. Good luck.

This article may contain affiliate links. Click here for more details.