Better iPad Digital Inking with iOS 8: Pencil Points the Way
The story of the iPad and digital inking is an interesting one. It has largely depended on the ingenuity of developers to create decent digital inking experiences on the capacitive touch screen of the iPad. And quite a few developers have indeed made the iPad a decent digital inking device for note takers and artists. To up the game and to appeal to artists, some of those developers have gone beyond software to create their own smart stylus accessories to further enhance the experience for those who like to take a pen to their tablet.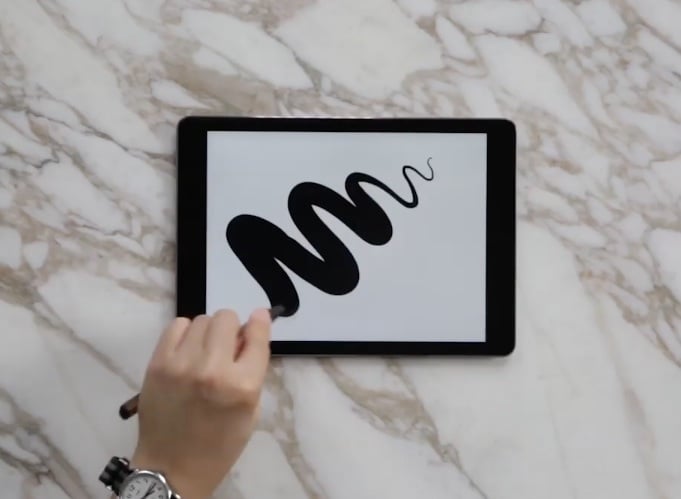 Now it seems that with the coming of iOS 8 this fall we might see an entirely new round of digital inking possibilities open up. FiftyThree, developers of the artist App Paper and the creator of the smart stylus Pencil, is showing off a bit of a tease that promises what looks like a better drawing experience for its App/Stylus combo when iOS 8 is released this fall. FiftyThree calls this Surface Pressure.
According to a blog post on the FiftyThree site, iOS 8 will make it possible to use the unique components of the Pencil stylus to use different drawing techniques.
With Surface Pressure you'll be able to control the lines you create based on how much of Pencil's tip or eraser is in contact with your iPad. Use the point for fine details or the angled edge for broad strokes. Surface Pressure unlocks new capabilities for each of Paper's tools—fill faster as you draw, shade as you sketch, or carve away in varying widths as you erase.

Stay in the flow and change drawing styles simply by changing the way you hold Pencil—no stopping to fuss with the settings menu. This new feature is unique to Pencil and will be unlocked for all existing Pencil users with an update to Paper this Fall.
In essence artists will be able to manipulate the output of digital ink they are laying down by how they hold and use the Pencil stylus. This is made possible by an iOS 8 feature called variable touch sizing. This lets developers specify a range of touch point sizes, from a tiny pinpoint to a wider circle.
Read: The Pencil: A Stylus for Paper Review
We reviewed the Pencil stylus when it came out last year. The unique carpenter pencil design of the smart stylus features rubberized tips on both ends that can be used in conjunction with the Paper App to draw, sketch, and erase. FiftyThree eliminated buttons for Bluetooth pairing and came up with its own unique App based solution to connect up to the iPad. It also works well as a dumb stylus with other inking Apps that don't connect up to the Pencil for the smart features. Both Pencil and Paper have their fans as well as those who prefer other digital inking options. After testing a series of smart and dumb styli last year, Pencil is one of my favorites.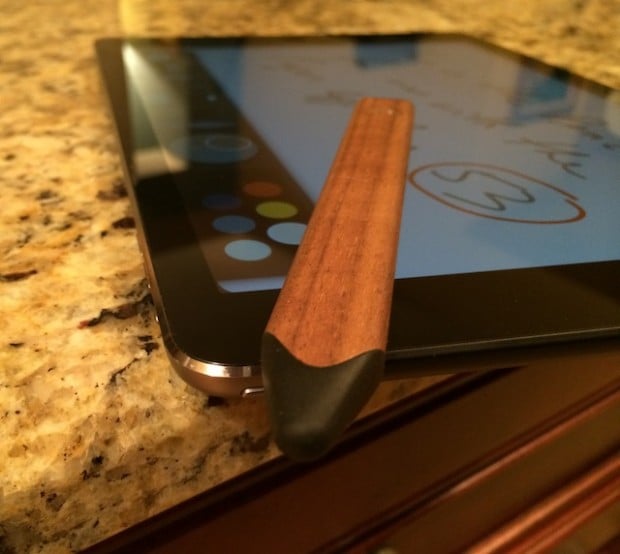 What's interesting in general for digital inkers is the larger range of possibilities iOS 8 may open up for other drawing or ink note taking apps. If variable touch sizing makes this possible we may see an entire new range of inking app and stylus combos. We may also see a number of App developers choosing to implement the use of APIs from smart stylus makers to incorporate the use of those styli into their Apps. This is already a trend with existing smart styli. Suffice it to say that digital inkers have something to look forward to once iOS 8 is released.
It is also intriguing to note the name "Surface Pressure." While the iPad's capacitive display doesn't compare to active digitizers, developers of Apps like Paper, Penultimate, Wacom's Bamboo Paper, and others have created competitive inking experiences on the iPad. Both Wacom and Evernote (the owner of Penultimate) have styli available as well. The Adonit Jot Script Stylus from Adonit and Evernote is a smart stylus. The Bamboo Stylus from Wacom is not.
These Apps and App/stylus combos compete with each other and not really with the digital inking capabilities that Microsoft has built into its Surface Pro line of tablets and previous tablets. In fact, Microsoft is using the inking capability of the Surface Pro 3 as a major selling point for its newest hybrid tablet/laptop. The use of the word "surface" indicates that the folks at Fifty Three understand where the larger competition lies for its iPad products.
The teasing of this new capability for the Pencil will certainly open up some eyes among iPad developers which hopefully will lead to some new digital inking experiences for iPad users. In a larger sense its fascinating that developers have taken the lead in developing these digital inking Apps and created some pretty good ones in light of the fact that Apple has never publicly pushed digital inking as a big use case for the iPad.
FiftyThree continues to sell the Pencil accessory and says this new capability will be delivered free to those who have the Paper App once iOS 8 is rolled out this fall. Note that Paper is free to download but to take full advantage of many of its features you need to make in-App purchases. The Pencil comes in two different finishes at two different price points. There's a Graphite model for $59.95 and a Walnut Model for $74.95. The Walnut model also comes with magnets that allow you to "attach" it to your iPad. Although in my usage that feature isn't worth the extra cost because a slight jostling of the iPad can dislodge the Pencil.

As an Amazon Associate I earn from qualifying purchases.