Beyond Fingerprints, Apple Turns to Faces for Mac, iPhone, iPad Security
Apple was recently granted a patent by the U.S. Patent and Trademark Office for an invention that would allow a personal computing device to be controlled by facial recognition. The purpose of facial detection would be for security and for convenience purposes, and the invention could be applied on Macs, iPhones, and even iPad tablets. It's still unclear at this time if this means that user profiles would be expanding to the iOS platform to allow multiple users to have separate log-ins for iPhone, iPod touch, iPad, and iPad mini devices.
Originally filed in 2008, the patent has three components: a face detection decision application, a face recognition application, and an input/output control application.
Together, these three components hep to identify the user and determine if the user is authorized to use the device. If they are, the system then activates specific functions inside the computer for convenience and to simplify the process.
According to the discovery by Apple Insider, the system not only identifies the whole face, but also various features or parts of a face and is stored in vector data. The data could include shapes, distances between features, and even skin tones.
In practice, the detection application can scan a defined area where a user is expected to appear, using knowledge-based, feature-based or template matching techniques to identify faces. A number of features are taken into consideration with the matching techniques, including relationships of facial features, identification of facial structures like skin tone, shape, and skin texture, and encoded learning models.
Some of the practical applications that can be used include hiding an email or SMS message unless an authorized face is looking at the screen, and the system can also activate or block certain features of the device from popping on, such as screen savers from activating if the system detects a face in front of the screen.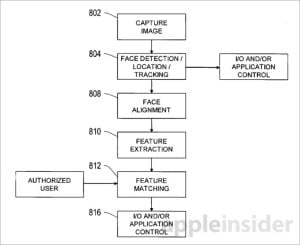 This latter feature has been used by rivals Samsung and LG on their latest Android phones and tablets. For example, Samsung's face detection feature can automatically pause a video if your face is not detected to be looking at the screen and the face detection can also prevent the screen from dimming or timing out if it senses you are looking at the display.
It's unclear how Apple will implement these features or if the company ever will. The iPhone- and Mac-maker currently uses the TouchID fingerprint sensor as a means to enhance security on the iPhone 5s, though the biometric security sensor's use on that device is still limited. However, given that Apple recently acquired Israeli startup PrimeSense, a company who had led developing of motion sensing technology on Microsoft's first generation Kinect, face recognition and gesture may evolve as a new way to control, interact, and unlock the UIs of future devices much as how Apple had revolutionized the touchscreen with capacitive touch technology in 2007 when it debuted the iPhone.

As an Amazon Associate I earn from qualifying purchases.