Big Batman Arkham Knight Deals Arrive
With just two weeks left to go until the Batman: Arkham Knight release date, retailers both digital and physical are offering deals to ensure that gamers pick up this summer's most anticipated release at their stores and nowhere else. Among these Batman Arkham Knight deals are $15 in gift cards from Dell, $10 in Xbox digital credit from Microsoft and $10 off Batman Arkham Knight's meaty season pass.
Dell launched it's Batman: Arkham Knight deals last week. As of right now, anyone who subscribes to the company's relatively new Dell Advantage membership service gets a free $15 promotional gift card to use on other purchases in Dell's online retail store. Dell Advantage gets users 5% back in rewards, free 2nd day shipping and the option to purchase certain Dell-made products before they ever reach store shelves.
Joining the Dell Advantage program to get the discounted 2nd day shipping and e-gift card is completely free. Joining Dell with a Batman Arkham Knight deals of its own is Microsoft's own retail stores and digital service. Pre-ordering any version of Batman Arkham Knight at the Microsoft Store gets users a $10 Xbox gift card. There are no other stipulations, no rewards clubs or memberships to sign up for. It is worth noting that Microsoft is only offering the gift card to gamers who pre-order the Xbox One version of Batman Arkham Knight, even though it also offers the $49.99 PC version for sale too. Xbox credit can be used towards games, movies and anything else sold in the Xbox Store.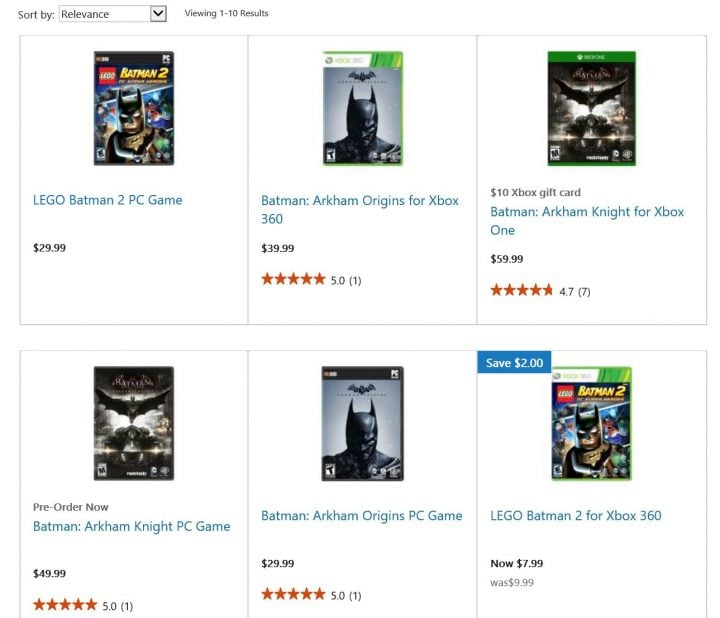 Last month Warner Brothers Interactive and video game developer Rocksteady Studios announced a Batman Arkham Knight season pass that stunned long time gamers. Priced at $40, Rocksteady and Warner Brothers maintained that there'd be plenty of content to justify it's rather lofty price tag when compared to just about every other season pass in gaming we've seen today. Both Microsoft and Sony's digital game stores have a Batman Arkham Knight pre-order deals too good to miss for those who already planned on purchasing the game itself and the add-on content.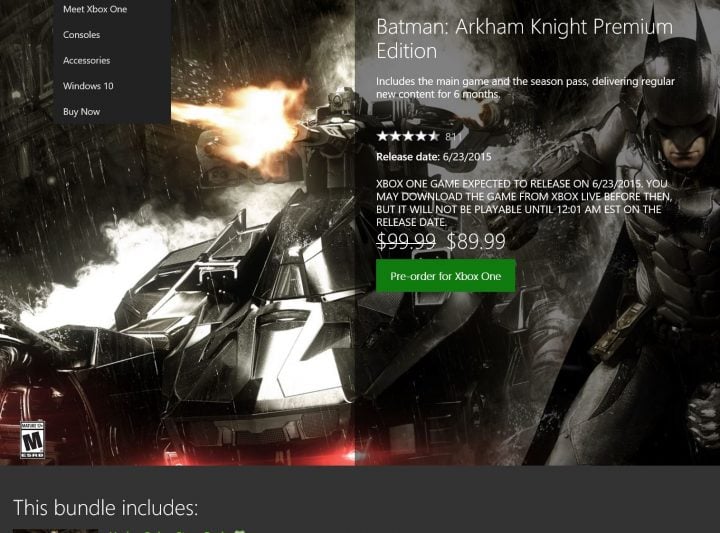 Batman Arkham Knight Premium Edition is on sale in both the Xbox Store and PlayStation Network. The bundle gets users the Harley Quinn downloadable content pack and access to every Batgirl story mission, challenge map race track for the Batmobile and other extras as they arrive with no added cost. Regularly it'll sell for $99.99, but both digital outlets have the bundle marked down to $89.99, $10 less than the price Warner Brothers originally announced.
To be clear, this is a digital version of the game; there's no disk for users to trade-in at a retail store like GameStop and get discounts on newer purchases. The game lives on user's hard drives.
Batman Arkham Knight has a pretty convoluted retail presence ahead of release on June 23rd. Virtually every game retailer with a physical store or digital store has their own pre-order bonus, forcing users to think critically about where they want to make their purchase days before the game actually arrives. Everyone who pre-orders gets the Harley Quinn downloadable content pack, but GameStop, Best Buy, Wal-Mart and Steam are all offering digital add-ons that users can't get anywhere else. It's such a mess that GottaBeMobile broke down each pre-order bonus to make the process of buying the game easier to understand.
Read: How to Get the Pre-Order Batman Arkham Knight Extras
Batman Arkham Knight will still focus on the Batman, but include a host of other super heroes to fight alongside him. Those inlcude the Nightwing, Robin and Catwoman. In the game Bruce Wayne goes up against the deadliest alliance of criminals seen yet. Things are so bad that he needs the Batmobile on constant call to do battle with tanks and well-armed thugs.

This article may contain affiliate links. Click here for more details.