Big GTA 5 Update Hits on May 13th
It wasn't that long ago that Rockstar Games released GTA 5, an open-world game that successfully climbed to the top of the gaming sales charts thanks to its unique story, endless amount of vehicles and its GTA Online multiplayer sandbox. Today, Rockstar announced that users will get even more vehicles and opportunities to rob fellow players blind in The High Life, a free update coming to GTA 5 on May 13th.
To be clear, this title update won't include any new story content. As such, users won't be getting new single-player story related content involving the game's protagonists, Michael, Trevor and Franklin.
According to Rockstar, The High Life focuses mainly on giving users more things to earn in GTA Online. First, there's the real estate. Following the update GTA 5 players with enough cash will have the option to purchase new apartments and town homes in Los Santos, the city that the game takes place in. In order to facilitate the purchase of these new apartments, players will finally gain the ability to own multiple properties. That feature alone will go a long way in making the game a bit more playable. The game world is huge and it's better if GTA Online players can have multiple hideouts in different areas as opposed to having to travel all the way back to a single one. Rockstar says these new high-rise apartments will have their own unique design. The High Life update will include five new apartments, however users will only be able to own two of any home at the same time.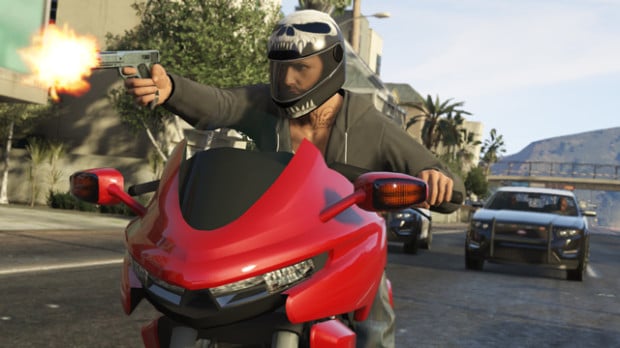 A key of part of the Grand Theft Auto experience has always been the cars themselves. As the game's name suggests, more than a few missions require users to hijack someone else's automobile and take it as their own. Rockstar took this a bit further by allowing users to customize cars in GTA Online. The High Life update will include four new vehicles for users to customize to their whim. Today the company showed off a Sentorno, Massacro and Huntly S with tailored bodies and unique paint colors. A new Dinka Thrust motorcycle will also be available for purchase. In GTA Online users store their cars in garages at their homes. Since players can have more than one house now, that means more space for even more cars.
GTA Online relies on player created content for new experiences mostly. It does this by enabling players with the tools they need to create different modes like death matches, and races and other types of jobs that users can complete for more in-game currency to spend on whatever they want.  A new option included in The High Life will allow Job makers to create vehicle races where players won't be able to collide with other players.
Again, this being Grand Theft Auto, weapons are must. Having the latest upgraded pistol, grenade launcher or bat could mean the difference between completing a GTA Online job on the first try or having to try over and over again hoping to somehow win on strategy alone. To that end, The High Life update includes a Bullpup Rifle. Rockstar says that users should expect new clothes for their players too.
If anything, the last feature buried in today's announcement is the most interesting. Going forward users will be able to check other user's player stats to determine their Mental State. The feature sounds a bit campy but the idea is to let users know if they'll need to have their firearms at the ready before they encounter someone, presumably.
That Rockstar is rolling out a game update this big is a great sign. Early on many believed that GTA Online, which effectively turns GTA 5 into a massive online role-playing game that's available on video game consoles, wouldn't see much of a shelf life beyond the game's original launch last September. Clearly, Rockstar is dedicated to pumping the game with free content to keep players interested. Of course, the biggest way to keep participation in the game high would be to release a version of GTA 5 or just GTA Online for the Xbox One and PS4. Rumors have pointed to this happening at some point, but so far there has been nothing concrete, leaving users to keep their Xbox 360 plugged in just to play the game.
As of today, both the PS4 and Xbox One don't offer much in the same genre as GTA 5, capitalizing on that would have been very smart, especially since more and more users are upgrading to get the latest graphics and features.
Read: Epic 9 Minute Watch Dogs Video Shows Why It's Like GTA 5
Ironically, a one-time launch contender of GTA 5 will seek to fill that void soon. Game maker Ubisoft announced that it'd be releasing Watch Dogs, its own open-world game, on May 27th. More recently rumors have indicated that Ubisoft delayed Watch Dogs' launch last year because it didn't want the game to be stuck in the shadow of GTA 5.