Big Microsoft Trade-In Deal Gets Users Windows 10 For Less
Microsoft spent the better part of the late summer and early fall convincing Windows 7 and Windows 8 that now is the right time to take advantage of its free Windows 10 upgrade. Now the company is going a step further for users who feel they need new hardware to run its latest operating system. For a limited time Microsoft is guaranteeing Windows and Mac owners as much as $300 if they upgrade to a new PC running Windows 10.
From today until October 20th, Microsoft has the best trade-in deal available. The company will gift anyone who purchases qualifying Windows 10 notebook from its Microsoft Store a reward in the form of money back on their purchase. Windows 10 is the operating system that Microsoft released in late July. It features a new Start Menu, upgraded Windows Store and refreshed Email, Calendar, Video and video apps. There are more must-have features included in the upgrade too.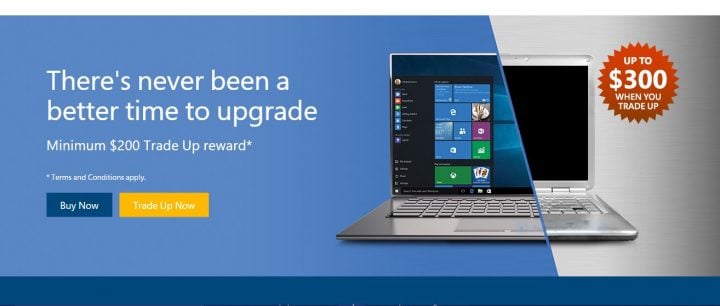 Read: Windows 10 Review – A Love Affair
Microsoft will let users trade-in their Windows notebooks for a minimum of $200, provided that they purchase a qualifying replacement directly from the Microsoft Store. Mac owners get as much $300 in trade-in value for their devices. Neither sounds like a lot of the notebook being traded in is relatively new. Microsoft allows users to trade-in devices up to six years old, which is where the savings is really appreciated.
To get going with the Windows 10 Trade-In deal users need to first purchase a qualifying device from the Microsoft Store. Microsoft has a long list of devices that qualify and every one of them has a purchase price above $599. Once shoppers have made their purchase they need to provide the EasyTradeUp website with details about their purchase so that it can be verified.
That's where the trade-in kicks in. Shoppers have to package up their old device and submit it to Microsoft. Microsoft's employees then evaluate the device to make sure that it's something that they'll accept. Microsoft says that it'll accept Windows all-in-ones, MacBooks, Apple iMacs, Apple MacBooks and notebook PCs running Windows.  The screen can't be smashed, but normal wear is acceptable. Microsoft won't except desktop PCs or displays.
All told, it's a pretty interesting deal considering Microsoft has spent most of its time lately encouraging users to do an upgrade if they aren't ready for a new device. Strangely enough, the promotion does omit one of the most high-profile makers of Windows devices: Microsoft itself.
The entire Surface family of devices are completely omitted from the Windows 10 trade-in deal's list of qualifying purchases. Why that is remains unclear, but it would have been nice for Microsoft to provide users with a bit of savings ahead of this month's Surface Pro 4 and Surface Book launch. The Surface Pro 4 starts at $899, $100 more than the Surface Pro 3 did. The Surface Book starts at an even loftier $1,499. Surface Pro 4 buyers still need to purchase a Type Cover for $129 if they don't have one already.
The deal does put a very big spotlight on the very nice notebooks and desktops that the Microsoft Store offers that aren't made by Microsoft itself. The Microsoft Store offers free shipping on most items that it sells, including notebooks. Returns are free too, though returning a device will submitting a claim to the EasyTradeUp program automatically kills reward processing, according to the deals Terms & Conditions.
Every Windows PC that Microsoft sells is part of its Signature program. Microsoft Signature guarantees that users get a Windows PC without extra, unnecessary software and bloat. Because there's no extra software on these machines Microsoft says users often see faster start-up times and better performance overall.