Big Savings on iPad and iPod Touch at Apple's eBay Store
Apple's eBay store for refurbished devices has a number of big discounts available this week according to a 9To5Mac report.
The eBay store doesn't carry the Apple name, but it only sells Apple devices at prices similar to the company's website. The upside to the eBay refurbished store is users only have to pay tax if they live in Texas, Nevada, New Jersey, Indiana, Washington D.C., or California and users can pay with PayPal.
Apple's eBay store is great place to get less expensive Apple devices for the holidays. The standout deals include $179 for a 32GB iPod touch fourth generation. That's $80 less than Apple charges for a new model, and $20 less than the same generation with 16GB instead.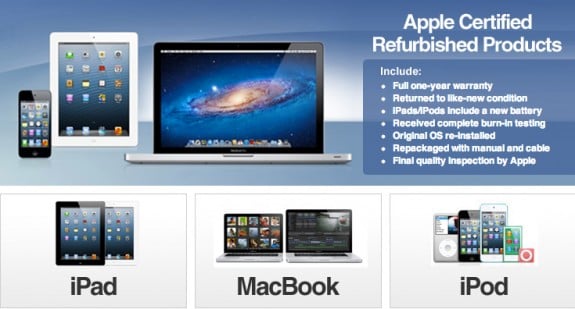 Apple also has good deals on the iPad third generation in the store. Users who want a Wi-Fi only model can get a 32GB model for just $469 through the refurbished eBay store. The model comes in either black or white. Apple also offers the 16GB iPad third generation Wi-Fi + Cellular for $509, and the 32GB model for $599. The store has both 4G LTE models in black and white for AT&T and Verizon.
The refurbished store also offer discounts on 2011 models of the MacBook Air and MacBook Pro, including discounts on the 17-inch MacBook Pro which Apple discontinued this year. Discounts on each MacBook range from $100 to about $300.
Other discounts include the current generation Apple TV for $85, $15 less than a new model and $69 for an Airport Express.
Apple also offers refurbished devices through its website, though only on Macs, iPods, and iPads. The eBay store is the only place to get refurbished units of other devices. Apple doesn't offer refurbished iPhones in either store, though carriers do offer refurbished units of the smartphone. AT&T is the only carrier so far to offer refurbished iPhone 5 units.

This article may contain affiliate links. Click here for more details.