Big Surface 3 & Surface Pro 3 Deals Arrive for Back to School
Microsoft, makers of the Surface Pro 3 and the new Windows 10 operating system for all sorts of devices, has education deals and big discounts in store for Back to School shoppers. Deals include a $100 discount on select PCs running Windows and a blanket 10% discount on Surface 3 and Surface Pro 3.
The Microsoft Store website reveals all the Back to School savings in great detail.
Using the coupon code SAVE100 unlocks a $100 discount on notebooks, Windows 2-in-1s and desktop PCs made by its partners all running Windows. Eligible notebooks include the Dell XPS 13, HP Envy x360, Dell Inspiron 15, HP Pavilion 17, HP Pavilion x360, Acer Aspire R 13, HP ENVY TouchSmart, Dell XPS 15, MSI GS60 2QD Ghost, Dell Alienware 15, Razer Blade, Lenovo Y50 and the HP Envy 15.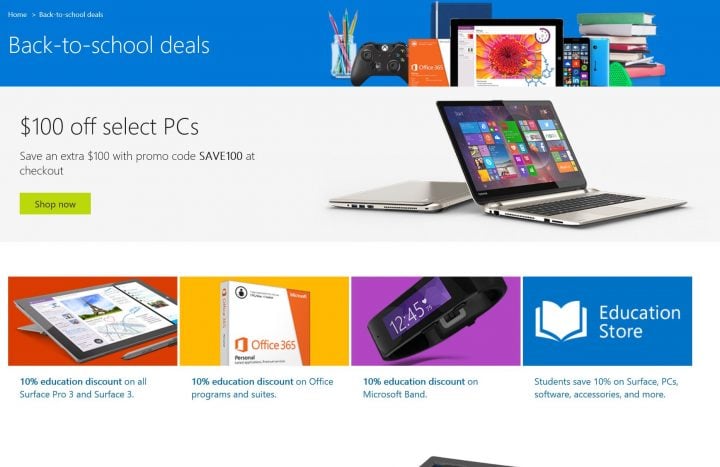 Flagship Windows 2-in-1s like the Acer Aspire R 13, Lenovo Flex 3 and Asus Transformer Book T100 are also $100 off with the coupon code. Windows 2-in-1s usually have detectable touchscreens or special hinges, allowing college students and teachers to use them as both a notebook and a tablet.
For Back to School shoppers looking for the ultimate Windows 2-in-1 Microsoft has slashed the cost of nearly every Surface Pro 3. The Surface Pro 3 with 128GB of storage is now $899. The Surface Pro 3 with 256GB of storage and an Intel Core i5 processor is $1,149. Both Surface Pro 3 devices with Intel Core i7 Processors are $150 off their normal purchase price, selling for as little as $1,399.
Read: Surface Pro 3 Review
Unfortunately, Microsoft hasn't cut the price of its entry-level Surface Pro 3 for $799. But Back to School shoppers can take advantage of the companies 10% blanket discount exclusively for users with an education related email address. Microsoft's Surface 3 isn't heavily discounted, but is also eligible for the that 10% discount through Microsoft's Education Store. Potential buyers should note that the Surface Type Covers seen with the devices in commercials are sold separately for $120. The Type Covers aren't required since the Surface 3 and Surface Pro 3 support Bluetooth and have fullsize USB ports.
Read: Surface 3 Review
Also sold by itself normally is Microsoft's Office suite of productivity apps and programs. The Surface 3 comes with Microsoft Office included, but other Windows devices don't. To make the suite more affordable Microsoft introduced, Office 365, a yearly subscription that unlocks Microsoft Office plus Office Mobile apps, Skype calling and OneDrive storage. Microsoft has marked down individual Office programs by 10% for education users. 4 years of Office 365 University is just $79.99. For all others, Office 365 Personal is just $62.99 for an entire year. That's a terrific price for users who need the apps, but simply can't justify buying them outright.
Read: What is Office 365: 3 Things to Know
There's a Back to School deal running that gets Xbox One shoppers some savings too. Microsoft hasn't slashed the price on its entertainment console; the Xbox One still costs $350. The company is bundling a free copy of Assassin's Creed Unity and a year of Xbox Live. Separately, Xbox Live costs $60 a year. Gamers need Xbox Live to play titles online with their friends.
All told, Microsoft has some pretty interesting deals for Back to School shoppers. Presumably, these will run up until the Back To School shopping season ends in mid-September. The Microsoft Store offers free shipping on all items. The company also has 60+ stores scattered across the world that should also have these deals available for shoppers.

As an Amazon Associate I earn from qualifying purchases.