Big Surface Pro 3 Price Cut Arrives For Some
Microsoft has an unexpected Surface Pro 3 price cut available on its website. That's despite many hoping there's a Surface Pro 4 upgrade in the works.
Microsoft added a Surface Pro 3 price cut to its Microsoft Store website quietly this week. To be clear, this isn't a Surface Pro 3 price cut in the sense that Microsoft is heavily discounting all versions of its famed Windows 2-in-1. Instead, Microsoft is introducing a new Intel Core i7 model that brings performance down to a lower price.
Previously, there were 5 different versions of the Surface Pro 3. Each of those models were based on either an Intel Core i3, Intel Core i5 or Intel Core i7 processor. Picking out a Surface Pro 3 requires that users find the right mix of processing power and storage. To get a Surface Pro 3 with an Intel Core i7 processor you needed to spend $1,549 for a model with 8GB of RAM and 256GB of storage.
Thanks to this so-called Surface Pro 3 price cut, buyers don't have to spend as much today. The new Surface Pro 3 comes with an Intel Core i7 processor for $1,299, a significant amount lower than before. Clearly, Microsoft is aiming this new Surface Pro 3 model at those who value performance above everything else. Mainly gamers, media professionals and app makers. Still, it's a decent change to make given how steep the costs of adopting a Surface Pro 3 can be.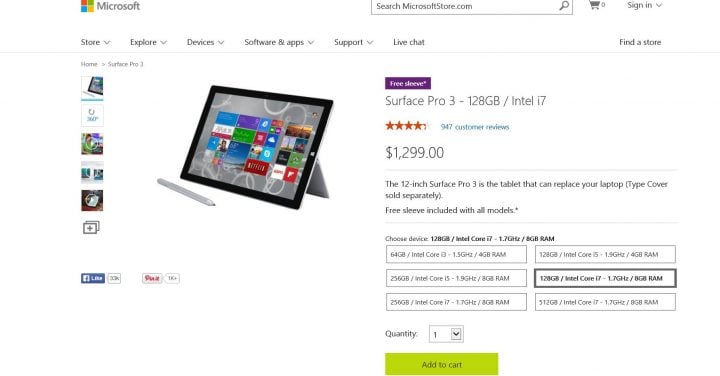 To be clear, the new $1,299 Surface Pro 3 isn't an exact replica of the higher tier model. To make this Surface Pro 3 price cut possible, Microsoft has slashed the amount of storage that users get in half. Again, the $1,549 Surface Pro 3 came equipped with 256GB of storage. This new Surface Pro 3 with Intel Core i7 processor only has 128GB of storage. At $1,299, the new Intel Core i7 Surface Pro 3 has the same price as the Intel Core i5 Surface Pro 3 with 256GB of storage. It's up to shoppers whether they'd rather have less power and more storage or more power and less storage.
The Microsoft Store does list the new Intel Core i7 Surface Pro 3 as available today. Microsoft is offering free protective sleeves with every Surface Pro 3 it sells online or in-store.
Whether you should buy the Surface Pro 3 now comes down to priorities and rumors. Some reports indicate that there's a Surface Pro 4 coming alongside the launch of Microsoft's Windows 10 operating system later this year. What feature upgrades this device might have remain pretty unclear, but Microsoft has traditionally updated the Surface Pro once a year. Some potential buyers are waiting to see if the Surface Pro 4 materializes. Microsoft has said that future iterations of the Surface Pro will be compatible with any accessories that users purchase — hinting at future designs with similar screen size.
On the other hand, now could be as good a time as ever to buy a Surface Pro 3. The Surface Pro 3 seems to be the most popular model to have ever launched. It's entirely possible that Microsoft could use high sales and enthusiasm for the current model as an excuse to slow down its release cycle. Other companies in the electronics space have done this. For example, Apple only releases a truly redesigned iPhone every two years. In between major redesigns they début new iPhones with the same design and upgraded internals as the model that preceded it. A move like this would explain why decent Surface Pro 4 feature leaks are hard to come a year after the Surface Pro 3 release.
Read: Surface Pro 3 Review
Anyone purchasing a Surface Pro 3 should keep the device's total cost in mind. The Surface Pro 3 doesn't come with a Type Cover accessory, meaning users will need to purchase that separately for $129.99.

This article may contain affiliate links. Click here for more details.