Big Xbox One Deal Arrives Ahead of Holiday 2015 Sales
Microsoft, makers of the Xbox One, have already cut prices and announced tons of new Xbox One bundles that come with free games. The company is doing all of this in the hopes of blockbuster Holiday 2015 sales. With some already starting their Holiday 2015 shopping, the world's largest retailer is starting to offer some Xbox One deals of its own. Wal-Mart has an Xbox One deal that's absolutely perfect for families looking to pick-up the console this holiday season.
When this Xbox One deal began is somewhat of a mystery, but the savings isn't. For a limited time, Wal-Mart is letting Xbox One buyers pick out a console bundle and get an Xbox One Wireless Controller absolutely free. Available consoles for the Xbox One deal include the Xbox One Gears of War Ultimate Edition Bundle and the Xbox One Madden 16 Bundle.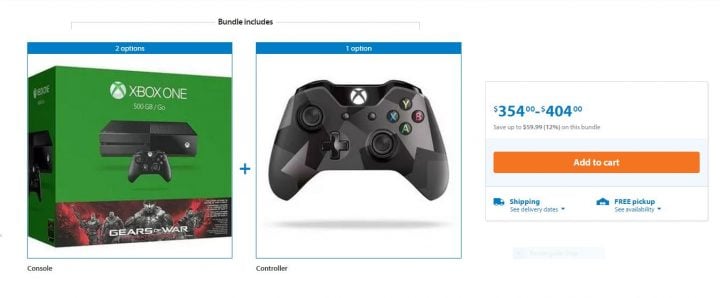 Wal-Mart shoppers who purchase the Gears of War Bundle get everything they need for two people to play on a single Xbox One for $354. Xbox One Madden 16 Bundle buyers get everything they need for $404. Compare that to the original cost of the Xbox One Wireless Controller and shoppers are saving roughly $120 on the Madden 16 bundle at the very least.
Every Xbox One comes with a single wireless controller for users to play games with. Microsoft doesn't officially make any bundles that add another Xbox One Wireless Controller to the mix. Separately, the controller costs $60. In addition to that, shoppers are getting the free bundles that come with each game. Madden 16 sells for $59.99 whether users purchase a digital copy or a disc from Wal-Mart. The savings with the Xbox One Gears of War Bundle is a bit more modest since that game only costs 439.99 to begin with.
The Madden 16 Xbox One costs more because that console has a 1TB hard drive. That's double the storage that's available to user with the Gears of War bundle. What's more, the bundle also includes a year-long membership to EA Access, the subscription gaming service that's only available on Xbox One. EA Access lets users play new releases early, buy new digital games on discount, and add some of Electronic Arts' most popular games to their collection. EA Access just picked up Battlefield Hardline, Titanfall and Dragon Age: Inquisition.
Interestingly enough, Wal-Mart has already started letting shoppers stash away video game systems, electronics clothing and more with its 2015 layaway program. The company says that it either won't charge an opening fee or it won't force shoppers into a down payment on their layaway. If a shopper sets aside an Xbox One with Wal-Mart's layaway program they'll need to pick it up by December 14th.
Every Xbox One comes with the other things gamers need to get going this holiday season. Microsoft packages an HDMI cable, power cable, chat headset and a set of AA batteries with every Xbox One console.
It's worth noting that the controller included in this deal is Microsoft's Covert Forces controller. It has a slick gray and black paint job, plus has a built-in headset jack so that users don't need a separate Xbox One Stereo Headset Adapter. Halo 5: Guardians, Gears of War Ultimate Edition, Lego Movie and Fallout 4 each have a console bundle.
Read: Which Xbox One Bundle Should You Buy?
Wal-Mart's website doesn't say when this Xbox One deal will end. As such, users really on the fence about purchasing an Xbox One this holiday should consider setting aside a bundle now until they make their decision. Theoretically, we could and should see more Xbox One deals arrive as we get closer to the official start of the holiday 2015 shopping season this November.

This article may contain affiliate links. Click here for more details.