Big Xbox Upgrades Arrive Ahead of Windows 10 Release
With the free Windows 10 upgrade set to go live within the next two weeks, Microsoft spent the early part of its weekend getting out gaming features that Windows 10 and Xbox One owners will enjoy. One of those feature upgrades even includes a new option for creating parties on the Xbox 360 and Xbox One.
Microsoft revealed the new expanded party options for Xbox Live and improved Windows 10 app shortly before the weekend began in a post on its Xbox Wire news blog. Besides offering up these new features Microsoft finalized the Xbox One to Windows 10 game streaming feature that previously required users to be a participant in the Xbox One Preview Program. Now the feature is available to anyone who has an Xbox One and a device running Windows 10. A limited number of users have Windows 10 running on their PC before its release at the end of the month.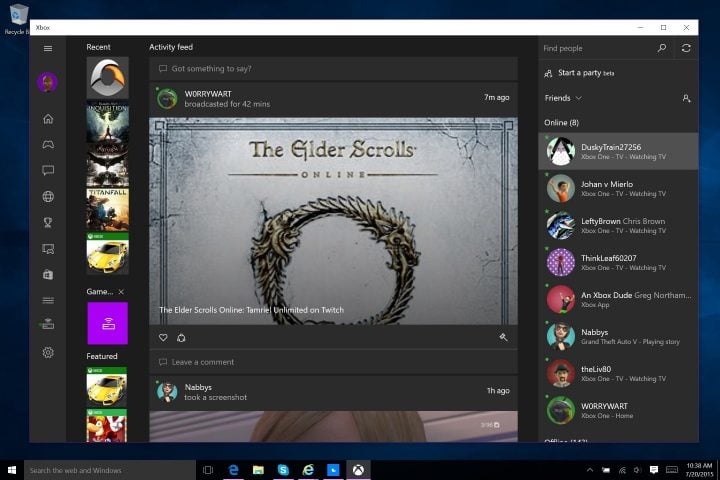 To enable the game streaming users need to go to the Preferences area in the Xbox One's Settings app. Selecting Allow game streaming to other devices will unlock the feature going forward. Again, for now it's only available to users running Windows 10.
Microsoft seems to have quietly added support for Windows 10 game streaming to the Xbox One console itself already. The company doesn't mention an Xbox One Dashboard Update. As such, users shouldn't expect a software upgrade to add it.
Users can create parties on both the Xbox One and Xbox 360 if they'd like to chat in groups or play a game together. Microsoft is smartly extending this feature to Windows with this week's Xbox app upgrade. Still in beta, the new Party Chat app for Xbox on Windows allows users to create their own parties. What's more, the parties that they create can consist of people on an Xbox One or a Windows 10 device. Microsoft says it plans to improve the quality of the feature over time.
When Windows 10 users add games to their PC, they'll now show up by default in the Xbox app on Windows 10. That makes sense as Microsoft is pushing the app as a destination for gaming on the platform. The Home area of Xbox on Windows has upgrades for creating and customizing avatars plus creating an Xbox Live account for users that don't already have one.
Xbox on Windows 10 already allowed users to take screenshots and record video just like they can on the Xbox One itself. This update lets users share the content that they create over Xbox Live, just like on the Xbox One. To strike a balance and prevent some issues, screenshot and video uploading only works on the games that are available directly through the Windows Store. Theoretically, opening up media sharing for all PC games could let users post unsavory things to Xbox Live.
With Windows 10, Microsoft is finally using things like Xbox Live and other unique features to push into the PC gaming space. For now, the company trails Steam in the PC , but that won't last long if Xbox delivers on the promises it's made.
Read: How to Get the Free Windows 10 Upgrade
Besides just selling games in its Windows Store, Microsoft is giving PC developers the option to build Xbox Live functionality directly into their PC games. Three huge launches for the platform are already planned too: Fable Legends, Gigantic and Gears of War Ultimate Edition. There's a special version of Minecraft coming to the platform too. Xbox One controller support is already inside the operating system when users upgrade it.
Windows 10 launches as a completely free upgrade for Windows 8 and Windows 7 users at home on July 29th.

This article may contain affiliate links. Click here for more details.