BigBeaks Checks Out The TabletKiosk Roadshow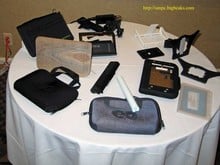 You may have heard of the TabletKiosk Roadshow, (we've already had one great report) an opportunity to interface with the good folks at TabletKiosk and check out their Tablet PCs and UMPCs. The first one in Orange County, California has already taken place and others are on the schedule, (although the one in Fort Lauderdale has been cancelled.) Well in case you can't get to one of the events yourself, you might want to check out BigBeaks.com where Jeffrey Graebner gives a full report, complete with pictures of what gear TabletKiosk had on display. I'm sure we will hear more about future stops on the roadshow. I know GBM's Dennis Rice is planning on attending the Orlando event, and I'm sure James Kendrick of jkOnTheRun will be holding court at the Houston event.

As an Amazon Associate I earn from qualifying purchases.