Bill Gates on How He Uses Office (and a Tablet PC)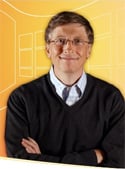 Microsoft's Office Online site has a piece on how Bill Gates uses Microsoft Office 2007 (and yes it is published with that silly small "s" in the name of the product.) What's of interest here to me are two points. First and foremost, Gates, the Chief Advocate of Tablet PCs, once again talks breifly about how he uses a Tablet PC for notetaking in meetings, and also the scanning and recognition capabilities of OneNote 2007 to gather and keep track of information.
Second, for those following the buzzword trends, Gates talks about social networking capabilities he uses via Sharepoint.
Thanks Lora Heiny for the link.

This article may contain affiliate links. Click here for more details.