Bill Gates quick statements on Tablet and Ultra-Mobile PC's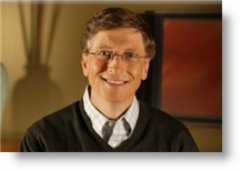 Just came across this interview that was done during CES with Bill Gates by John Takahashi on his Tech Talk Blog, and noted with interest this excerpt relative to Tablet / UMPC's:
Q: It seemed like there were a lot of interesting PC advances to talk about.
A: There is a lot of meat on the core PC. I love ultra-mobile PCs. Even good old SPOT (Smart personal objects technology). It's out there on the Garmin device. A new generation of phones. We've got weather. Devices from Morgan Scientific. We had a lot. How many Vista features did you hear me mention? I mentioned one. The demo hit about five. How many Office features did you hear me mention? Maybe the ribbon. The keynote is more fun for everybody involved if it's done by 8 o'clock. We had a lot we had to put in there. Sync we had to put in. The home server we had to put in. We looked hard. A lot of the things that we wanted to talk about didn't make the cut. I wanted to talk about the momentum in Tablet PCs. It's not mainstream yet but there are good things happening. Vista is the big milestone now in terms of hardware people are building. But I get to give a lot of speeches all year long.
Q: Does the handwriting recognition learn this time around?
A: It harvests the documents on your machine. It looks at the search index. It looks to understand what words you looked at and re-weights them for you. That harvesting is the big, big advance.
Q: It doesn't specifically recognize your handwriting? It doesn't tailor itself to your handwriting?
A: Not in any significant way. There are a few things like number forms and left hand and right hand. You can teach it new symbols that aren't in there. It's not a complete redesign.
Q: Are you still lobbying for that?
A: Yes. The sky is the limit on how good we want to make that.
Nice to know that Tablet PC is still there is Bill's mind.
Go check out the whole interview, it is worth a read!

As an Amazon Associate I earn from qualifying purchases.