Bill Gates Talks About His Last Meeting With Steve Jobs
In a recent interview with Charlie Rose on 60 Minutes Bill Gates talks about his last conversation with Steve Jobs shortly before the Apple founder passed.
During the emotional interview Gates recalls talking to Jobs about a wide range of topics. Gates and Jobs talked about the technology industry, with Steve Jobs commenting that despite all their advances, they still haven't changed much about education. Gates recalls also talking about more personal subjects, like the boat Jobs had commissioned. Despite his illness, Jobs told Gates he couldn't wait to get on his new boat.
Despite the competition between Apple and Microsoft, Gates and Jobs remained friends throughout the years. The two men were rivals, but that doesn't mean they hated each other.
Read: Microsoft's Gates Claims Many iPad Users Are Frustrated
In another part of the video, Gates talks about a planned dinner with Jobs. Steve Jobs called Bill Gates' secretary to cancel the dinner, the only explanation he gave was because "I'm an a**hole." Jobs was sick at the time, but he wouldn't admit that to anyone.
In the short video discussing his interview with Bill Gate Charlie Rose comments on how he always wanted to get Jobs and Gates to sit down at the same table for an interview. He never had the chance to talk to the two men at the same time, but did mention the All Things D interview with Gates and Jobs in 2007. That interview was the last time Bill Gates and Steve Jobs appeared on stage at the same time.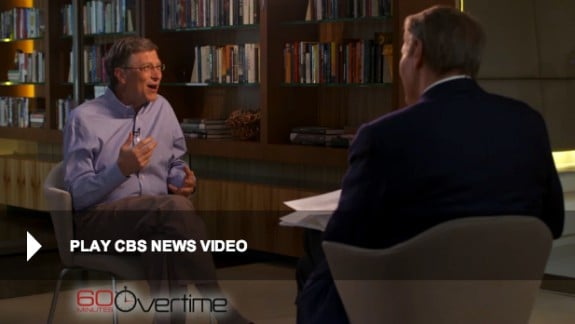 The Charlie Rose interview with Bill Gates was to discuss the Bill and Melinda Gates Foundation, the Microsoft founder's charity. The charity works to bring vaccines to children in developing nations in an effort to make the world a better place. The conversation turned to technology, however, as interviews with Bill Gates often seem to do.