Bing Food and Drink Hands-Free Mode Review
Are you preparing a family meal this Thanksgiving? Or are you just bringing a side dish to the big family get together? Either way that means you'll be doing some cooking or food prep. One of the nice things that Tablets have brought to the table (or kitchen counter) is use as a display for cooking Apps. Some cooking Apps are quite gorgeous to look at on a Tablet. But then they would need to be right? You want that dish to be appetizing.
But if you're using your Tablet as a recipe guide you know the dangers that lurk within your cooking implements. Your fingers touching the screen after working with different food stuffs can cause a greasy mess. In one of its latest comparison commercials between Surface Tablets and iPads, Microsoft shows off the Bing Food and Drink hands-free mode as a distinguishing factor why the Surface is a better kitchen companion than the iPad. The iPad doesn't have that kind of gesture control. Turns out that maybe not all Windows 8.1 devices do either.
https://youtu.be/XsknmA96Jv0
First the ad highlights the kick stand, which the iPad doesn't have. Then it shows off the Bing Food and Drink Apps hands-free mode. All in the spirit of keeping your screen clean while getting your cooking chores done.
This was a little noticed feature until this latest attack ad rolled out. So I thought I would give it a try on the Microsoft Surface 2. Note that this is designed to work with any Windows 8.1 variant and hardware that includes a modern webcam. The plan was to shoot a quick video to show you or at least have my wife give it a go.
Sometimes the soufflé doesn't come out so well. Or more in context, sometimes Apps crash. At least the Bing Food and Drink App is continually crashing on my Surface 2. I can't swipe more than a page or two into a recipe using the gestures without the App crashing. Perhaps if you are trying this on a non-Windows 8.1 RT device you'll have better luck.
Regardless of crashes, here is how to set up the hands free mode within the App.
Open the App and choose a recipe. You can search for a recipe or browse through recipes from some renowned chefs.
Once you've chosen the recipe you'll see a menu bar at the bottom of the screen with choices that allow you to add the recipe to a collection or a meal planner. But you'll also see an icon labeled Hands-Free mode. Select that icon and the system will turn on hands-free mode.
You'll know it is turned on when you see a green bar in the upper right of your screen that says Hands-Free On.
You'll also notice that your camera is turned on and glowing at you. From there, or so the theory goes, you simply swipe your hand from right to left in front of the camera to switch pages within the recipe and cooking instructions. Again, I can continually crash the App attempting this on a Surface 2. Not the kind of party trick I'd like to show off to guests I've invited to dinner.
The other thing of note about the Bing Food and Drink App is it is the single most unattractive of all of the Bing Apps included with Windows 8.1 on the Surface 2. You'd think that the pictures in a cooking App would be more appealing than they show here. I find that odd given how nice the other Bing Apps appear.
In hands-free mode, as you scroll through the recipe you are only presented with text on each page after the initial screen. At least that's it as far as I can see, since I can't swipe to the end of a recipe.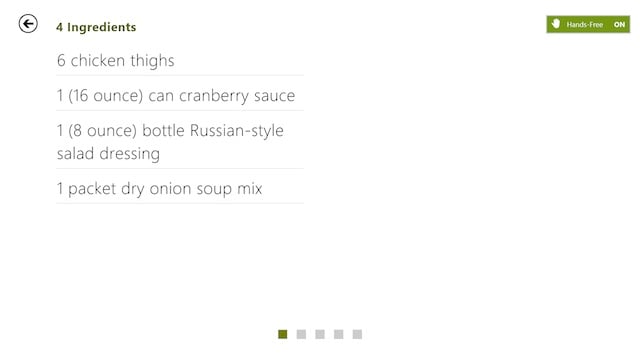 And even that initial screen surrounds the picture of your supposed finished product with what to my eye is too much white space. I've seen other cooking apps on other platforms that make extensive use of pictures and diagrams to help out the would be cook. They may not have a hands-free mode, but at least my mouth waters a bit when I look at the display.
So, if you're using a digital cookbook this holiday season, and if your choice happens to be the Bing Food and Drink App, let me know if it works better on your Surface 2 or any other Windows 8.1 device. For me, the hands-free mode works about as well as I cook right now, which sadly, means not that well at all.
I also find it intriguing that Microsoft is highlighting this App in an attack ad featuring the gesture functionality when it may not work on some of its new signature devices.

As an Amazon Associate I earn from qualifying purchases.