BioProtect Brings TouchID Authentication to All iPhone 5s Apps
Though Apple introduced TouchID on the latest iPhone 5s flagship, its use is mainly limited to securing your iPhone and for authenticating iTunes and App Store purchases. Thankfully, thanks to the latest iOS 7 untethered jailbreak, a third-party developer was able to bring TouchID to all iOS 7 apps on the iPhone 5s so that you can lock individual apps, in addition to your entire phone, with your fingerprint through an app called BioProtect.
By securing individual iOS 7 apps with a fingerprint, iPhone 5s owners could unlock their phones, for example, for a friend to use while keeping select content–like emails, SMS messages, and photos–secured so that their friend could only play music, search the web, and use the Maps app. This allows you to be more selective about your app's privacy.
Apple's native TouchID system at this time is meant to deter unauthorized access to your entire phone, so once you unlock your phone for a friend, colleague, or family member to use, any and all apps on the device could be accessed and it's all fair game.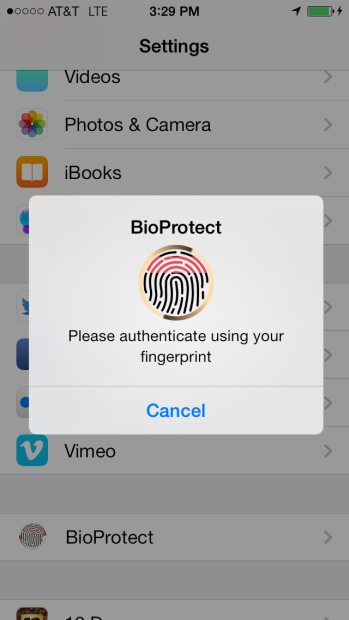 BioProtect requires a jailbroken iPhone 5s and though there isn't an app that's installed, you can access BioProtect through the iPhone's settings menu to configure the app to protect any or all of your apps. This way, when you launch a protected app, BioProtect would activate and require a TouchID to authenticate.
The app itself costs $2.99 from the Cydia store. Another app that works like BioProtect is BioLockdown. Both are available through Cydia and require jailbreaks.
In the past, there are a number of apps in the jailbroken Cydia store that offers password protection at the apps level. However, BioProtect would be easier to use and perhaps a bit more secure as users cannot look over your shoulder and try to figure out your PIN for securing apps as with traditional PIN- or password-based methods.