BioShock iPhone Release Hints at Future of Mobile Gaming
BioShock, a game that captured imaginations and spawned a long running series of games, is being released for the iPhone and iPad tonight. The game is just the latest arrival to suggest that the iPhone and iPad are finally being taken seriously by AAA video game developers.
Starting sometime tonight iPhone and iPad users will be able to pick up the game through the iTunes Store on their device or through the iTunes app on their PC or Mac. BioShock will cost $14.99, according to The Verge. That's a bit higher than what most iPhone and iPad game buyers who are used to seriously cheap will like. The game launched in 2009 with a price of $59.99.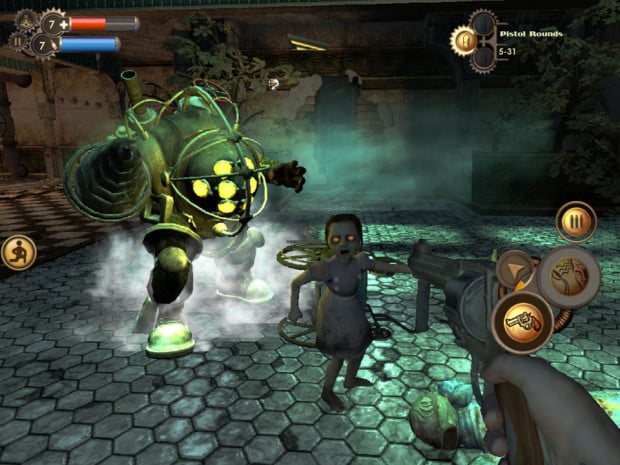 2k China, a video game developer tasked with rebuilding the game so that it would be admitted into the iTunes Store and be playable on the iPad and iPhone, revealed the game was coming earlier this month. Talking to Polygon, the studio confirmed that it was making huge changes to the game too. For starters, it made touch targets bigger so that users could take down enemies more easily on a touch screen. Auto targeting has also been tweaked for easy touch play as well.
Despite these changes, the developer added Bluetooth controller support so that users would get an experience that feels just as natural and fluid as the original game on PS3 and Xbox 360.
It may seem like a small thing, but BioShock is absolutely big news for Apple's iPhone. Since it launched the iTunes App Store, many industry insiders have been predicting that iPhones and iPads running the operating system would lead to the death of mobile video game consoles. In fact, figures released last year indicated that Apple controlled a large percentage of mobile game sales while Nintendo and Sony's shared had fallen significantly.
Read: In iOS 7 Controller Pricing Wars Users Win
Sony makes the PS Vita handheld aimed at hardcore gamers who like to play games on the go. Nintendo's 3DS handheld is aimed at users of all ages and preferences who just want to play some fun titles like Pokemon.
iPhone and iPad games crushing mobile game consoles seemed to be a prediction that wasn't going to prove true until Apple added support for mobile game controllers to the list of features users got in the iOS 7 update. Immediately following the company's announcement, dozens of accessory makers rushed to confirm that they'd have an iOS compatible game controller at some point in the future. A few of them made it to store shelves, but the problem has been in how many actual games made buying an iPhone game controller worth it. Hundreds of games added support for controllers, but the types of games available in the iTunes App Store don't lend themselves to controllers very well. They're not very in-depth, something that hardcore mobile console gamers definitely appreciate.
If BioShock for iPhone's arrival tonight and Rockstar Game's Grand Theft Auto: San Andreas launch earlier this year are an accurate indication of where the market is heading, we'll soon start to see more hard-core games flow into the iTunes Store. If and when that happens even more money attention could shift to the iPhone as a serious platform for games other than endless runners and first-person shooters that don't allow users to move around in any meaningful way.
Unfortunately, iPhone and iPad users are the only ones who can expect BioShock to be available on their device tonight. At least for now, it doesn't appear as if 2K China has any immediate plans to bring BioShock to Microsoft's Windows Phone operating system or even phones running Google's Android software. It's not yet clear if 2K China has plans to roll out iPhone versions of other BioShock games either. Other entries in the series include BioShock 2 and BioShock Infinite.  

This article may contain affiliate links. Click here for more details.