Black and White Dummy BlackBerry Z10 Smartphones Spotted
Ahead of the BlackBerry Z10 launch at the end of the month, dummy units of the slate form factor BlackBerry 10-powered device were spotted in black and white, suggesting that the phones will likely debut in two colors at launch. The BlackBerry Z10 is anticipated to debut on multiple national carriers in the U.S. market, and we won't know what color(s) which carrier will get, but hopefully we'll find out more on January 30th when the devices get formally introduced by Research in Motion.
The images of the dummy units in both shades of color were found on Instagram and reported on Crackberry.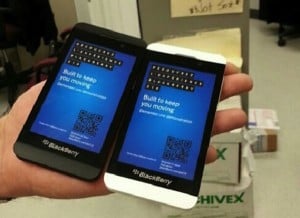 The BlackBerry Z10 is expected to be priced under $200 and will come with competitive features. The phones will have to compete against high-end flagships on rival platforms, including the Windows Phone 8-powered Nokia Lumia 920, various Android flagship models from an assortment of manufacturers, and the iOS-powered Apple iPhone 5.
In addition to the BlackBerry Z10, long-time BlackBerry loyalists looking for a device with a physical hardware QWERTY keyboard can also expect the BlackBerry X10 smartphone to be announced. Though the device hasn't been leaked as much as the BlackBerry Z10, the BlackBerry X10 is expected to have a form factor similar to today's BlackBerry Bold series, with a contiguous QWERTY keyboard at the bottom and a 720p square resolution display at the top. It's unclear if the BlackBerry X10 will launch alongside the BlackBerry Z10 on January 30, however, as it was previously reported that RIM would only begin seeding keyboarded devices to developers on or after that date.
The launch of both devices and the BlackBerry 10 operating system has been highly anticipated. The BlackBerry 10 OS has been rebuilt to center around touch and the move is seen as something similar to what Microsoft has done in abandoning its old Windows Mobile OS in order to create the Windows Phone platform.

This article may contain affiliate links. Click here for more details.