Black Diamond Ruggedized UMPC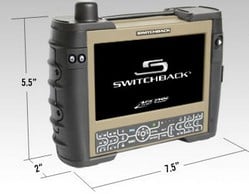 PC Magazine's Cisco Cheng writing for ABC News is reporting on a new ruggedized UMPC from Black Diamond. Built to military specifications, the Switchback UMPC boasts a number of features for working in the rough and tumble. Here's an excerpt:
The Switchback has some promising features that were missing in the Samsung Q1, the first UMPC to hit the U.S markets. For one, it has a built-in keyboard. Black Diamond is calling it a condensed QWERTY keyboard, similar to the one found on the latest BlackBerries. It's basically a thumb board with two letters on each key, and it learns your typing habits as you go. Still, you'll need an external keyboard to do any sort of real work on this thing.
The screen is a sunlight viewable display measuring at 5.6 inches and sporting a 1024-by-600 resolution. Other impressive features include built-in GPS, Bluetooth, and WLAN. The hard drive and batteries are hot swappable. And Black Diamond has something called a User-Defined Module which attaches to the back of the unit and lets you define your hardware needs. You have a wealth of modules to choose from, such as modules for extra USB ports, high definition audio outputs, terrestrial radios, barcode scanners, digital cameras, breathalyzer, joystick controls, and the list goes on.
The Switchback will run a Celeron processor. (Hmmm?) and I'm guessing you won't find this model in your local big box.
Hat Tip to UltraMobile PC Tips
UPDATE: Dave Ciccone at Mobility Today has exclusive photos on the Switchback. (the photo listed above is one of them.)

As an Amazon Associate I earn from qualifying purchases.