Black Friday 2015 Steam Sale Arrives
Online video game retailer Steam has some big Black Friday 2015 sales for anyone into PC gaming. The store front is slashing the cost of some major video games including Civilization, Fallout, Cities Skylines, Life Is Strange and more.
Steam took the covers off its Steam Exploration Sale late this afternoon. The Exploration Sale is what the online seller of PC video games and software is calling its Black Friday 2015 deals. The Black Friday 2015 deal lasts from today until December 1st at 10 A.M. Pacific Time and 1 P.M. Eastern Standard Time. Every year around the Thanksgiving holiday retail stores slash prices on just about everything hoping to attract lots of users and make up for the savings in volume and accessory purchases. In recent years, Steam has done the same, offing great prices on some of the most popular PC games to ever go on sale.  This year, the retailer isn't resting.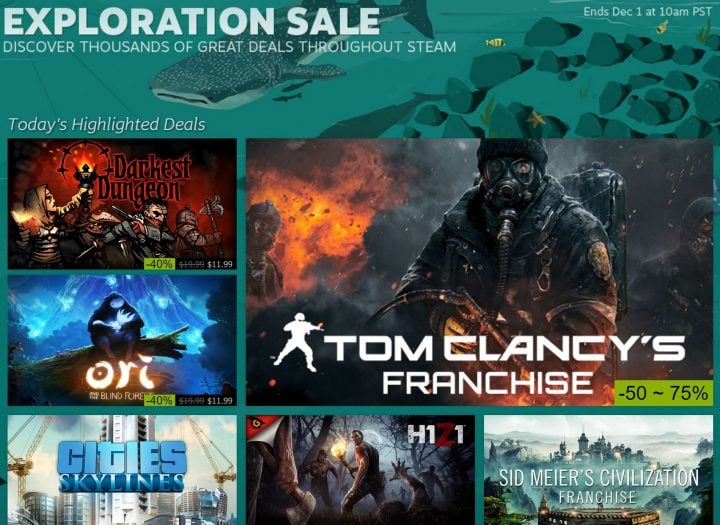 Some savings runs on a continuous basis from now until the end of the event. Some deals expire and are substituted on a daily basis. For example, today's deals this week include Subnautica for $14.99, Cites Skylines is $14.99, Companies of Heroes of $24.99, StoneHearth is $19.99 and the Darkest Dungeon for $11.19. All of these games are only available for Windows PCs and Macs.
There are some games in this Black Friday 2015 sale that users will recognize from their console. Fallout: New Vegas is $6.79, Fallout 3: Game of the Year is $6.79. Ori and the Blind Forest is an Xbox One exclusive title on consoles. It's available through this Exploration Sale for $11.99. Rocket League is exclusive available on the PS4 right now. It costs $13.99. Other big name games on sale include Grand Theft Auto 5 for $35.99, Life is Strange for $2.49, The Elder Scrolls V: Skyrim is $9.99. Ryse: Son of Rome is $10.19. The Crew is $14.99, The Long Dark for $10.99.
In total, this epic Steam Black Friday 2015 sale has 8792 different titles available on the cheap. To take advantage of the Steam Black Friday 2015 sales users just need a Steam account. Taking advantage of the deals doesn't require any sort of subscription. Playing these games does require that you have a Windows PC powerful enough to power the game itself. Steam offers refunds in cases where a game doesn't live up to your expectations or doesn't work properly on your machine.
Steam also says that users can save between 5% to 33% on the cost of games when users sign up for the service's mobile authenticator app.
The Steam Black Friday 2015 sale isn't the only savings to be had on video games this weekend. The Xbox One is $299 this weekend only In fact, Microsoft is slashing the cost of every Xbox One Bundle by $50. Sony has also cut the cost of its Uncharted: The Nathan Drake PS4 Bundle to $249.99. Just a few weeks ago it was only available for $399.
Unfortunately, Steam hasn't slashed the cost of its own hardware the competes directly with the Xbox One and PS4. The Steam Controller costs $49.99. The Steam Link accessory for streaming video games to a television costs $49.99.

As an Amazon Associate I earn from qualifying purchases.