Black Friday Madness Kicks In With Couple Camping Out for Over a Week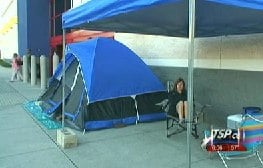 We're a week away from Black Friday, the crazy post Thanksgiving Day shopping orgy in the US. It's actually turning into Black Friday month according to some, with many retailers already offering specials and deals as early as the day after Halloween. Our friends at sister site Notebooks.com having been going crazy posting as many Black Friday deals as they can so you can figure out where to go to save a few bucks, and the madness will just continue until, well, until Christmas.
But this couple I think takes the prize. They pitched a tent in from of a Best Buy in Florida on this past Wednesday. I'm not sure if they would be called aggressive or just, well, I'll refrain from judgment.
How about you? Do you participate in the Black Friday madness?


This article may contain affiliate links. Click here for more details.