Black Friday Price Match Details & Gotchas
With Black Friday 2014 approaching swiftly, you may be plotting a Black Friday price match to make sure you get the item you want and stay ahead of the crowd with big savings, but before you get too far along in this fantasy you need to check out the important details about Black Friday price matching and where you'll run into problems.
Price matching gained popularity a decade ago, when some retailers would price match almost any store in an effort to keep your business, but over the last 10-15 years they've wised up and include enough asterisks and gotchas to make sure shoppers don't have the upper hand any more.
There are still some options to score a Black Friday price match, and the retailers themselves will do this to win a price war, but overall your options are limited for Black Friday 2014.
Starting today Amazon is price matching the Best Buy Black Friday 2014 ad with two HDTVs. This isn't a price match that you need to take action to get, the Amazon Black Friday deal simply match Best Buy's flyer. The news comes as Walmart boasts that they will price match Amazon this holiday season.
Here are the details and gotchas you need to be aware of when it comes to Black Friday price matching policies.
Black Friday Price Match Details
Here's a look at the top three stores and what they plan to offer for Black Friday price-matching. This includes matching the price at another store and matching a previous purchase. In many cases you're out of luck.
Best Buy Black Friday Price Match
Best Buy normally price matches local and online competitors, but for Black Friday they suspend the practice. The retailer notes that the Price Match Guarantee does not cover,
"… items for sale Thanksgiving Day through the Monday after Thanksgiving, whether offered by Best Buy or a competitor."
This handles any competing ads and any attempts to recoup $200 in savings for a HDTV you purchased ahead of Black Friday 2014.
Walmart Black Friday 2014 Price Match
Officially Walmart will price-match Black Friday prices, but there are certainly some catches to this process. You can price match online or in store,  including Amazon, but the item must be in stock and the final decision is up to a store manager or an online agent.
That's the good news, if they can verify the price of an item in stock on Black Friday you can score a price match. But here's the reality of that situation. The best Amazon Black Friday deals are Lightning deals that last minutes if you are lucky. By the time you get to Walmart and ask for a manager to verify the price, it's going to be sold out and you're going to be out a deal.
Here are the rest of the details on the Walmart Online price match policy.
Target Black Friday Price Match
Target is another big player in Black Friday, but not in Black Friday price matching. The retailer made a big deal about price matching this year, but when you look at the holiday price-match details it's clear that Black Friday is out — and so is Cyber Monday.
Target's Price match policy explains one of the exclusions,
"Price matches for prices offered Nov. 27 through Dec. 1 in the Target circular, Target.com or any competitor ad and online prices are excluded."
That's all there is to the target Black Friday price match policy that you need to know.
Black Friday Price Match Tips
If you want a successful Black Friday price match, you need to make sure you're at a retailer that allows it and that you have proof of the price. You'll need to be able to show them the sale price and possibly allow them to find the item in stock for sale on a store device. When possible bring the ad with you instead of only using the online version or a webpage.
Above all else, be nice and don't lose your cool. Walmart is clear that online and in store price match decisions by the manager or customer care agent are final, and if you treat them like crap, you are much less likely to get an iffy price match completed.
Ultimately, with the number of exclusions, you are better off looking for ways to buy at the original store instead of price matching. This may mean you buy some items from your phone or tablet while standing in line for others, instead of hoping you can get a price match. With free shipping offers there are few benefits to trying an in store price match on Black Friday.
Black Friday 2014 Deals & Ads
Walmart Black Friday 2014 Ad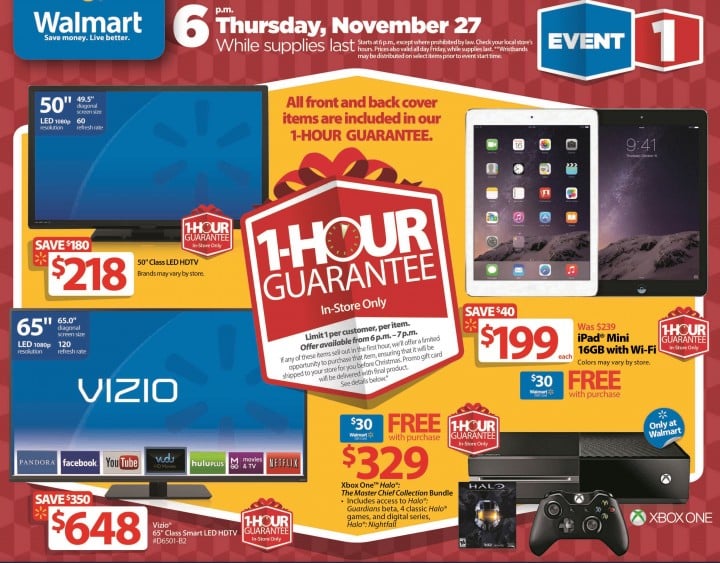 Walmart Black Friday 2014 deals start at 6PM on Thanksgiving and roll all the way through Cyber Monday. There are three specific events on Thanksgiving and Black Friday 2014, including nine 1 Hour Guarantee items that are in stock or you can get it by Christmas at the Black Friday price.
This includes a 65-inch Vizio HDTV for $648, the Xbox One with Halo for $299 after gift card rebate and an iPad mini for $169 after gift card.
You can check out more details on how the Walmart Black Friday 2014 1 Hour Guarantee will work. Duncan Mac Naughton, chief merchandising officer at Walmart states, "We've taken significant steps to improve the 1-Hour Guarantee process from beginning to end. It's simple and seamless."
Walmart beat our Xbox One and PS4 Black Friday 2014 predictions with big savings on the Xbox One and the PS4 GTA 5 and The Last of US Remastered bundle for $399. Here's a look at the nine guaranteed in stock items for 2014.

50" Class LED HDTV for $218 ($180 savings)
Vizio 65" Class Smart LED HDTV for $648 ($350 savings)
Apple iPad Mini 16GB with Wi-Fi for $199 with a $30 Walmart Gift Card ($70 value)
Xbox One Halo "The Master Chief Collection" Bundle for $329 with a $30 Walmart Gift Card
RCA 7" Google Play Wi-Fi Tablet for $29 (special buy)
Samsung Galaxy Ace Style on Straight Talk Wireless for $29 ($100 savings)
LG Blu-ray Disc Player for $35 (special buy)
Beats by Dr. Dre Wireless Headphones for $149 ($130 savings)
HP Intel Celeron Touch Laptop for $249 (special buy)

You can see the full Walmart Black Friday 2014 ad and deals online now. Wlaamrt will post store maps on November 18th and share more detials as the event approaches.

As an Amazon Associate I earn from qualifying purchases.