Black Ops 3: 5 Things to Know After Update 4
The December Black Ops 3 patch is live on PS4, Xbox One and PC. This is a quick look at what you need to know about the update that brings a lot of weapons changes, introduces new secondary weapons and includes some PC specific fixes and optimizations.
On Monday the PS4 & Xbox One Black Ops 3 update arrived and on Tuesday it landed on PC. This goes by several names, but whether you call it the December Black Ops 3 update, Black Ops 1.04 patch or Black Ops Update 4 — we're still talking about the same set of changes, features and possibly new problems.
This is not the first patch for Call of Duty: Black Ops 3, but it still adds in some fixes for lingering problems and addresses some gamer complaints from the release in November and from the last update.
Unlike some other games, where patches come sporadically and only as a major download like Black Ops 3 update 4, the team at Treyarch rolls out changes to the game with smaller focused hotfixes. One of these delivered a plethora of weapons changes to the game last week, which are outlined in full in the December Black Ops 3 patch notes.
After spending some time with the Black Ops 3 1.04 patch, here is a look at the most important things you need to know.
Fixes Black Ops 3 Problems
There are a lot of changes in the December Black Ops 3 update that fix some frustrating Call of Duty: Black Ops 3 problems. Here is a list of some of the fixes that are included in Update 4.
Enabled Guest Account functionality for split screen.
Quick Join option added to the Multiplayer Main Menu. This allows Players to party-up with any eligible Players on their Friends List who are currently playing Black Ops III.
Multiplayer Music option in the Audio menu now allows players to preview music samples and change the music heard when playing Multiplayer.
Custom Games functionality has been expanded. Support has been added for official Custom Game Variants as well as saving Custom Games.
Fixed an error that would occasionally occur when returning to the Multiplayer Lobby after completing a match or entering/exiting the Arena Lobby.
XP earn rate increased for Team Deathmatch, Search & Destroy, Capture the Flag, Safeguard, Demolition, and Free-For-All.
Increased rate at which Cryptokeys are earned.
Players no longer get points for killing teammates with the Satellite Drone in Uplink, when Friendly-Fire is enabled in Custom Games.
Players will no longer spawn at the same point in Free-For-All if there are more than 8 players in a Custom Match.
Fixed an issue where the tinted full screen effect would remain after the player had exited the Hardened Sentry.
Improved the Dart Scorestreak's ability to lock onto enemy targets.
Fixed a start spawn issue with Free-For-All where waiting to select a class could spawn the Player behind other Players.
Improved enemy spawns during Gun Game and Free-For-All.
Players who join a Free-For-All or Gun Game match in-progress will not have a loss recorded if they do not place in the Top 3.
Addressed an issue where Players would get disconnected from Gun Game if they joined a match in-progress.
Players will now be kicked for inactivity if idling in Gun Game.
There are also map fixes and a lot of weapons changes that may force you to change your strategy or weapon of choice.
PC Black Ops 3 Fixes and Optimizations
We've confirmed that what's new in the December Black Ops 3 update on Xbox One and PS4 is also available on PC, but that's not all.
@Josh_Smith More optimizations and bug fixes for pc.

— pcdev (@pcdev) December 15, 2015
One change we see users noting on Steam is that there is not an option to set Graphic textures manually anymore.
We are waiting for the PC Black Ops 3 patch notes for update 4. When available we expect to see them added to the news section of Black Ops 3 on Steam.
Major Changes to Cryptokeys & Purchases
There is a major shift to how you use Cryptokeys in Black Ops 3 after the update. Cryptokeys are traditionally earned by playing the game, but after this update you can now buy Call of Duty points to essentially buy Cryptokeys.
It costs 200 Call of Duty Points for a Rare Supply Drop. That is $1.99 in real currency, but everyone gets 200 free points to start out with.
Why @DavidVonderhaar WHY DID YOU YOU ADD THESE FREAKING COD POINTS WHY.its like you just want to kill the cod franchise, thanks vonderhaar

— Dead Account (@TheShaleT) December 15, 2015
Even if you don't want to spend real money, you can take advantage of faster earn rates and what appears to be better yields in the Rare Supply Drop options. You can also "burn" duplicates to earn back cryptokeys.
Black Ops Level 56, 57 and Higher Users Aren't Hacking
@DavidVonderhaar @Treyarch do you even hack bro? pic.twitter.com/ocNInrUvXp

— Fred Loxton (@Fred446688) December 15, 2015
There are a ton of new Call of Duty: Black Ops 3 Prestige levels that allow dedicated and skilled gamers to continue leveling up after Master Prestige.
If you see people who have a Black Ops 3 level 56, 57,  or even as high as 71 in some cases already, they are simply leveling up farther and farther.
When you lose a match to them, they are not hacking the game, they simply play a lot or are really good at the game.
New Black Ops 3 Problems
After installing the Call of Duty: Black Ops 3 update on Xbox One the game started to crash.
The first two times we tried to play the game finished checking for updates, showed the message of the day then froze and crashed to the home screen. If this happens to you, try holding the home button until the Xbox One turns off all the way, waiting a few seconds and starting over. that should fix it for most users. It is also worth trying on PS4.
Many other problems center around connectivity, which is something we saw with the last Black Ops 3 update as well. Users share their experiences.
@DavidVonderhaar Please fix the connections! Before the update I was getting full bar but after it I am now I'm getting 3 bars flat!

— BurningMoreXP. (@BurningMoreXP) December 15, 2015
https://twitter.com/Kurcyy/status/676863868317011968
@DavidVonderhaar why is theater mode lagging and freezing

— RGS ComicCoast (@ComicCoast) December 15, 2015
https://twitter.com/billy_wwe/status/676863132594266112
@DavidVonderhaar Hmm something doesn't seem right. It's just stuck on the screen lol pic.twitter.com/DFPxbklcYH

— Kershaw (@KershawTTV) December 15, 2015
Other issues include theater mode problems and users getting stuck on some screens. We may see a hotfix come to address some of these new problems.
Black Ops 3: 9 Things to Know After A Month
Call of Duty: Black Ops 3 Review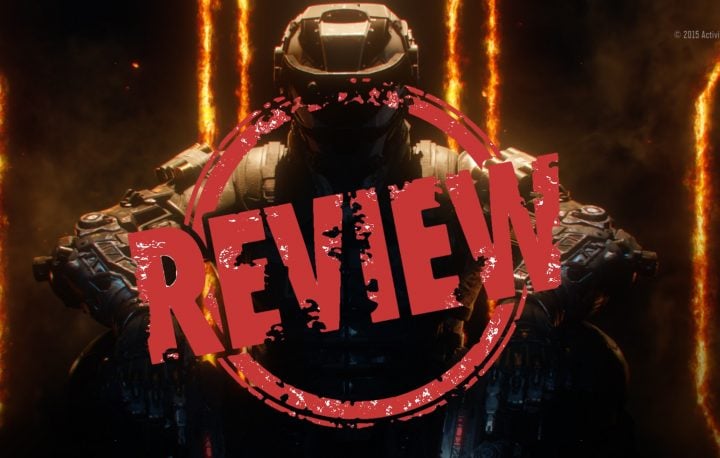 Every year I buy the new Call of Duty game and within three weeks I'm back to Madden or an open world game. This year it is different. I cannot get enough of Black Ops 3 multiplayer.
I'm not amazing at it, but despite the complaints you may read online, the game is impressively balanced even for an average player. I don't win every gun fight and I lose some I think I should win, but the overall feel of the game is spot on.
Treyarch continues to tweak the game with weapons updates and recently they delivered patches to fix exploits including users who were ruining Gun Game by leaving their player in a game all night to mine cryptokeys.
After four weeks of playing Call of Duty: Black Ops 3 I am still unlocking weapons and attachments, but I've played enough to know that this is an incredibly fun multiplayer experience that is worth every penny.
The single player experience is better than it has been in previous iterations of Call of Duty, but I can't tear myself away from multiplayer to finish it just yet. I haven't played the Zombies mode yet, so you'll need to look elsewhere for a review of that game style.
I am hopeful that Treyarch and Activision can continue to upgrade the Servers, which have gone down several times this month, but overall it has not been as big of an issue as it was with Call of Duty: Advanced Warfare.

This article may contain affiliate links. Click here for more details.