BlackBerry 10 Gestures Demoed (Video)
At the Consumer Electronics Show in Las Vegas, we got a chance to sit down with developer evangelist Tom Anderson from Research in Motion and Alex Kinsella from BlackBerry to take a look at some of the features and gestures that will be supported in the new BlackBerry 10 operating system. The new BlackBerry 10 OS will be centered around touch and will be released both on a fully-touch slate touchscreen smartphone as well as a touch and QWERTY device, according to RIM, though the company didn't elaborate further on specs until the official announcement on January 30.
The BlackBerry 10 OS touch gestures will be a slight learning curve for some users, but will also introduce a number of powerful features to the platform that should be welcomed for many users, including BlackBerry Hub, which aggregates all your notifications and alerts. The BlackBerry Hub paradigm has an approach similar to a hybrid between Android's notification drawer and Microsoft's People Hub for Windows Phone. It's a useful feature that allows users to look at the content and information that's most important to them without having to jump around too much.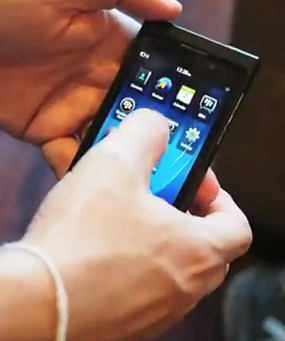 There's also BlackBerry Peek, which allows you to take a look at incoming notifications quickly without interrupting your workflow. Unfortunately, we couldn't get a video of that functionality.
RIM also demoed the upcoming touchscreen keyboard for BlackBerry 10 that will learn your typing and usage behavior. The predictive engine is nice in that it learns what you do and shows predictive words above the letters. For instance, in the browser, if you begin typing 'w,' it will show 'www' right above the W key and you'll just need to swipe up from the key to accept the predictive word. If you frequent Tumblr or Flickr a lot, above the T you'll see 'tumblr' and above the 'F' key you'll see a suggestion for Flickr.
RIM doesn't anticipate a high learning curve for the new gestures and the payback is tremendous after you learn the gestures as it shows how you can better interact with your device without interrupting your workflow.
Additionally, we saw BlackBerry Balance off camera, which tries to separate your work life and personal life, and the feature will be a compelling one for enterprise customers who worry about security. BlackBerry Balance is akin to having separate user profiles for work and personal, and the nice security part about that for companies is that you cannot intermingle content from either side together, creating a more secure environment.
We'll be learning more about BlackBerry 10 in the coming weeks, and though many of the features that were demonstrated have been seen before, it's a nice refresh ahead of the January 30th launch of BlackBerry 10 devices.
RIM says that devices will be available shortly after the January 30th announcement, depending on region and carriers.

This article may contain affiliate links. Click here for more details.