BlackBerry Balance Released to Help Corporate Users Achieve Work, Life Balance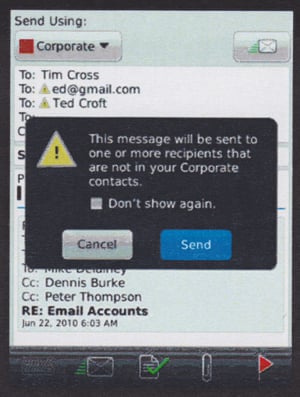 BlackBerry Balance is now released with the goal of helping enterprise users merge theircorporate and personal smartphones into one single, unified BlackBerry device. The app's purpose is to help users maintain a secure smartphone while still allowing for the more playful and fun things to do on your phone–like accessing Gmail and Facebook apps–possible without panicking your entire IT department.
According to RIM, "BlackBerry® Balance™ technology enables BlackBerry smartphones to be used for business and personal purposes without compromise."
The feature is now available to enterprises running on a BlackBerry Enterprise Server (BES).
To achieve work/life balance, BlackBerry Balance can block users from pasting sensitive information from corporate apps into personal apps and display a pop-up when a user performs an action that violates the company's IT policy. Additionally, Balance can also allow IT departments to remotely wipe just the business portion of your BlackBerry while your personal data is left on your device, which may be good for dealing with disgruntled former employees.
BlackBerry Balance is a good step for RIM to take in re-defining itself as a corporate powerhouse in the midst of stronger competition from other mobile OSes that are emerging from the consumer space and now encroaching on RIM's corporate user-base.
For more information on BlackBerry Balance, or to persuade your IT department in adopting Balance, you can visit the Balance page.
Via: IntoMobile

As an Amazon Associate I earn from qualifying purchases.