BlackBerry Bold 9900 And BlackBerry Torch 9860 Strike A Pose Together
This isn't the first time we've seen the announced BlackBerry Bold 9900 or the unannounced BlackBerry Torch 9860 but this is certainly the first time that we've seen both of them posing together.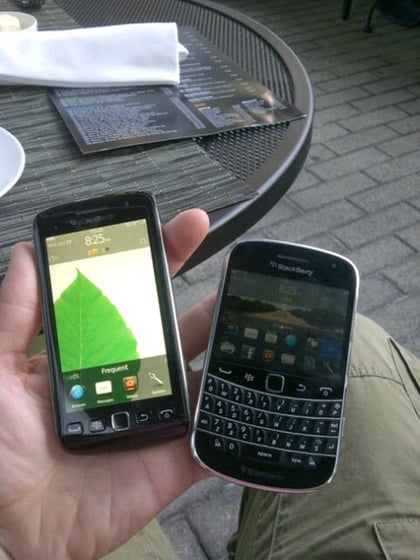 The photo you see here was taken on the streets of Toronto and shows both the Bold 9900 and the the Torch 9860 striking a pose. And while it doesn't reveal much about either device, it gives those of you still interested in a BlackBerry phone a good look at two of RIM's upcoming devices.
While the BlackBerry Bold 9900 isn't expected to touch down until September, the Torch 9860 hasn't even been announced yet. And for those wondering, the BlackBerry Torch 9860 is the device formally known as the BlackBerry Monza/Monaco. It appears that it's going to be released under the Torch brand name but will be a different device than the Torch 2 that we've already seen.
Yeah, it's confusing, but it's just another headache in the world of RIM.
Via: CrackBerry

As an Amazon Associate I earn from qualifying purchases.