BlackBerry Bold 9900 Launching on T-Mobile End of August?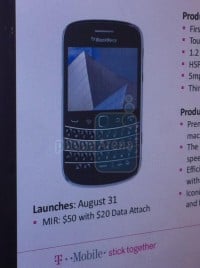 The touchscreen-enabled and powerful BlackBerry Bold 9900 is nearing launch, but until now we haven't heard of an official launch date. Thanks to Phone Arena's tipster, who sent the blog a picture of an early promotional material, it looks like the BlackBerry Bold 9900 will launch on August 31st. The device will be available with a $50 mail-in rebate with a $20 per month data plan, according to the image. Pricing right now is unknown other than the rebate.
A prior leak had suggested that the device may not debut until September. If the tipster's information is correct, it looks like T-Mobile USA may get in on the offer a day before the previous leak with a pegged August 31st launch date.
In addition to T-Mobile USA, Sprint and Verizon Wireless will also carry the Bold 9900 series–the CDMA model will be the Bold 9930.

As an Amazon Associate I earn from qualifying purchases.