BlackBerry Bold 9930 First Impressions: Achilles Heel is Battery Life
There's no denying that the BlackBerry Bold 9930 is Research in Motion's best BlackBerry smartphone to date, combining the favorite and capacious keyboard of the historic Bold 9000 series with a modern and elegant design, glass touchscreen, optical trackpad, stainless steel band, and beautiful angles that make the design both modern and classic in the same breath. However, as close to perfect as the Bold 9900 series is, I've been using the BlackBerry Bold 9930 on Verizon Wireless's 3G CDMA network in the U.S., and my main complaint–which so far I haven't seen addressed in most reviews and blogs–is the device's battery life, which is anemic to say the least, and certainly, if you're a BlackBerry loyalist, disappointing to put mildly as RIM's smartphones have historically known to push on, like the Energizer bunny.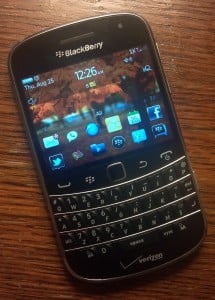 Hopefully, this is just a temporary issue, and one that may be corrected with a firmware update. In the week or so that I've been using the Bold 9930, I haven't been able to squeeze more than 6 hours out of device with two push email accounts (one Gmail and one Google account that I use for work), Facebook and Twitter using RIM's default settings, and a Google Voice app. On average, I made a few phone calls, totaling no more than 30 minutes each, and IM was handled via RIM's standard BBM client with a few BBM contacts, each sending and receiving on average about 10 messages.
Given that older BlackBerry devices can last a day and a half or even two days with my usage, it feels like the battery concessions that RIM made in order to achieve a svelte design is completely unacceptable given the device's enterprise-centric nature. Desk executives should be fine if they charge the device while it's resting on their desks, but for business users who travel or are in the field, the device needs a lot more stamina, and that's something that a software upgrade may help.
Part of the reason is that RIM had utilized a thinner battery in the Bold 9900/9930 than in previous generation Bold/Torch devices. The Bold 9930 has a rather anemic 1230 mAh battery compared to the Bold 9650's 1400 mAh battery. The reason being is that RIM says that the latest BlackBerry 7 operating system is a lot more efficient than earlier BlackBerry OSes. However, there is also a lot more going on with the new Bold 9900 series, including a faster processor and higher resolution display that help to draw down the battery.
One reason that I am hopeful that a software upgrade may help with battery life is that GSM BlackBerry users as well as Sprint's CDMA BlackBerry 9930 users have noted to me that BlackBerry life has not been an issue for them, which is odd. Considering that Sprint's and Verizon's model sport the same world-phone radios, it's odd that Sprint's version, at least according to users, is getting strong battery performance compared to my Verizon 9930. Until the battery life clears up, the Bold 9930 almost seems like it's two steps forward and one major leap backward from the Bold 9000 where form triumphs function.
All-in-all, a zippy performance, thanks to the better processor and more RAM, combined with an overhauled OS makes the Bold 9930 a joy to use, with and without the touchscreen. Thanks to the thoughtful inclusion of an optical trackpad, I found the touchscreen to be useful, but not necessary, and that I could operate BlackBerry OS 7 completely without touch if I wanted to keep my fingers on the keyboard and navigate the OS with my thumbs on the trackpad.

As an Amazon Associate I earn from qualifying purchases.