BlackBerry Bold 9930 Hitting Sprint on August 21st for $250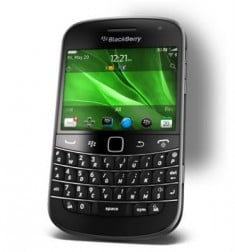 We had a pretty good feeling Sprint's BlackBerry Bold 9930 would be coming on August 21st for $250 and sure enough, Sprint has made those details official. Sprint's announcement comes shortly after Verizon's Bold 9930 went on sale online for a cool $250. Verizon's Bold 9930 won't hit stores until August 25th.
As for Sprint's version, it's indeed going to have that huge $250 price tag that will require a new two year contract.
As I've said before, that amount is going to be an absolute deal breaker for a lot of people that were hoping to get their hands on this device. $250 for a smartphone with the Bold 9930's specs is a lot to ask for with the market the way that it is right now.
With the new iPhone, the Droid Bionic, and the Galaxy S II on the way, it's hard to justify shelling out this much money for a phone that has specifications that would have been stellar months ago.
However, if you're into this phone and there is nothing I can do to stop you from buying it, it'll be live on Sprint's website on the 21st alongside the BlackBerry Torch 9850 which will be priced at a much more affordable $150 on a new two-year contract.

As an Amazon Associate I earn from qualifying purchases.