BlackBerry Bridge Finally Available to AT&T Customers
AT&T customers who are also BlackBerry PlayBook owners should be happy to learn that BlackBerry Bridge support has finally arrived and the application is going to be showing up on the BlackBerry App World catalog throughout the day.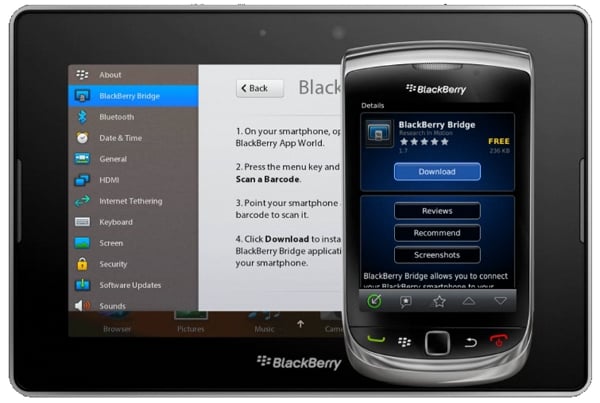 The release of BlackBerry Bridge to AT&T customers has been a long time coming. All the way back at the end of April it became apparent that AT&T did not support the application that "mirrors the existing messages, contacts, calendar, memopad, tasks, and BlackBerry® Messenger (BBM™) that appear on your BlackBerry smartphone. For example, through BlackBerry Bridge, you can use your BlackBerry PlayBook tablet to respond to an email that was received on your BlackBerry smartphone or send a picture to a BBM contact."
In other words, it's an extremely useful application and one that AT&T should have supported from the very beginning. Now, downloading it will cost you nothing. Neither will things like email but if you want to access the web, you're going to be forced to buy into a $20/mo tethering package. That's probably going to frustrate more than a few of you but that's the way it's going to have to be.
So, if you're an AT&T phone and BlackBerry PlayBook owner, you can head here to find the official BlackBerry Bridge app.
Via: AllThingsD